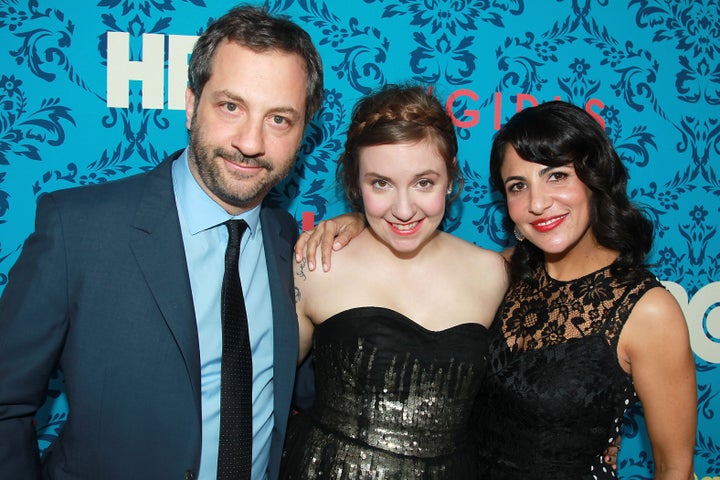 Jenni Konner is positively thrilled to be part of "Girls." The veteran television writer and producer (she got her start on Fox's "Undeclared," and also worked on ABC's "In the Motherhood") became aware of Lena Dunham through the 2010 indie film "Tiny Furniture" and parlayed her super-fandom into executive producing Dunham's new HBO series. If the pilot episode of "Girls" (Sundays at 10:30 p.m. ET on HBO) made you feel like everyone involved genuinely loves working together -- both onscreen and off -- that isn't a coincidence.
"[Lena's] naked in a bathtub going, 'OK, let's go again,' and asking the makeup girl how her night is going," Konner told HuffPost when asked about on-set harmony. "I've seen her in the darkest moments and she still is kind to everybody."
Konner spoke with HuffPost TV about how she reacted upon meeting Dunham, what she thinks of the "Sex and the City" comparisons and what a second season of "Girls" could look like.
Did you see "Tiny Furniture" and say "I have to work with Lena Dunham"? I just saw "Tiny Furniture" and became so obsessed with it that Judd Apatow jokes that I'm the distributor of it. I was making copies and giving them out. The first person who told me about it was ["New Girl" creator] Liz Meriwether, and she was like, "Oh, there's this 23-year-old who wrote, directed and starred in her own movie. It's really amazing. She's, like, in her underwear the whole time." I'm like, "I think I'm gonna pass." Then [HBO entertainment division president] Sue Naegle gave it to me because she had a copy of it. I was like, "What? This girl is incredible." It never even occurred to me that I would work with her. I just wanted everyone to know who she was and what she was doing and have the experience I got to have by watching it.
How did HBO get involved? Lena did a blind script deal with HBO and because I was such an obsessive fan, they were like, "Oh, we should really call Jenni Konner" ... I was like, "Sign me up! ... Yes. All in! All in!"
What was your first meeting like with Lena? We talked on the phone for the first time for hours, and then we met, I think, maybe a week or two later. She was in L.A. doing all of her general meetings and stuff like that. And then Judd called a few days after that and was like, "Oh my god, 'Tiny Furniture' is amazing. Do you want my help on this?" And I was like, "Yes, please." So we went from this little small pet project to making a show in a few months.
Was it difficult as a producer to work with someone who has such a strong and individual voice? This is what's so special about Lena: She has this incredibly clear, unique voice that you can see, that is very specific. In my experience, most people who I've met like that are very fight-y because they're protecting their voice. She is completely open to anything, because she has so much confidence in her voice that she's not scared someone's going to change it. Which is -- to be at 25 like that -- a miracle. She never fought anything ... She went away and wrote four episodes, and it was amazing. Judd and I were like, "This is the best job in the world." Right before we shot, Judd and Lena and I sat in a hotel room and did punch-up, which is like the most fun roundtable in the universe; the three of us, it was heaven. This year, people are writing more scripts and getting the voice and she's like, "Oh my god, people will give you a script that's really close!" It will always go through her, and she has full power, but she's also incredibly collaborative and open and wants to learn a lot. Her learning curve is insane. Right now, if she was doing an interview with someone from Germany, she would come in here and know German. The way she learns things is so quick and crazy you're like, "What planet are you from?"
What's the status on a second season? They ordered scripts, so we are thinking about it, which is really fun and I hope we get to make it. You know, they don't order anything before it airs, but already, HBO is really having fun with it too ... They don't give that many notes, but when they do they're always really smart and creative. We were thinking of the second season almost the next day. They were like, "We run shows really far away from each other. People are OK with really big jumps. You can start really deep in and the audience will catch up. They like change." It was really liberating and cool. They're the best.
Since "Sex and the City," HBO hasn't done a lot of female-oriented shows, so it's nice that they are excited about "Girls." It's great. I think it's weird that they're trying to make us be negative about "Sex and the City" ... Not HBO, but the press. Really, they're dying for us to say something negative about "Sex and the City." We all watched it obsessively. We're huge fans. Why would we saying negative about it? We wanted to call it out in the pilot and be like, "We know what everyone's thinking. We're these girls, too." And talk about it. But the thing about "Sex and the City" is the generational difference. The difference between who I was in my early 20s, and who I am now, is two different people. The thing that's different about "Girls" and "Sex and the City" isn't just that we live in Brooklyn; it's that these girls aren't trying to find their major career paths or life partners. They're just literally trying to get through the week and pay the rent. It's a really different time of life.
This might sound weird, but "Girls" to "Sex and the City" kind of reminds me of how "Goodfellas" relates to "The Godfather." How the characters in "Goodfellas" live in a world where "The Godfather" is this aspirational template. This is the best compliment I've ever heard. I want to like run through the halls like, "You guys, we were just compared to 'Goodfellas' and 'The Godfather'!" That's so great. I'm putting it on Twitter as we speak and calling everybody like yeah, "We're 'Goodfellas'!"
"Girls" airs Sundays on HBO at 10:30 p.m. ET
Jenni Konner and Other TV People You Should Follow On Twitter:
REAL LIFE. REAL NEWS. REAL VOICES.
Help us tell more of the stories that matter from voices that too often remain unheard.
BEFORE YOU GO