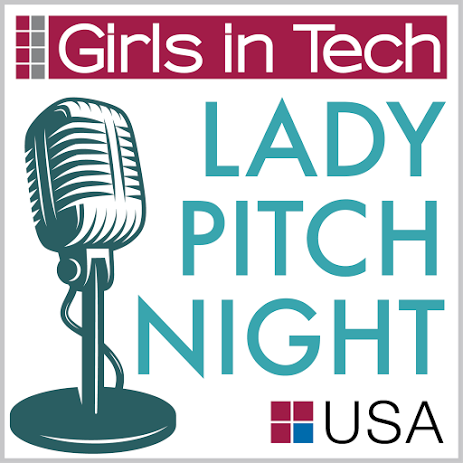 The finalist female entrepreneurs in the 2015 Lady Pitch Night USA competition will present innovative ideas representing a wide range of areas, from philanthropy and health monitoring to beauty and academia. The half-day pitch competition for early-stage tech startups will be held at San Francisco's NASDAQ Entrepreneurial Center on Tuesday, November 10, 2015.
Founder and CEO of Girls in Tech Adriana Gascoigne:
Covering everything from biotech and data analytics to social, educational and philanthropic technology, we are thrilled to have such innovative and accomplished female-lead startups as part of this year's group of finalists. We look forward to their pitches on November 10 and can't wait to see how they continue to grow over time.
Girls in Tech is a global organization focused on the empowerment, entrepreneurship, engagement, and education of women in technology.
Ten finalists, chosen from more than 180 applicants, include:
• UtilityAPI (Oakland, CA) - UtilityAPI aims to solve one of the biggest soft cost problems in the industry by delivering simple access to energy usage data.
• Privail (San Francisco, CA) - Privail develops technologies for early disease detection and monitoring and universal accessibility, allowing patients to take early action.
• Hinge Bio, Inc. (Palo Alto, CA) - Hinge Bio, Inc. leverages a revolutionary core technology for developing diagnostics and therapeutics for neurodegenerative disorders and other diseases.
• Cocoon Cam (San Francisco, CA) - Cocoon Cam is the first wellness video baby monitor with breathing and skin temperature alerts without requiring wearables.
• Preemadonna (Menlo Park, CA) - Preemadonna is the creator of The Nailbot, a family of automated devices that decorate fingernails with nail art using your mobile phone.
• Appthetable (San Francisco, CA) - Appthetable gives restaurant customers the freedom to browse the menu, order and pay directly from their smartphone from their restaurant table.
• Feeding Forward (San Francisco, CA) - Feeding Forward makes it easier for businesses to provide meals to communities in need while receiving a tax write-off and reducing disposal costs.
• TestRocker, Inc. (New York, NY) - TestRocker is designed as the ultimate private tutor to help improve SAT and ACT scores and unlock students' full testing potential.
• Guesterly (New York, NY) - Guesterly creates print or digital "who's who" guides for attendees of events such as conferences and parties to follow-up and stay in touch after the event is over.
• GOODdler (Daly City, CA) - GOODdler is a SaaS solution for civic and charitable organizations to collect and manage in-kind donations from individual donors.
The winning team of Lady Pitch Night will receive a $25,000 cash prize along with additional resources such as office space for 6 months and laptops, to help move their startup forward.
Finalists were selected by a panel of experienced tech professionals and investors including Lisa Hook (Neustar), Jason McCabe Calacanis ("This Week In Startups" and Inside.com), Brianna Wu (Giant Spacekat), Roseanne Wincek (Institutional Venture Partners (IVP)), Yasi Baiani (Fitbit), Alison Wagonfeld (Emergence Capital), Duncan Logan (RocketSpace), Monique Morrow (Cisco), Gil Penchina (entrepreneur and investor), Denise Terry (Embrace Health), Jonathan Abrams (Nuzzel), Michael Hughes (LoopUp) and Andy McLoughlin (SoftTech VC).
Speakers for the November 10 event include Yvonne Wassenaar (New Relic), Jennifer Tejada (formerly of Keynote), Stephanie Tilenius (VIDA Health) and Arum Kang (Coffee Meets Bagel). Emmy Award Winning Anchor & Entrepreneur Kym McNicholas will host.
Sponsors of the Lady Pitch Night competition include Genentech, TEKsystems, Salesforce Ventures, State Farm, NASDAQ, H&R Block-Small Business, Automattic, Institutional Venture Partners, Franklin Templeton Investments, LoopUp, YouNoodle, GoDaddy and Fenwick & West LLP.

About Girls In Tech
Girls in Tech (GIT) is a global non-profit focused on the engagement, education and empowerment of influential women in technology and entrepreneurship. Our goal is to promote the growth and success of entrepreneurial and innovative women in the technology space.
Created in February 2007, Girls in Tech was founded by Adriana Gascoigne, and was born out of a need to provide a place for women to cultivate ideas around their careers and business concepts involving technology and entrepreneurship. Girls in Tech is headquartered in San Francisco, CA and has multiple chapters around the world, including North America, Asia-Pacific, Europe, the Middle East, Africa and South America.
Girls in Tech offers a variety of initiatives for women and girls to enhance their professional aspirations. Our programs include Catalyst Conference, Lady Pitch Night Competitions, GIT M (Mentorship Program), GIT Hackathons, Bootcamps, XChange, GIT WORK, Global Classroom, and many more.
REAL LIFE. REAL NEWS. REAL VOICES.
Help us tell more of the stories that matter from voices that too often remain unheard.