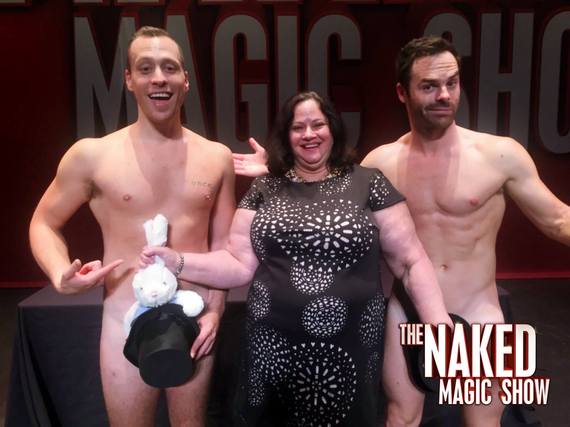 Some interviews are difficult because the celebrity is boring, gives monosyllabic answers, or refuses to answer questions altogether. My main challenge when interviewing "Magic Mike" Tyler, one half of the Australian duo behind the "The Naked Magic Show," was to stop laughing long enough to ask the necessary questions. I talked to Tyler before him and his partner, Christopher Wayne, performed at the Merriam Theater in Philadelphia during their first American tour. The two had previously been a success on Australian's comedy and fringe circuit.
Channing Tatum and his movie "Magic Mike" was the catalyst for the creation of the act. Tyler had been performing magic fully clothed for 8 years while Wayne had been the first magician to have their own show on Australian television. Tyler recalled, "My name is Mike. I am out doing magic. Once the first "Magic Mike" movie came out, people were coming up to me and making all kinds of stripper related jokes. Can I see your magic wand? Can you make your clothes disappear? When Chris and I sat down together, we had the idea of taking that naughty element that you see in the movie and combining it with real magic to create the world's first naughty magic show. We wanted to write a show that would attract people who would not normally go see a magic show."
It's one thing to write a naked magic show. It is quite another to perform in one. Tyler was a champion swimmer at an early age, even beating future Olympian Ian Thorp at 12 or 13 years old, so he was in shape. Wayne lost 40 pounds in preparation of performing naked. Tyler had no choice but to get over any anxiety about appearing on stage nude quickly. He said, "When we did our first show, Chris's mom was seated in front of me in the first row, the area that we internally call the splashdown. There was a moment there when I looked down and realized I was naked in front of Chris's mom during our climatic moment. It was a special moment." The climactic moment that he is referring to is perhaps the most sexual of the evening.
After his own "lightning in a bottle" experience with the show, he offers advice to other performers. "Do something different," suggests Tyler. "Don't follow what everyone else is doing. It sounds so simple. Sit down and create an idea that someone hasn't done before. Stop being the mold of every other performer. Don't be afraid to take a risk too. When we began this show, we basically throw away, risked our current careers at the time. Chris was doing spots on a kid's cartoon program. He can't really do that while also being one of the naked magicians. We took big risks. Lucky it paid off."
The Australian describes the show as a first Tinder date-"you are guaranteed that we will get naked by the end of the evening." He said, "Everyone has a cheeky side. It's normally bottled up inside them. For some people, the lid is screwed on tighter than others. We like to take that jar, shake it up, and open up on stage." But there is a limit to what the guys will do. Tyler remembers one fan was disappointed because she thought they were going to perform sex acts on stage.
Tyler makes three promises to the audience. He said, "We promise it will be one of the most amazing magic shows that you will ever see. We do promise it will be one of the funniest shows that you ever see and we do promise we will get naked by the end of the show. Judging by the audience's reaction, Tyler over delivered on his promises.
The fun started before the show even began. Everyone walked into the theater with a smile on their face. You can imagine Cyndi Lauper was inspired to pen her hit, "Girls Just Want To Have Fun" after watching this act. The audience became even happier as the show proceeded. The four foot pink penis might have had something to do with that!
One should be disavowed of the notion that this show is only for women or gay men (which the show paid tribute to with a specially decorated straitjacket). There was a surprising amount of married couples in attendance. It seems that love in 2016 means taking your wife to a naked magic show.
The boys are at the beginning of their 45 city tour of the US and Canada. To find a show near you, please go to thenakedmagicshow.com

REAL LIFE. REAL NEWS. REAL VOICES.
Help us tell more of the stories that matter from voices that too often remain unheard.