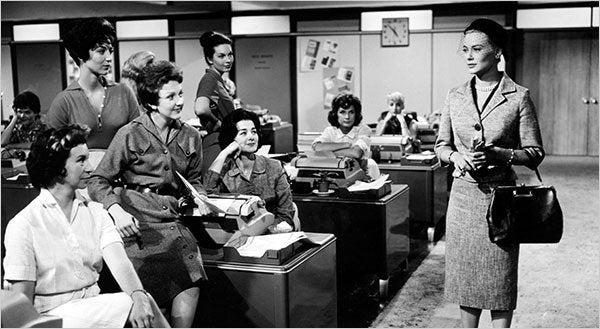 When I was little, I slept in my dad's tattered (retired) Brooks Brothers shirts, sometimes wearing them backwards as a smock in art class. He said they were The Best. The American Gold Standard for businessmen. He once proclaimed every male should have a blue blazer in a FedEx box to be sent in case of a fashion emergency at a moment's notice. I could not see the fashion relevance. I didn't get it.
Twenty years later, (a week ago in New York,) I found myself Getting It. I had loved the Fall 2008 ad campaign shot by Nathaniel Goldberg, featuring Bridget Hall in Central Park.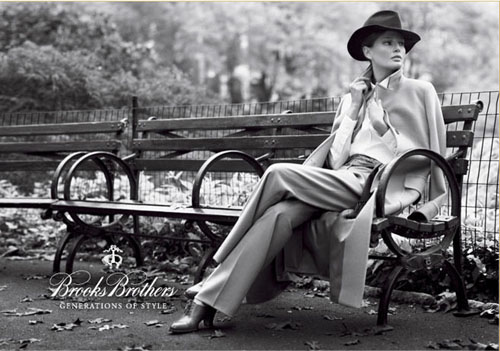 It was my first time inside in the store, the flagship on upper 5th Avenue. I went in and all the sudden, I eyed and became mesmerized by a classic double-breasted navy blue blazer ($388.00), a women's version of my Dad's staple.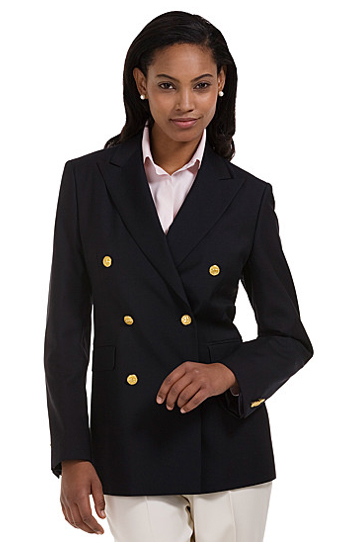 I've known petite women who shop in the boys' dept of stores like this one, but this was different. I tossed it on over my threadbare t-shirt, leggings and boots. Love! Then another: a camel cashmere blazer. ($498.00)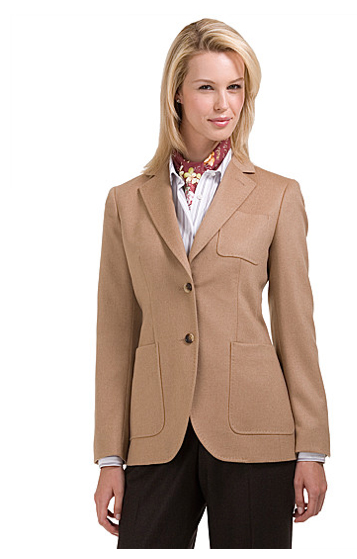 Then an extra thick belt (think: Alaia 3-buckle corset goes riding in the country), then a fur hat, then a grey cable knit sweater. I was in Preppy Handbook heaven! Soon I had a heap of clothes and a sales associate named Eva with a thick Russian accent grabbing me sizes. "You know, right now we have sale: buy 2, third is free." My eyes lit up. We are not talking a sale in the grocery store on week-old watermelons! These are cashmere Loro Piano blazers made in Italy with shiny gold buttons. Yet even the retail price without the discount seemed cheap (compared with, say, a $1,695 Stella McCartney jacket.) I was smitten with the effortless feeling of Uber Prep-ster yet Classic Modern Chic of the blazers. Very "boyfriend blazer" and very now.
I know -- I was shocked too. Once I got past the fuddy duddy styling of these pictures above (catalog; not Bridget Hall), I saw that the garments themselves were hardly the tartan, granny, prudish BB I'd remembered. They were very stylish indeed. Having never purchased there in my life, I left with 3 blazers for the price of 2 (plus they offer an additional 15% off with a BB credit card, which I actually declined since too many cards decreases your credit rating.) I am someone who is loving (or seeing the silver lining of) this economic downturn if only because the sales make the astronomical prices of luxury goods somewhat affordable. And it seemed to make sense to buy a classic staple in this economy that will last forever.