Last year, 4-year-old Riley Maida became an Internet celebrity when her rant against gender stereotypes in toy marketing went viral. If Riley is president of the "Girls Don't Just Like Pink Stuff" club, then we think we've found her VP. Eight-year-old Olivia Steger recently wrote a letter to the editors of Dwell magazine in response to their July/August 2012 article "Girl Talk" -- a piece debating the merits of "Architect Barbie."
"If you're going to send a girl an Architect Barbie, then you should send something about architecture with it so that she knows what the doll means," Olivia noted. She went on to suggest several more ways to teach girls about architecture -- like sending them LEGOs or a book.
Story continues below photo.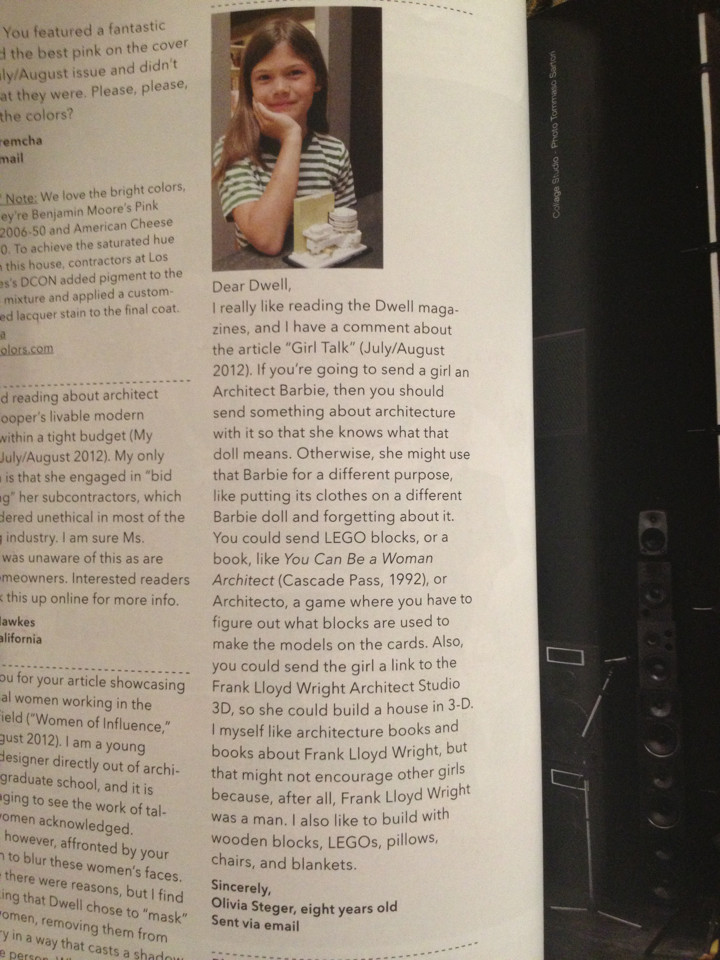 We're especially impressed by young Olivia's name drop -- Frank Lloyd Wright -- and her ability to recognize that though she personally is a fan of Wright's, he may not be the best role model for girls because he, in fact, is a man.
The original Dwell article mentions toy manufacturers whose products encourage girls to build, like LEGO and Lincoln Logs, for example. Last year, when LEGO announced "LEGO Friends," a line specifically for young girls, there was much debate over whether the gender-specific blocks would inspire girls to opt for construction toys or if the "girly" colors and figures were just further perpetuating stereotypes. Dwell writer Alexandra Lange is conflicted -- she worries that these toy sets for girls are meant to foster what manufactures think girls want, "playing house, not building one." To the other end, if Architect Barbie is at least convincing girls that a career in architecture is acceptable for both males and females, she might be a step in the right direction, Lange notes.
And, while there are still many problems with gender stereotypes in toys -- problems apparent enough for a 4-year-old to recognize -- retailers, too are making conscious efforts to close the gap between "girl toys" and "boy toys." In August, London department store, Harrods, garnered much attention for unveiling a gender neutral toy department which separates merchandise by theme rather than gender. Harrods followed the footsteps of another U.K. store, Hamsleys, that ditched blue and pink signage for red and white ones last year.