Education is an important worldwide issue. However, in developing countries such as Turkey, education is even more crucial because it is an important part of combating poverty and ongoing harmful traditions such as gender-based discrimination, violence...

"If you educate a man, you simply educate an individual, but if you educate a woman, you educate an entire family," Dr. James Emman Kwegyir Aggrey, a visionary Ghanaian educator, once said. Gender equality in education is a fundamental issue because providing education for girls is necessary in order to establish well-balanced communities and nations.

However, in many parts of the world, providing education for girls is neglected. In 2000, at the United Nations' Millennium Summit, world leaders set ambitious goals to be achieved by 2015. They aimed for universal primary education to promote gender equality and empower women. I remember then-UN Secretary-General Kofi Annan calling on businessmen to invest in the education of women.

Twelve years later, I witnessed U.N. Secretary-General Ban Ki-moon at the World Economic Forum in Davos in January of 2012 urging all businessmen to increase their investment in women's education. Such déjà vu! It feels like there hasn't been much progress in the last 12 years.

Moreover in a press release last July, Ban said there are still 57 million children out of primary school. Many live in countries embroiled in conflict. More than 120 million young people between the ages of 15 and 24 -- the majority of whom are young women -- lack basic reading and writing skills. In a swiftly evolving job market, too many young people leave school without the skills to earn a living.

Turkey isn't doing too badly when we compare it to other developing countries. Yet, when we consider the EU's criteria, the lack of access to and the quality of education in Turkey emerges as an issue.

I watched director Ayşegül Selenga Taşkent's documentary "Girls of Hope" organized by the American Turkish Society at the New York Film Festival last week with my 11-year-old daughter. We left the theater heartbroken after watching the documentary about the struggles of five girls in continuing with their education even though they received scholarships and how hard their journeys were. One of them couldn't convince her brother to allow her to go to school and eventually lost her right to continue her education.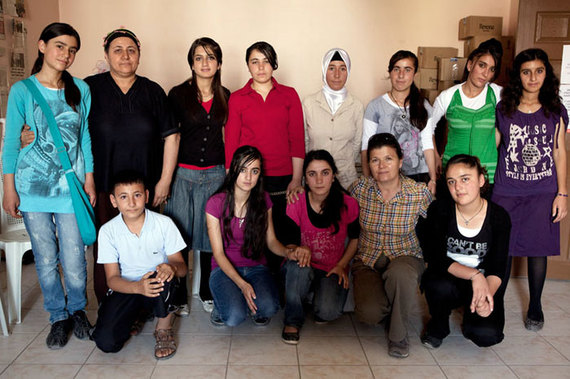 The girls of Hope who took a place in the documentary with ÇYDD representative
There are challenges due to lack of funding for public education in Turkey, much like the monetary problems in the United States. As an educator who worked in a public high school for three years, I was able to easily pinpoint that the main obstacles to attending school for girls in Turkey include poverty, a lack of school facilities, gender inequality, low expectations from education and low quality of education, even in İstanbul. Government and NGOs should work together to create and raise the budget of education to financially encourage families to make more of an effort with regards to their children's education because part of the problem lies in the cost of sending a child to school and buying supplies. This could be solved with the creation of scholarships as the Association for the Support of Contemporary Living (ÇYDD) did, which was mentioned in Taşkent's movie, to improve attendance rates in public education in Turkey.
Yet, this is not enough! That film confirms that familial relations play a major role in education, which was the biggest challenge to explain to my 11-year-old daughter. Even though primary school is mandatory in Turkey just as it is in the United States, many children, particularly girls, are not enrolled due to "traditional values." This problem occurs largely in the eastern parts of the country. Taşkent declares that almost half of all girls in southeastern Turkey are illiterate. There must be mobile educational centers to educate the local authorities, religious leaders and well-respected community members to encourage parents to send their daughters to school.

Last but not least, schools should be more effective to change the mindset against education in every dimension of society. Remember when it comes to the education of girls, it's crucial for society because if we educate them, we educate an entire family.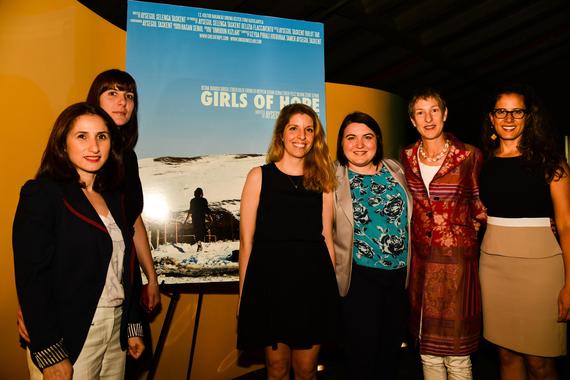 Director Ayşegül Selenga Taşkent, Holly Carter, Founder & Executive Director of ByKids, Carmen Morcos, Program Officer for Latin America, EMpower, Şenay Ataselim, PhD, COO, Turkish Philanthropy Funds and Selen Ucak, Executive Director, The American Turkish Society after the movie.
For more Arzu Kaya-Uranli click
Related