Do not ignore me. That's every writer's impetus, right? What about the woman writer? Is her push to be heard, to say "I," to demand that others listen, to infiltrate the inner recesses of a person's mind with her claims, is that authorial drive different because she's a woman?
"I was a feminist long before I knew what the word meant. I was born in Bangladesh, unaware that I was the first female in my family to be delivered in a hospital, the first to receive a birth certificate... I immigrated to the United States with my parents when I was 3 years old. While other little girls followed Disney princesses, I imagined a princess who could save herself and her kingdom. I identified with Susan Pevensie, who was cast out of mythical Narnia because she refused to conform." - 17-year-old Tuhfa Begum, "The Feminist in Me" from Breaking Through: Girls Write Now's 2014 Anthology
In a media culture that often dictates, demeans and disenfranchises girls and women, that pits us against one another, infantilizes or downright ignores our imprints on culture, the power of women telling stories should not be underestimated. Why? With authorship comes ownership of your life. When girls and women control the narrative, rather than letting the narrative define us, we can start to chip away at the gender gap and disempower institutional gender injustices. Thanks in part to the reach of high-profile people from President Obama to Beyoncé demanding equal pay for women and pointing out that it is "wrong" and an "embarrassment" that women earn 77 cents for every dollar a man earns, the institutional realities of sexism is not being lost on Millennials. As we live in a culture where money equals power, the pay gap between men and women says a lot to Millennials about where women stand in the world. We also have to look at how we're actually having this conversation. It's our media culture that brings us President Obama's State of the Union address and Beyoncé's brand of feminism -- whether that's on the cover of TIME Magazine, in The Shriver Report, or in her lyrics. Alongside our president and pop stars, catchy slogans telling us to ban bossy and lean in make headlines.
The political power of hashtags, from #BringBackOurGirls to #GirlBoss is one way Millennials are using words to rally against injustices. But it takes much more than a hashtag to relay change in the narrative of sexism. "The disparity [between girls and boys] starts early on, as girls typically receive less attention than boys do in school," explains Maya Nussbaum, Founder and Executive Director of Girls Write Now, the first writing and mentoring program in the country exclusively for girls. "It intensifies," continues Nussbaum, "when women's issues are relegated to a narrow platform rather than approached as human rights."
To help close the power gap, Nussbaum founded Girls Write Now in 1998, and since then, her organization has garnered recognition from the White House, the MacArthur and Mozilla Foundations, as well as support from publishing powerhouses like Gloria Steinem, Dawn Davis and Roberta Kaplan. "From talking with countless women mentors over the years and their experiences as teens, we all agree that around tenth and eleventh grade is, developmentally, when a girl starts to get creatively and intellectually awakened, and that is the moment to seize and nurture."
For Tuhfa Begum, a 17-year-old New Yorker originally from Bangladesh and whose essay, "The Feminist in Me," won the Scholastic Art & Writing Awards National Silver Medal in Memoir, her creative awakening goes hand-in-hand with her sense of worth, and I don't just mean dollar-wise. However, I will point out that before Beyoncé, Virginia Woolf argued that in order to write, a woman needs "money and a room of her own." Not much has changed since Woolf's time, and in fact, the bond between money and power has only intensified. So, how exactly can a nonprofit organization help girls run the world? By writing it. Kamy Wicoff, founder of She Writes Press, explains the mission of a mentoring and writing program like Girls Write Now is to take "girls who feel invisible, undervalued and silenced and teach them to write so well, and with such urgency and confidence, that they can't be ignored."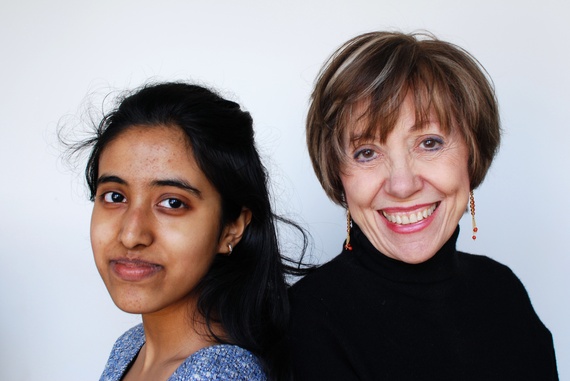 Girls like Tuhfa, who says, "I feel compelled to share my story. It's an innate compulsion, really. For me, women's empowerment is not merely constrained to the work of NGO's (non-governmental organizations, i.e., non-profits) or activists who travel the world to bring awareness and fight gender inequality. My entire essay is a testament to how my views of feminism have broadened." Tuhfa credits the act of writing down her story for broadening her ideas about power and freedom. In addition to her three years as a mentee in Girls Write Now where she worked alongside writer, Josleen Wilson, (pictured above with Tuhfa) Tuhfa acknowledges a family that bucked traditional gender roles and helped her find her voice. "My grandfather nurtured my outgoing spirit and did not silence me. He took me to his mosque as a child, making me stand beside him while he talked to the other men, instead of shoving me to a dark corner of the room where women often sat."

When girls believe their stories, and by extension, their lives are important, they can be present in the world in such a way that they change it. They -- we -- all of us, have to believe this in a guttural unshakable way, like any storyteller who makes people listen; makes people care.
REAL LIFE. REAL NEWS. REAL VOICES.
Help us tell more of the stories that matter from voices that too often remain unheard.