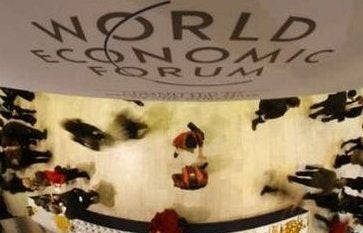 "The Girl Effect on Development" ranked fourth in session sign-ups among all panels at this year's World Economic Forum. In a meeting where people were tripping over each other to hear ideas about how to move beyond this economic crisis, CEOs and heads of state wanted to learn what girls have to do with it.

And let me say, the session was incredible. The house was packed and the energy was extraordinary. So much so, that when a gentleman from the audience asked a question toward the end of the session, "how can we affirm our commitment to the girl effect [during this crisis]?", it wasn't a panelist, but another audience member who raised her hand to answer. That audience member happened to be Cherie Blair, head of the Cherie Blair Women's Foundation and spouse of the former Prime Minister of the United Kingdom.

She said, "We're talking about the strongest people in their society. They're people used to dealing with a crisis...yet somehow managing to still make a difference. We should have absolute confidence in these girls. It makes absolute sense to invest in these girls... they're not asking us for our pity. They're just asking for us to enable them to do what they're already doing, but they could do so much better with our help."

It seems others in the audience were equally inspired.

Edie Lederer of the Associated Press filed a story within hours after the event. BBC's Tim Weber tweeted about it during the session. And Don Tapscott from BusinessWeek just posted a blog.

The session began with a video of Anita, a girl in India who learned to run a business as a beekeeper and used her income to attend school, fix her family's house and pay for her relative's medical expenses. You can see Anita's video on YouTube. You can also check out the YouTube channel of panelists and others responding to Anita's message.

Throughout the session the same theme emerged over and over: The intergenerational cycle of poverty can be broken if you focus on adolescent girls.

Another theme was the concept of actually counting girls. In a world where millions of girls have no birth certificates and programs are not evaluated by gender and age, this is critical. Ngozi Okonjo-Iweala, Managing Director of the World Bank, remarked that it took decades of research and data to even get a session like this on the Forum's agenda. Melinda Gates, Co-Chair of the Bill & Melinda Gates Foundation spoke of the importance of building girls into programs from the very beginning and actually tracking the results as they relate to girls specifically. Mark Parker, Nike's CEO, also underscored the importance of establishing metrics.

These are experts. Altogether, they represent the leaders of a government ministry, the World Bank, a Fortune 500 company, a major foundation, a global NGO, and a UN agency. What's missing? A Nobel Prize winner? Nope, one of those was there too.

For those who want to dig a bit deeper, I've given highlights of the session below. You can also view the complete session online at the World Economic Forum's multimedia site.

Ok, so here goes...

Dr. Helene Gayle, the President and CEO of CARE, was the moderator. A week of panel sessions makes clear just how important the moderator's job is. You can have an impressive group of panelists and a compelling new topic like the girl effect, but it's really the moderator who brings things to life. Helene catalyzed a powerful discussion. She kicked off by setting the context that even in an organization like CARE that has made its central focus girls and women, it's important to focus specifically on girls because of their unique needs, challenges and opportunities.

Professor Yunus said Grameen ultimately realized that investing in women involved investing in their children, and that meant investing in girls. He pointed out however that his organization had to incorporate very specific policies, procedures and explicit bias to ensure girls had opportunities to participate. He used the example of Grameen Shakti, a company that sells solar energy at the village level. The Grameen team focused on recruiting girls to become "Grameen Engineers" to maintain the system in each village. The title alone affords girls newfound respect in their communities. The program creates high-demand jobs and offers an environmentally sustainable approach. It's interesting to note that this business is one of the largest growing renewable energy companies in the developing world. Taking a chance on girls worked all round.

No wonder Tim Weber tweeted that "Muhammad Yunus is inspiring."

Melinda French Gates had just returned from Tanzania and Ethiopia. She spoke of the rural populations of pregnant girls (that's girls, not women) who can't reach clinics to give birth. She noted that a teenager is five times more likely to die from pregnancy and childbirth than a woman in her twenties. If they do survive, the consequences on the next generation are still dire: low birth weight, poor cognitive development, maternal health complications, etc. During her trip, Melinda asked mothers what they hoped for their daughters around family planning. Their suggestion? Start educating girls by age 10 or 12 about family planning. After that, it's too late.

When asked why the world hasn't been investing in girls, Melinda said "the issue wasn't brought to the forefront before, so when NGOs or foundations or civil society were developing their programs, they just weren't thinking that way. If you don't think about this particular issue, you don't build it into the program from the get-go... Part of it's just a mind shift so that we all are tracking it because I can tell you right now... as a foundation, we weren't tracking the statistics before on this particular segment. I could tell you in HIV, or in one specific area, but I think just an awareness so we're all going in the same direction is going to be a big help."

Melinda also mentioned that women invest 90 percent of their income back into their families, whereas men are likely to invest only 30-40 percent. That's a statistic that demonstrates what the girl effect is all about.

Mark Parker was asked why girls are a business priority. He spoke of Nike's very practical need to find the best investment opportunity to make the biggest difference. "We have limited resources and unlimited opportunities, so from a practical perspective we were very motivated to find a very focused and targeted investment that would deliver greatest impact." As he described it, "We found that the most neglected, at risk, and unsupported part of the world's population, also happened to be the part of the world's population that could make the biggest impact if supported with economic opportunities."

Mark also got the question "What about boys?," which is something we hear quite a bit. He argued that investing in girls actually helps everybody. It helps girls, boys and their families, and it helps those who aren't even here yet -- the next generation. In short, by investing in girls, we are investing in boys. He called on the crowd to redirect existing resources to a place where they have a higher impact: adolescent girls.

Ngozi Okonjo-Iweala talked about the Bank's Adolescent Girls Initiative, which connects girls in developing countries to job opportunities linked to labor market demand. She summed it up nicely, "Investing in women is smart economics...Investing in girls is even smarter economics because we believe that investing in girls is at the center of development."

Ngozi also talked about incentives - for example, for parents in developing countries. The fact is, families in poverty need to understand that girls can contribute economically. That's where economic empowerment comes in and it's amazing - almost miraculous - to see how quickly attitudes shift.

Ann Veneman, the Executive Director of UNICEF, surprised a lot of people in the audience by talking about how UNICEF realized the importance of going beyond young children generally and focusing on adolescent girls. As far as UNICEF's mandate goes, she made clear that the health issues affecting adolescent girls are strongly linked to everything from water and sanitation to maternal mortality and child mortality. In particular, she emphasized the issues of sexual violence and the related HIV/AIDS prevalence, which in many places is significantly higher for girls than boys.

Mari Pangestu, Indonesia's Minister of Trade, used the example of her own childhood to demonstrate what happens when girls have an opportunity to participate. Her mother told her to not "be so smart" or at least to not show it because she'd never get a husband. Her father, on the other hand, said "you have to do well in school because you have to be financially independent no matter what. Even if you get married, it doesn't mean you're going to be financially secure." Ultimately, she became the first woman in Indonesia to hold a Ph.D. in Economics. She pointed out that she could do it, because she had the chance. (The audience laughed when she mentioned that she's also happily married with two children. It turns out her mother really was wrong.)

"I've been talking about trade crises, financial crises these past few days. And yet, we keep on talking about how crisis is opportunity, here's an opportunity. In our managing the crisis and the policies that we are undertaking, here's a chance to address the adolescent girls issue...When we are designing our stimulus programs, we have to think about this."

At the close of the session, Ngozi did something interesting. Now, anyone who knows her, knows she is all about action and putting people on the spot so they get things done. Just as time was winding down, Ngozi asked Helene if she could ask the audience a question. "Raise your hand," she said, "if you now understand and believe in why we must invest in girls."

Everyone raised their hand.

I loved that, but I also know it's just one panel at one conference (albeit a pretty big one). Don't put the onus entirely on the bigwigs who attended. Instead, remember this: the girl effect cannot be fully realized without you. Whoever you are, invest in it, talk about it, learn about it. We all have a part to play.

Here are a few places to start:

1. Learn more about adolescent girls. Check out organizations like CARE, the UN Foundation, Plan International online and find out what's going on. You can also find out more at girleffect.org or by reading "Girls Count: A Global Investment & Action Agenda.
2. Tell people you know why the world must invest in girls.
3. Download the action kit Your Move, which describes how to invest in girls and paints a picture for the significant cost to the world of not investing.
4. Take the first step yourself. When you hear about a development program that doesn't sound like it's targeting girls directly, write to the organization and ask about it. Explain why girls should be at the center of every development effort.

Whatever you do, do something!
Calling all HuffPost superfans!
Sign up for membership to become a founding member and help shape HuffPost's next chapter