There's a scene in "Girls Trip" where actress Tiffany Haddish, the breakout star of the film, simulates a blow job with a banana and a grapefruit. There's pulp and juice flying everywhere. She's making bizarre, guttural sounds. Her friends (played by Queen Latifah and Jada Pinkett-Smith), look on with a mixture of horror and fascination. The scene is messy, hilarious, a little uncomfortable. It is a tour-de-force in comedic acting.
It's also one of the most exhilarating images of a black woman on screen this year ― exhilarating not because of its raciness, but because of its sheer bravery in a movie landscape where black women have rarely been given space to be so sexually frank, and funny. There are many of these moments in "Girls Trip"― moments when stars Haddish, Latifah, Pinkett-Smith and Regina Hall get to be funny, vulnerable, and unapologetically sexual in a way that we've rarely seen black women in a mainstream comedy.
Black female sexuality has always been such a loaded concept. Where white women have had more room in pop culture to challenge the very real constraints placed on their bodies by society, black women have languished at the intersection of race and gender and sexuality, weighed down by a storied history in which their sexuality has either been exploited or flat-out denied.
In 2011, "Bridesmaids" was supposed to represent some kind of feminist turning point for women in comedy, depicting women being rude, crude and raunchy in ways that men had only ever gotten to engage in, from films like "Porky's" to "The Hangover."
With breakout performances from Kristen Wiig, Rebel Wilson and Melissa McCarthy, "Bridesmaids" floated the seemingly radical idea that women could be funny, could be gross, could have weird sex and drunken nights and still have an audience root for them. In its wake came a string of movies featuring girls behaving badly, including "Bachelorette," "Bad Teacher," "The To-Do List," and "Trainwreck."
All these films had one glaringly obvious connection, beyond their frank sexuality and gross-out humor, though ― they all starred white women. Conventionally attractive, rich, white women, whose raunchiness, while refreshing in its own right, pushed boundaries and opened doors only so far.
Meanwhile, in intervening years since "Bridesmaids," depictions of women of color, especially on the big screen, have not benefitted from the growing popularity of the R-rated comedy. In the last five years, African-American comedies in particular have been dominated by black male comedians and actors like Kevin Hart.
When black women are in comedies, they are often the sassy, de-sexualized sidekick with the snappy one-liner. Or their only motivation is searching for love in rom-coms like "Think Like A Man," which, though funny in their own right, focus more on getting the man and less on the sexual autonomy or the natural comedic timing of their female characters.
With "Girls Trip," for the first time in a long time (perhaps not since 1995′s "Waiting To Exhale"), we've gotten a comedy that focuses entirely on its black female leads, that features black women talking frankly and openly about what kind of dicks they like, the hypnotizing power of their bodies, the healing powers of getting "your back blown out," the occasional necessity of some good no-strings-attached sex. It's not that no-strings-attached sex is inherently empowering. The depiction of black women over the age of 40 having agency over their own bodies, however, is.
In the film tradition, black women have either been the Jezebel or the Mammy, never allowed to express the multiplicities of identity that fall in-between the spectrum. They've been burdened by respectability, unable to fully engage with their sexual selves, their rude or crude selves, because of the stereotypes that may be thrust upon them if they do.
"Girls Trip" is a brilliant shrugging off of that burden. There's a freedom in its blackness, its femininity, its humor, that defiantly reminds Hollywood that the experiences of black women are many. That, yes, we can win at the box office with dramas and Civil Rights period pieces, but we can also win with raucous comedies that have absolutely no chill. It's a cinematic code-switching that black actresses like Regina Hall have been excelling at for decades. Hopefully, with the success of "Girls Trip," the industry will catch up.
Before You Go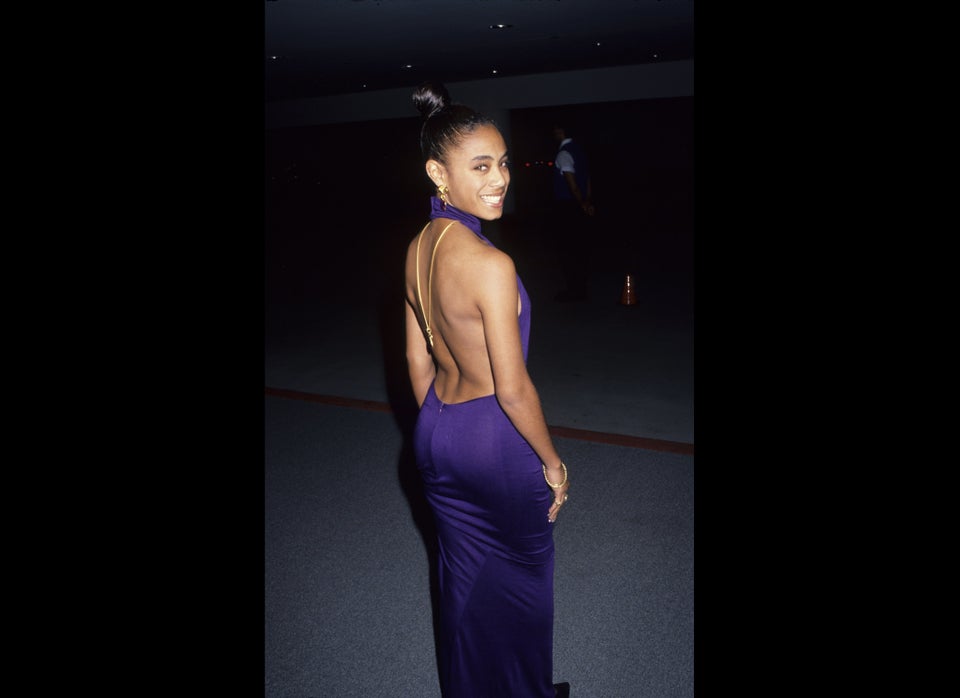 Jada Pinkett Smith's Style Evolution
Popular in the Community