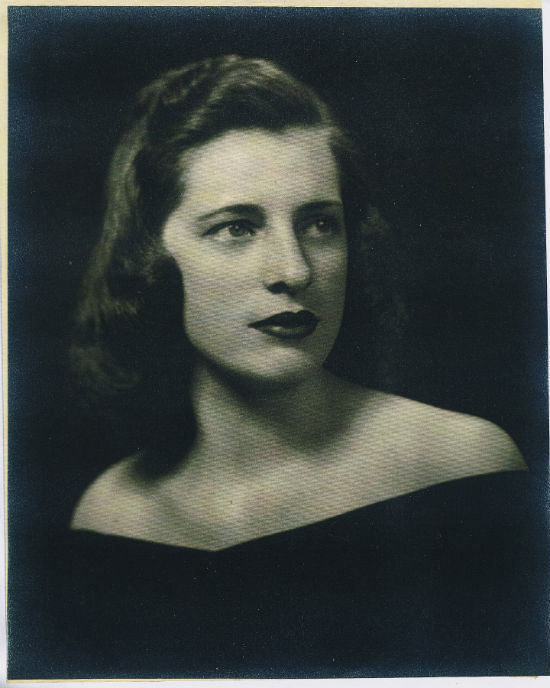 My grandmother, Kathryn Boyd Twombly. She was the first girl in her family to go to college.
Rarely in history have girls been encouraged to be daring. With all the rules we are given these days, I'm always seeking out the rule-breakers who show a little daring can go a long way. One word describing what many of the amazing women were like in high school: rebellious.
So growing up today how do girls find these role models? Make it happen. You seek them out. Sometimes you start reading about them, but then the fun part comes -- discovering their journey and in the process your own. Because guess what? They didn't start at the top. They went through hardships and challenges just like many of the young girls are facing today. But they show if you apply yourself you can also get there. You can't learn everything in your own lifetime so learn from their mistakes. Later on it's often what made them so relatable. Knowledge will also bring you good judgment. Their lessons are their blessings and gifts to you. Their heritage and history made it possible for you to dare.
Daring comes in all different shapes and sizes. Women and girls who risked their lives escaping human trafficking and who then, daringly, helped others escape, too. Women who took a seat at the table or became musicians and scientists and leaders when no one thought women should do these things. Daring is also being the first in your family to go to college, like my grandmother. Daring is all around us.
It's also foreign to me that it was once forbidden for women to wear pants on the floor of Congress. Women later dared to wear and showed rules were meant to be broken. It's shocking to think that there was once a time in history when it was daring for bicycle-riding women to trade in their hoopskirts for bloomers when women weren't allowed to wear pants. A woman being told they can't wear pants; rubbish.
A few of my rule breaking moments that pushed me into the girl's rule breaking club and permissible for publishing are some of my favorite raising the bar moments started at an early age. My first big rule breaking moment was in college as CosmoGIRL was looking for a girl to interview Martha Stewart from Project 2024, to get a woman in office and they wanted an alumnus of Barnard College as it's her alma mater. I decided I was up for a challenge and I wanted to be that girl. Therefore, I wrote I want to be the "Martha Stewart of the college market." Little to say that bold cover letter certainly grabbed their attention and I was selected out of the lot of girls who had applied. It's the first book I've been published in, "CG! For President in 2024! Secrets of Success: 38 Leaders Tell You How to Achieve Your Dreams." The book encompasses interviews with political action stars; tv, music and film leaders; business bigwigs; fashion and beauty icons. It's a book I keep on my desk at home, which I often refer to for great advice. I was also the first non-Ivy League girl to be selected for my internships in college with 85 Broads. I love being a rule breaker and a wild card. My third rule breaker moment was when I wrote my essay that won the Vital Voices, Rising Voices Essay contest at the Kennedy Center in Washington, D.C. I was in the library and supposed to be writing my thesis, but I had better ideas. I had written about Hillary Clinton studying politics in my thesis, but this way I could meet her first-hand. Taking those risks have been the most rewarding and thrilling moments in my life. If anything it's reminded me it's time for more risk-taking. Three personal examples as a young woman when I learned embracing the unknown was a must-do.
Seek out the information that will enable you to be daring. Maybe then you'll grow a much needed backbone. The Tory Burch Foundation offers incredible insights and resources on entrepreneurship. Vital Voices provides knowledge and statistics on women in politics, women in Parliament, women in the political decision-making positions in Europe and women in politics in the world. I was also introduced to a friend of Baroness Mary Goudie, Stephenie Foster, a Senior Advisor to Vital Voices who compiled an amazing resource for women called "Advocacy & Running for Office: A Training Manual For Women" that she edited, which covers the main topics of what you need to know. The Tory Burch Foundation also has great resources for women who want to influence public policy. It's an amazing resource if you ever think about entering politics or being a part of a campaign.
If you want to start a magazine like I did in college there is a plethora of knowledge at the Smith College archives as Gloria Steinem donated her papers to her alma mater that give the financials, business documentation, board of advisors information and many other intricate details you could never imagine running a magazine as she learned launching Ms. magazine. There is so much to running a magazine and keeping up with the image, which I loved uncovering everything from interviews, correspondence, expenses, advertising, records, etc. that cover every aspect of the magazine, business as well as the editorial side. I have only begun to explore her archives but if you tap into the right resources then you'll have the confidence and knowledge to apply it to your own career. It's historic and humbling listening to her audio cd's and personal interviews with titans like Helen Gurley Brown who forever shaped the magazine industry with her work as Editor-in-Chief at Cosmopolitan magazine to adventurers, such as Sally Ride who showed us adventures can lead women into many different spaces. I was talking to my Aunt about everything I was discovering who is always in the know and she said "that's a lady who knew she was going to be somebody."
Her organizational skills come from being a perfectionist growing up; I'm beyond words impressed as she shows down to every figure and documentation what is tangibly possible, which I like. The details and how she handled her own PR, persona and that of her clients is incredible in that era. Her correspondence with People magazine and corresponding with other editors, such as Jackie Kennedy Onassis at Doubleday, was a great glimpse into the publishing world, which is a treasure to find. I wish I had known about this information when I was in college. She was forward-thinking and she reaped the benefits reading through her list of awards, accomplishment, accolades and enriching lifestyle; it certainly paid off for her. So if you take the time to do the right research now, it can also pay-off for you. As there were over 90 boxes, I can't say it doesn't take time and self-discipline to read and seek-out the information. But exploring libraries and archived and restricted sections, there is always a thrill to it. I used to explore private libraries in New York, personal, the New York Public Library and I'd spend countless hours in the bookstores including my beloved bookstore The Strand that encompasses over 18 miles of books. I have to say the adventures my friends and I would think up, discuss and later explore with being surrounded by rare books, ranging from classical literature, business, art to fashion were priceless. They had some of the most innovative minds and I'm lucky to still have them to bounce ideas off of as we explore more personal ventures.
Astia is also an innovative global not-for-profit organization that propels women as entrepreneurs and leaders in high-growth business, fueling innovation and economic growth. The Tory Burch Foundation cited them as a great resource and having worked with them first-hand I was incredibly impressed. They are based in San Francisco, California and I was a panel moderator for entrepreneurs and investors in New York. I was fortunate to learn what investors are looking for as I helped run a panel forum for interesting individuals and companies to pitch their ideas. The markets they serve are the Silicon Valley, New York, Europe and India. More than $1 billion has been raised by presenting companies. Companies that have been around for a while hoping to take it to the next level to start-up companies that were looking into their initial seed funding. Listening to the seasoned investors behind closed doors, I was able to learn how they'd break down a pitch or a company. You always need a place to start and Astia provided insightful assessments to see if your idea has the legs.
"I believe that the most important single thing, beyond discipline and creativity is daring to dare." Maya Angelou got it right when she said that. Daring is the first step to amazing achievements and an amazing life. In the wise words of Johann Wolfgang von Goethe, "Daring ideas are like chessmen moved forward; they may be beaten, but they may start a winning game." Daring means being willing to take or seek out risks and being bold and venturesome. Daring is in girls who shatter barriers and help friends out. Daring is about finding your journey and following your dreams. Get off the sidelines and get into the game, whatever your game may be.