The best art works on many levels. Gisela Colon's recent solo show, entitled Pods, at Ace Gallery reminded me of this fact. Her bulbous vacuum-formed plastic wall sculptures are painted with a mysterious, pearlescent glow. They appear simple and colorful enough to engage just about any viewer. The work is not conventionally "pretty" but the artist saturates her color to be intensely seductive. She acknowledges that her Puerto Rican/German heritage seems to explain her fearless combining of explosive color combinations within the framework of reductive art. But all of this luscious surface appeal is just one of many layers in the work.
Lots of good art looks great on a sleek white wall in a large austere space. Colon delivers conceptual elements to make the formalism of her "pods" a complete art experience. In the art historical narrative, it has been art by men that demanded center stage while the gallery is the party that accommodates these demands. Enter the feminine. Colon's sculptures are hung horizontal or vertical. At the preview reception, the lights were dimmed at intervals to reveal that her colors change depending on the light source and the intensity of the light.
Rather than have some technological trick embedded into the art, she has made objects that are altered by the world around them yet never stop being themselves. This artist has thus delivered a meditation on the flexibility of the feminine as antidote to the rigidity of the masculine. And yet the work is so thoroughly modernist, as if modernism needs women to embrace pure form and then layer in meaning to allow the modernist approach to break free of being a synonym of monolithic machismo.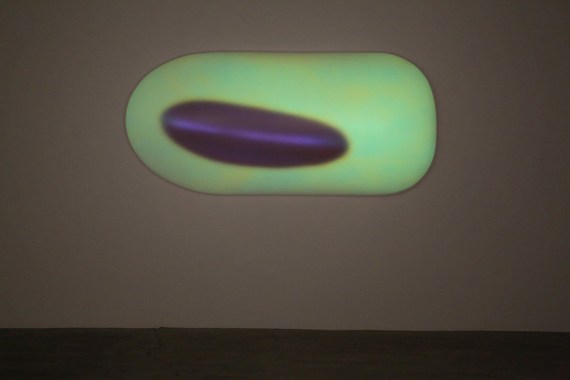 The same artwork when direct light is lowered and only ambient light from afar reaches it.
Photo: Eric Minh Swenson
The desire for art to speak independent of the artist is as macho a trope as has been hung on the neck of art history. If adding the essence of the artist inescapably reveals their gender, consider that a refreshing change of pace that feminism brought to contemporary art back in the 1960s and 70s. But so much of what passes for feminism in art these days is little more than policy initiatives that will never make the ballot and assertions that a cut in line is the birthright of upper class art school graduates. Little feminist art retains an essential femininity these days. Postmodernism's easy ways around mastering form and materials have disengaged too many artists from embedding their righteous content into a compelling art object. But the soft edges of Colon's sculptures are not a metaphor for capitulation. Her feminine art is assertively feminist; it does things its own way, lights on or lights off, standing tall or laying sideways.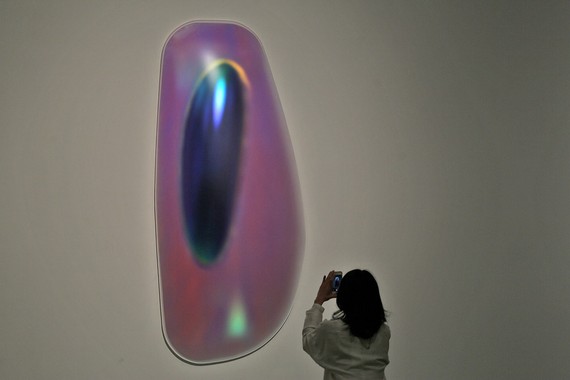 A vertical version of one of the artist's podlike wall sculptures. Photo: Eric Minh Swenson

To look at Colon's work historically, though, one must consider its origins as homage to seminal Light and Space artist Craig Kauffman. He too mounted singular plastic bubble sculptures to the wall in the early 1960s and secured his place in art history by ridding illusionistic space from wall works through the elimination of the picture plane itself. But to dismiss Colon as merely riffing on Kauffman is too superficial a read of the potency of her art. Two years ago when her wall sculptures made their debut at the late Nye and Brown Gallery in Culver City, their soft forms were colored pink and splayed with glitter, semiotic crutches to achieve the presence of the feminine. As exciting as those works were, they can now be seen as transitional.
The current exhibit sees Colon coming into her own with color combinations that have no connection to Kauffman. And in this newest work she paints a pod form within each painted pod. Could this not be seen as the ultimate feminine experience - reproduction? Again, this work has a vitality lacking in so much contemporary modernism precisely because this artist's visual poetry satisfies all viewers with resonance on the level in which they approach and embrace art.
Aficionados of Light and Space Art (L.A.'s answer to New York's brutish 1960s minimalism) would be wise to claim Colon as the next wave of their favored movement. Mary Corse and Helen Pashgian were trailblazers in Light and Space Art and as women looking to show art in a then-man's world. Both of these pioneers are also represented by Ace Gallery so Colon seems to be at home here and has blossomed with this fantastic new work.
PODS a solo show of new work by Gisela Colon is on view at Ace Gallery Beverly Hills thru February 28.

Popular in the Community