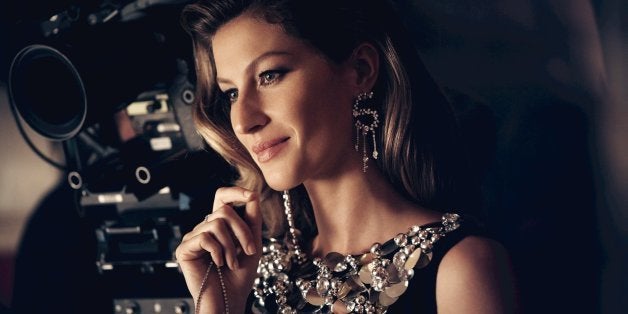 We've been super tight-lipped about the supermodel's ad for the iconic fragrance, but we're pretty sure we speak for everyone when we say it is more than we could ever imagine.
Hollywood director Baz Luhrmann ("Romeo + Juliet," "Moulin Rouge!" and "The Great Gatsby") weaves a beautiful story in the perfume's campaign titled "The One That I Want" about a woman who struggles with having it all -- love, family and her career.
Having worked with his dear friend and actress Nicole Kidman 10 years ago in the previous Chanel No. 5 film, Luhrmann was surprised at how fearlessly Bündchen went after this role. "What I love about her is that her body is her instrument from early on, and she's learned to express so many things. She can do anything!" he said.
Whether riding killer waves in a Chanel wetsuit and surfboard, embracing her child before heading off to a glamorous photo shoot or sharing a passionate kiss with "Game of Thrones" actor Michiel Huisman in a sexy little black dress, Bündchen embodies what Luhrmann described as the spirit of Coco Chanel: a liberating energy.