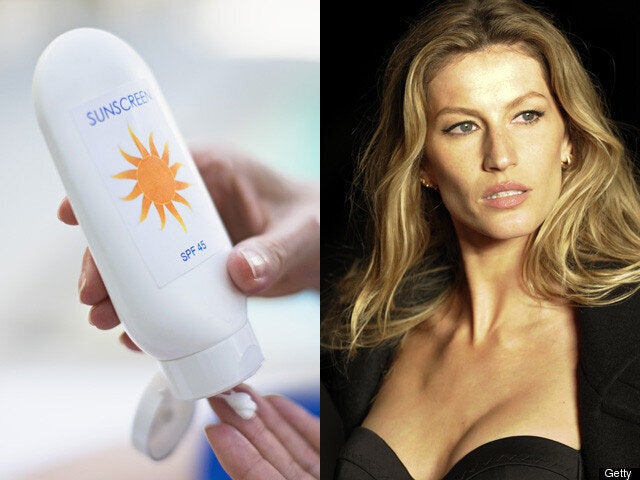 Hear that? It's the sound of Brazilian bombshell Gisele Bundchen, backpedaling.
Last week, the world's highest-paid supermodel angered dermatologists around the world by declaring sunscreen a "poison."
I would like to clarify the misunderstanding about the use of sunblock. I do use sunblock but also I try my best not to be exposed to the sun when it is too strong.
Gisele, who recently launched the all-natural skincare line, Sejaa, went on to say that she thinks we all need to pay more attention to what we put on our skin and included a list of what she sees as "more natural" sunscreen options.
"Gisele would never say not to use sunscreen because she has had family members who have had skin cancer. She simply stated that her all-natural skin-care line does not have SPF because there is not an all natural SPF available....When using sunscreens, she selects ones that are free of parabens, oxybenzone, PABA and retinyl palmitate."
Gisele spent the last few days being blasted by the press and dermatologists alike for her outlandish comments. Dolival Loao, head of dermatology at the National Cancer Institute in Gisele's native Brazil, told The Daily Mail that her comments had the potential to cause real confusion. "Sunscreen prevents damage to the skin," he added, "and is of fundamental importance for the prevention of cancer."
At the very least, the lady deserves some credit for being consistent. Notably absent from Gisele's new skincare line? Sunscreen.
Related
Popular in the Community