Miguel Solis, Manuel Valverde and Alexander Rivas are slated to attend a "private oral hearing" in Puntarenas on April 29, after charges were filed by Agence France-Presse photographer Yuri Cortez and Rolando Aviles of Costa Rican newspaper Al Dia.
The Organismo de Investigacion Judicial (OIJ) was called to investigate on April 4, 2009, following reports of shots being fired in the area of Santa Teresa de Cobano, where the Brady-Bündchen wedding ceremony was being held.

The OIJ report says that the photographers were on public property when private security guards forced them back onto private property, demanding they turn over their photographic equipment, when one of the bodyguards fired his weapon at the photographer's vehicle when they attempted to leave scene.

Lawyer John P. Gleason explained to the Boston Herald, "The photographers were just doing their job, and it's terrible what they did to them....They had permission to be on the neighbor's property. Which is a good 20 minutes away from the Bundchen property by car. They were using long lenses, but they weren't in anyone's face. They were separated by a valley. What happened to them was a slap in the face to journalists."
Brady previously told Sports Illustrated that the photographers' claims were "absolute total b.s. We found two guys on our property, and we told them to get out. Our security guys didn't even have guns. There were no shots fired."
An image of Cortez and Aviles' vehicle taken at the scene: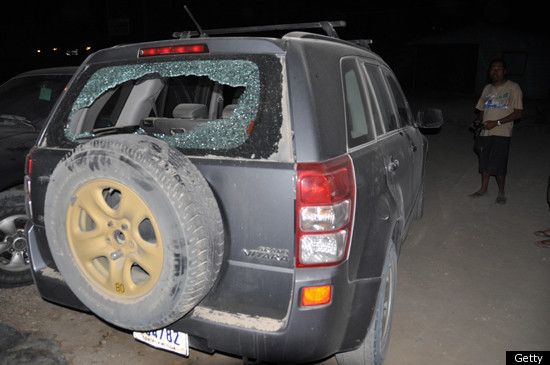 Popular in the Community