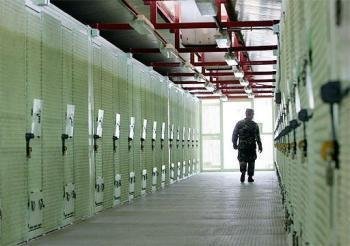 Sometimes, the reporting on issues related to our Global War On Terror just amazes me. Consider this AP story, reported by Mike Melia, on the upcoming trial of Gitmo detainee Salim Hamdan:
A last-minute plea deal could halt the first war crimes trial at Guantanamo Bay on Monday, but military lawyers and observers say that appears extremely unlikely at this late stage.

The Pentagon already has brought witnesses to the U.S. Navy base in Cuba and assembled a jury pool of American military officers, preparations that had not been made before a plea deal that ended the case against Australian David Hicks in March 2007.
So, the legal reasoning for denying this "last-minute plea deal" was based solely on the fact that preparations for the trial had been made? Sorry, but the show must go on?
The fact is, no one reporting on this case seems to even understand, or be willing to report on, the rationale for why the "last-minute plea deal" could have, but ultimately didn't, halt the case. Julia Feasting at the London Times repeats the AP's "we have to have the trial since we've made preparations for it" lede:
Military prosecutors are keen to use the case of Mr Hamdan to showcase a tribunal system that has seen several legal obstacles. The Australian David Hicks was to face a military trial in March 2007 but his case was halted after he pleaded guilty in a pre-trial hearing.

The US Government has already flown witnesses to Guantanamo and gathered a pool of American military officers, 12 of whom will sit on Mr Hamdan's jury. Such preparations were not made in the case of Mr Hicks.
Actually, the rationale seems to have been couched not in jurisprudence, but in the wide acknowledgment that officials involved in these trials are just making it up as they go along:
Military prosecutors are also eager to use the case of Salim Hamdan, a former driver and alleged bodyguard for Osama bin Laden, to showcase a tribunal system that has seen repeated legal setbacks.

"We're looking at it in two veins, primarily as bringing Mr. Hamdan to justice but also we're well aware that in doing that at the individual level it provides the first opportunity to test and validate this process," said Army Col. Lawrence Morris, the tribunals' chief prosecutor.
The only thing more extraordinary than being forced to contemplate being a defendant in a trial in which the legal underpinnings of some haven't yet been shown to be valid is being forced to contemplate the fact that this line of reasoning didn't seem to concern many reporters at all.
Popular in the Community