Something we often discuss on The Dinner Party is what makes a successful restaurant. Owning a restaurant is tricky business, with restaurants opening and closing like automated doors. Yet, the Lettuce Entertain You Restaurant Group, along with partners Giuliana and Bill Rancic, seems to defy the culinary norm.
While many restaurants often close their shutters after only two years, RPM Italian, a partnership between Giuliana and Bill Rancic, Chef Doug, Psaltis and Jerrod, RJ and Molly Melman of Lettuce Entertain You, remains as popular as ever, a full three years post its initial opening.
I sat down with Giualiana and Bill Rancic, as well as Executive Chef Doug Psaltis, at the opening of their new restaurant RPM Steak and at Taste of the Nation to ask them what is the trick to their success. As you will hear in the podcast below, setting up a strong and confident partnership before opening the doors and building off each other's strengths seem to be two of the key elements.
RJ and Jerrod Melman of Lettuce Entertain You, in a conversation at a preview of RPM Steak, agreed, commenting on what initially drew them to work with Chef Psaltis. "The truth of the matter is...we just love how [Chef Psaltis] cooks. We just love his food!" Jerrod said. Certainly there is no getting around good food and it is good food which makes people want to come back. However, with so many excellent restaurants in Chicago, it seems that more is needed to break through among the masses.
"Eighty percent of whether or not a restaurant is going to succeed happens before you open your doors," RJ confessed. It seems here is where the golden trifecta was formed. Giuliana and Bill had a sense of vision and style for RPM Italian, originally based on many of Mama DePandi's recipes, but also based on the vision that RPM Italian, and now RPM Steak, are restaurants where you can eat and share, but not be so stuffed that you can't stay and mingle over a drink after your meal.
Jerrod and RJ and Molly Melman brought the restaurant business expertise to the equation, relying on excellent service and strong customer loyalty programs. Chef Psaltis (yes, he did a stint at French Laundry!) delivered the culinary buon gusto and know-how, focusing on quality ingredients. With a sense of pride, Chef Psaltis pointed out that RPM Steak sources naturally raised and grass fed beef from nine to ten different farms and ranches from all over the world.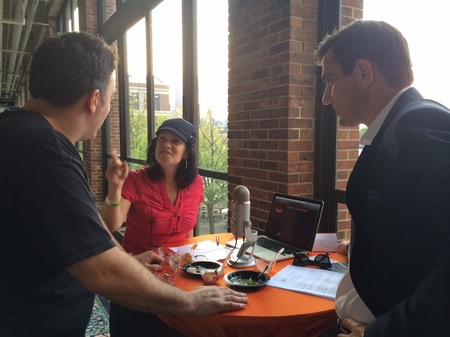 Bill Rancic, Chef Psaltis and me recording at Taste of the Nation, Photo Courtesy of Henson Consulting and used with permission.
Chef Psaltis explained how RPM Steak came to be. He said that at RPM Italian, along with the pastas, "the real surprise was the response to the steaks! " However, steaks aren't the only thing on the menu at the newest venture, which has a strong seafood and vegetable component. One need only count the six types of mushrooms on the menu to know that there are many options here for non-meat eaters.
Giuliana was quick to comment that RPM Steak would appeal to women, as well. Both she and Bill have a strong sense of what the market wants. With a menu that focuses on such healthy options as lean steak, seafood and vegetables, she said, referring to the female clientele, "We need this!"
Perhaps Bill Rancic summed it up best. "Everyone checks their ego at the door. That is why this has been such a successful partnership, and now kind of like family. Everyone knows what they have to do and they get it done. Everyone is accountable. We have that never quit attitude. We make it right. We take our time and everyone on the team is a perfectionist."
RPM Steak will open it doors in late August. Until then, enjoy the podcast below with Giuliana and Bill Rancic and Chef Psaltis in two locations: RPM Steak and at Taste of the Nation. We discuss being present and focused, never giving up, what makes a successful restaurant and foods we can't live without. Enjoy.
Calling all HuffPost superfans!
Sign up for membership to become a founding member and help shape HuffPost's next chapter