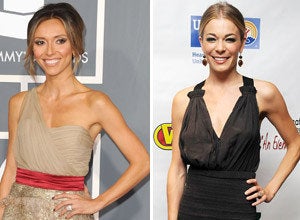 Although she may not look like your average well-fed restauranteur, Giuliana Rancic knows a thing or two about food -- and she's proving it as she and husband, Bill Rancic are opening their own Chicago-based Italian restaurant.
"One of our inspirations is my Italian mom. Mama DePandi makes the most authentic Italian food and people cannot wait to get their hands on it ... She along with our chef, Doug Psaltis, will create mouthwatering dishes together," Giuliana tells me.
According to Bill, the couple has wanted to open their own restaurant for some time. The only problem was deciding on which coast they'd open it -- the great debate that has been the source of many of the bi-coastal couple's most difficult decisions. But the decision to open in the Midwest wasn't a tough one when they were given the opportunity to partner with seasoned restauranteurs, RJ, Jerrod and Molly Melman of Lettuce Entertain You Enterprises.
"We're not just investors, we are partners in this restaurant and we will have input on everything from the name to the menu to what the servers will be wearing ... my specialty of course!" Giuliana explains.
So who's one celebrity that Giuliana would love to feed? LeAnn Rimes.
"She lost a lot of weight from all the stress in her life," Giuliana dished. "She seems a little thin right now and I think she looks great when she's a bit curvier."
But Rimes isn't the only one who has received flack for her petite frame.
"I eat as much as the next girl, but I work my butt of in the gym every morning! The key is moderation. I splurge on the weekend. A big bowl of pasta and a delicious slice of cake for dessert are my favorites."
Giuliana's splurge but savor motto is something that will be more than present at the new eatery. She plans on implementing "skinny dishes" on the menu so that her customer's eating experience is guilt-free.
"When I'm with her she is constantly eating, especially when Mama DePandi is in town," Bill says of his super fit wife. "Her secret is that she's at the gym first thing in the morning almost every day paying the price ... I would love Giuliana small, medium, large or extra large and I will love her no matter how much weight she gained."
Although Giuliana surely has some taste-testing to do in her future, we have a feeling that Bill has nothing to worry about when it comes to his wife's fit physique.
The pair is hoping their eatery will be up and running in January 2012.
Popular in the Community