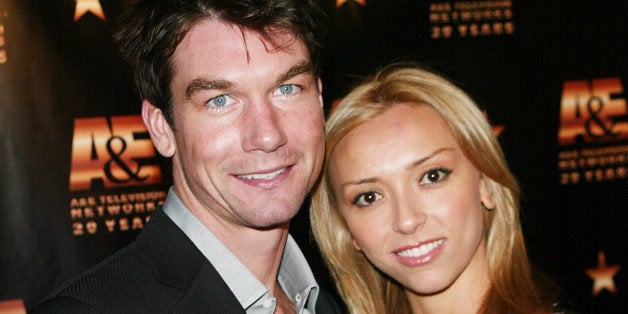 In her new book "Going Off Script," E! News anchor and "Fashion Police" co-host Giuliana Rancic is spilling secrets some of her exes might have thought were ancient history.
The 40-year-old, who dated Jerry O'Connell from 2003 to 2004, claims the actor cheated on her with Geri Halliwell aka Ginger Spice, and the woman who would go to be his future wife, Rebecca Romijn.
"I was being two-timed for one of the lesser Spices?" Rancic writes in her book (via Page Six), claiming that when she confronted the "Stand by Me" actor, he admitted the indiscretion with as "much emotion as the customer-service representative who tells you your bags missed the flight."
The pair got back together in 2004 and apparently even discussed marriage, until Rancic (who was still going by her maiden name of Giuliana DePandi at the time) says O'Connell's wandering eye flared up again at the Maxim's 100 Hottest Women party.
"Little did I know he was in the VIP area, talking up Rebecca [Romijn]. As a prelude to feeling up Rebecca," Rancic writes, adding that a week later the actor left for Las Vegas and stopped returning her calls.
Rancic says that when she tried to confront the actor at his home, he wouldn't let her in. "Nope. Sorry, homegirl. Things change, but you take care, OK?" he said, ending their relationship. O'Connell would go on to marry Romijn in July 2007 and they welcomed twin daughters in December 2008, while Giuliana married Bill Rancic in September 2007. They have a 2-year-old son, Duke.
Request for comment made by HuffPost Entertainment to O'Connell's reps was not immediately returned.
For more secrets revealed by Rancic, you can pick up her book, "Going Off Script: How I Survived a Crazy Childhood, Cancer, and Clooney's 32 On-Screen Rejections," which hits stores on April 7.

Popular in the Community