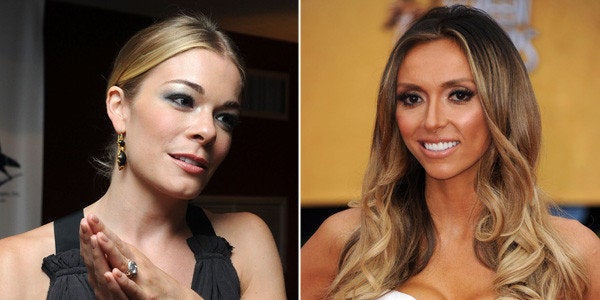 LeAnn Rimes has been busy defending her weight loss via outbursts on Twitter, but the most recent person to comment on the singer's new super skinny body is refusing to get in to it.
"She lost a lot of weight from all the stress in her life," Giuliana said of the singer. "She seems a little thin right now and I think she looks great when she's a bit curvier."
"@GiulianaRancic hey, we should go to dinner sometime. You get criticized all the time for how small you are. You can see just HOW much I eat and maybe put a stop to this crazy "shrinking" once and for all," she wrote, adding, "Then we should workout together! Good luck with your restaurant!!!!"
If you were expecting Rancic to lash out at Rimes and fan the fires of a Twitter feud then you'd be wrong.
"I don't see anything wrong with pointing out that someone looks good curvier," Rancic told E! Online. "There's nothing hotter than a girl with some curves. I wish I was a curvy bombshell!...trust me!" says Rancic.
"I didn't mean it as an insult but apparently some people took it the wrong way. If someone told me they prefer me with some more weight on me...I'd give them a big, fat kiss! I think this is just a big misunderstanding and hold no hard feelings towards LeAnn. Hope to see her on a red carpet soon!"
Will Rancic's response be enough to appease Rimes? The singer has shot back at anyone and everyone who has dared say anything about her bony body.
She recently also blew up on Twitter at stranger who had the audacity to approach her at a restaurant in Chicago, suggesting she was too thin:
"How dare someone come to me at a table w/ the boys & tell me I need to eat something. What is wrong with people!? AS I'm stuffing my face....have another drink and maybe take a class in manners! Cheers!"
It wasn't the first time she addressed her weight on Twitter either, back in March she tried to brush off concerned fans by tweeting that she just had some kind of "doughnut hazelnut cream thingy for dessert at lunch."

Calling all HuffPost superfans!
Sign up for membership to become a founding member and help shape HuffPost's next chapter