Hutchinson alleges in her upcoming memoir "Enough" that Giuliani groped her on Jan. 6, 2021, backstage at then-President Donald Trump's speech in Washington, D.C., prior to that day's riot at the U.S. Capitol.
The disgraced lawyer was forced to address the allegation Wednesday while appearing on Newsmax's "The Balance."
"She claims that I groped her in a tent on January 6, where all the people went in that were very, very cold as a result of the president's speech," Giuliani told host Eric Bolling. "I'm gonna grope somebody? With 100 people. First of all, I'm not gonna grope somebody at all."
He continued: "And number two, in front of like 100 people?"
The former New York City mayor claimed it would have been impossible for him to grope Hutchinson because he'd brought 10 staffers to the speech "as kind of a reward" and had "extra security" that day. Giuliani added he's "thinking of going after" Hutchinson and her book publisher.
Excerpts of "Enough" were published Wednesday by The Guardian.
"Rudy wraps one arm around my body, closing the space that was separating us," Hutchinson wrote in her book, per The Guardian. "I feel his stack of documents press into the small of my back ... His hand slips under my blazer, then my skirt."
"I feel his frozen fingers trail up my thigh," she wrote. "He tilts his chin up. The whites of his eyes look jaundiced. My eyes dart to [Trump adviser] John Eastman, who flashes a leering grin. I fight against the tension in my muscles and recoil from Rudy's grip."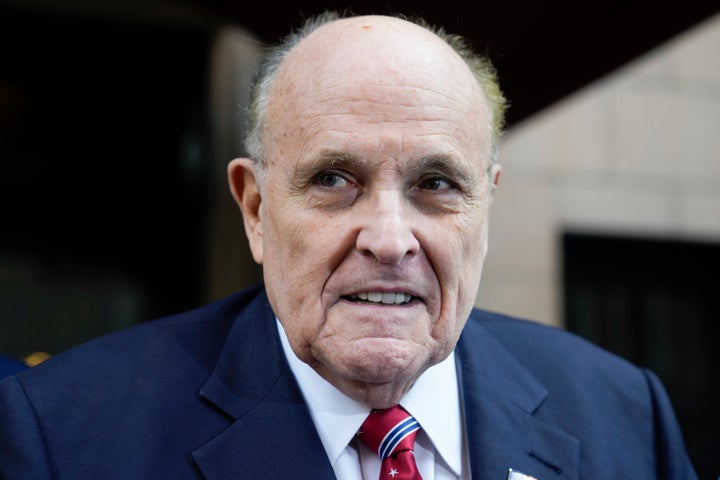 Giuliani called Hutchinson's account "totally absurd" on Wednesday.
Support HuffPost
The Stakes Have Never Been Higher
Popular in the Community