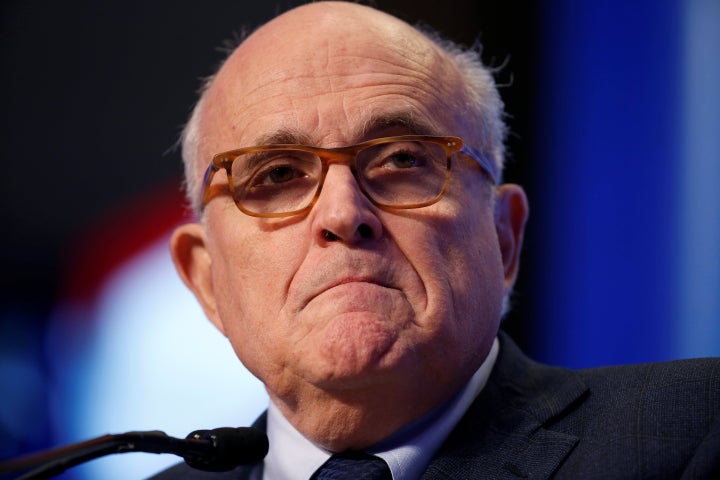 Advisers to President Donald Trump declined on Sunday to rule out that women other than porn star Stormy Daniels received money to keep silent about alleged affairs with the businessman-turned-politician.
Rudy Giuliani, who recently joined the president's legal team, said he was unaware of any other such payments brokered by Trump attorney Michael Cohen, but he left a wide door open for them.
"I have no knowledge of that, but I would think if it was necessary, yes," Giuliani told George Stephanopoulos in an interview on ABC's "This Week" about the possibility. 
Speaking on CNN's "State of the Union," White House counselor Kellyanne Conway said she didn't personally know about payments other than the one to Daniels, though she added an important caveat.
If such payments were made, "They didn't cross my desk as campaign manager" in the 2016 election, Conway told Jake Tapper.
Daniels, whose real name is Stephanie Clifford, has said she had an affair with Trump in 2006, after he'd married his wife Melania and a son was born to the couple. Daniels signed a nondisclosure agreement regarding the alleged affair and accepted $130,000 from Cohen just before Trump won the White House. Trump has denied the affair occurred.
Giuliani, the former New York City mayor, created a controversy for the president last week when he acknowledged publicly that Trump reimbursed Cohen for the payment. Trump had previously denied knowing about the hush money, though Conway now is saying he meant that he was unaware of the payment when it occurred.
The payment may have comprised an illegal campaign donation if Cohen made it in order to protect Trump's campaign from scandal.
Giuliani has claimed that the payment was made to Daniels not for the sake of Trump's candidacy but to shield his family from adverse and hurtful publicity. Giuliani has called the payment a personal matter rather than a political one for the president.
As for similar potential payments to women, Giuliani said Cohen would have made them as someone who handled business for Trump.
"He made payments for the president," Giuliani said. "He conducted business for the president."
Calling all HuffPost superfans!
Sign up for membership to become a founding member and help shape HuffPost's next chapter