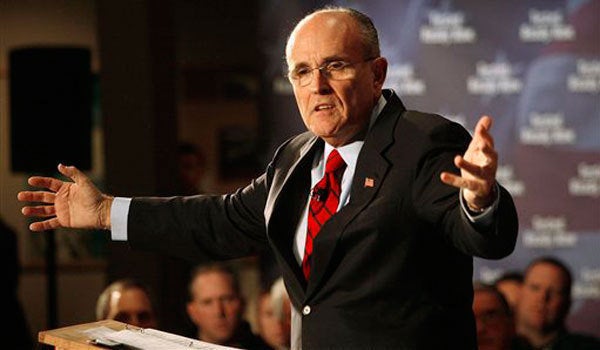 Rudy Giuliani's presidential campaign announced on Thursday the formulation of a Catastrophe Advisory Committee, designed to provide the former New York City mayor with advice on the needs of local communities in regards to catastrophe response.
What purpose this committee will serve Giuliani's White House ambitions remains unclear. His campaign did not return a request for comment. But the mayor, in a press release on his website, explained it as such:
"Every community in America must be prepared for natural disasters and terrorist attacks, which is why I support the creation of a National Catastrophe Insurance Fund and why I have made ensuring that every community in America is prepared for terrorist attacks and natural disasters one of my 12 Commitments to the American People..."
As curious as it is to create an ad hoc committee on catastrophe preparedness in the midst of the campaign is the individual who Giuliani appointed to head that committee. Joe M. Allbaugh, the man who once headed the Federal Emergency Management Agency, will formally hold the title of National Chair.
Allbaugh headed FEMA prior to the disastrous reign of Michael Brown. In fact, he was the man who made Brown the Number 2 official at the agency. During Katrina, as the country suffered through the most botched disaster response in its history, Allbaugh was on the ground in the Gulf region -- not to help in reconstruction, but to get lucrative business contracts for corporate clients. His companies included Kellogg Brown & Root (KBR), the subsidiary of Halliburton; TruePosition, a manufacturer of wireless products, services and devices, and the Shaw Group, a provider of engineering, design and construction services. Another Allbaugh client, Service Corporation International received a mega-contract through FEMA (through a subsidiary) to help with the recovery and relocation of Katrina victims.
Part of Allbaugh' political and business success are traced to his lengthy ties to President Bush. A Bush-Cheney campaign manager in 2000, he was involved in the controversy over the president's military records. A former Texas Air National Guardsman claimed that Allbaugh attempted to purge files to "make sure nothing will embarrass the Governor during his reelection campaign, or if he runs for president."
The White House dismissed the claims. But there was no denying that Allbaugh was a true loyalist. After leaving Bush and FEMA he set up a lobby shop to, as the New York Times noted, "advise companies that want to do business in Iraq, including those seeking pieces of taxpayer-financed reconstruction projects." The firm, New Bridge Strategies, advertised on its own website the connections it had to the Bush White House.
Now it appears Allbaugh is cultivating the same sort of tight relationship with Giuliani. This past October, the former New York City mayor appointed him a senior adviser on "general strategy and homeland security."
Update: Pete McDonough of ProtectingAmerica.org, a non-profit headed by former FEMA director James Lee Witt, emails in to explain this development. Giuliani, he notes, has signed on to the creation of a national catastrophe fund to help the residents of catastrophe-prone states. To win in Florida, he adds, a candidate pretty much has to do this. And Sens. Barack Obama and Hillary Clinton have done so as well. Still, he adds, there is no explanation as to why Giuliani felt the need to create a committee. Or, for that matter, staff it with Allbaugh.
Popular in the Community