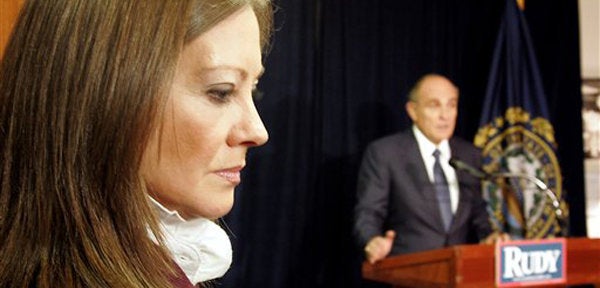 Rudy Giuliani, having bet almost his entire presidential campaign on Florida, hinted for the first time that he may drop out if he doesn't win the state's primary but insisted anew Tuesday that he intends to win.

"I expect to win it," he said. "You don't contemplate losing it. That isn't something you do on the day of a primary."

Polls show the former New York mayor, last year's national front-runner, trailing badly in the state where he has poured most of his time and energy in his pursuit of the Republican presidential nomination. If he wins Florida, he will have earned the biggest, brashest "I told you so" of his political career.

Lose, and Giuliani may be uttering his final words of the campaign.

"Wednesday morning, we'll make a decision," he told reporters between campaign appearances Monday. "The winner of Florida will win the nomination; we're going to win Florida."

Media outlets - such as the AP below - are reporting that the Florida race is between John McCain and Mitt Romney.
John McCain and Mitt Romney clashed in a hard-fought Florida primary on Tuesday, seeking campaign momentum before the race for the Republican presidential nomination turns into a nationwide delegate struggle on Feb. 5.

Rudy Giuliani and Mike Huckabee also had spots on the ballot, struggling for survival in a race that threatened to leave them behind _ or out.

The winner stood to gain all 57 national convention delegates at stake, the biggest prize so far in an early round of primaries and caucuses.
Read about the latest polling in Florida on Huffington Post's new feature HuffPollstrology.