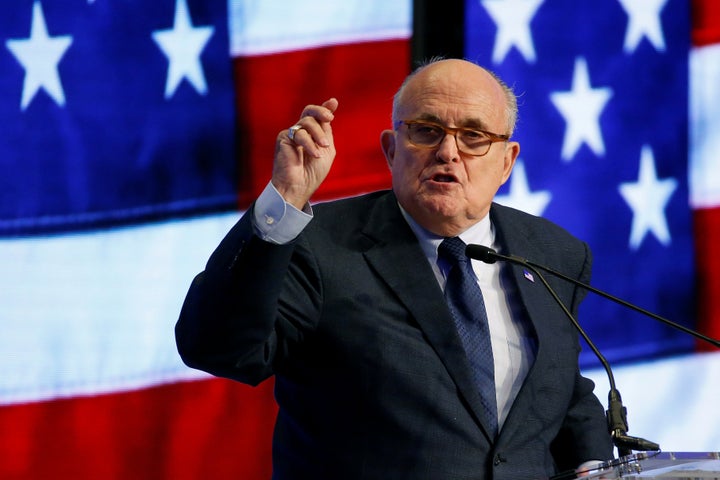 WASHINGTON ― One of Donald Trump's lawyers said Monday that the president can't agree to an interview with special counsel Robert Mueller's team without first learning more about the secret FBI informant who spoke with members of the Trump campaign during the 2016 race.
"We can't let our guy go in and be questioned without knowing this," Rudy Giuliani said in an interview with HuffPost on Monday afternoon.
Giuliani, who is on Trump's private legal team, spoke with HuffPost after Trump met with Deputy Attorney General Rod Rosenstein, FBI Director Christopher Wray and Dan Coats, the director of national intelligence, about congressional requests for information on the secret FBI source. The decision to set up the meeting, Giuliani said, was made by Trump and his White House lawyers without Giuliani's involvement, although he said he supported it.
"I didn't advise against it," Giuliani said. "He has a right as president to say to the Justice Department you have to comply with a congressional subpoena or request."
Although Giuliani said the meeting was held in Trump's capacity as president rather than as a potential criminal target, he acknowledged that the FBI releasing information about the source would benefit Trump's defense.
"I don't care so much about the name as I do about the content," he said. "What prompted them to do it? What did they learn from it?"
Monday's unusual meeting with Rosenstein and Wray ― both Republicans appointed by the president ― was set up to discuss what Trump has described as the infiltration or surveillance of his 2016 campaign team. Before the election, a confidential FBI source reportedly met with associates of the campaign who were suspected of working with Russia. Trump allies on Capitol Hill have demanded information about the FBI source, a Cambridge University professor whose name was widely published over the weekend.
In a statement after the meeting, White House press secretary Sarah Huckabee Sanders said the Justice Department had asked its inspector general to look into "any irregularities ... concerning the Trump Campaign" and agreed to a meeting with congressional leaders to "review highly classified and other information they have requested." Although Sanders said the Justice Department had requested the inspector general probe "[b]ased on the meeting with the President," the department had actually decided to make that request after the president tweeted about the matter on Sunday. The Justice Department declined to comment.
Trump has sided with his defenders on Capitol Hill who have used their oversight powers to try to undermine the Mueller investigation.
It remains to be seen whether Monday's meeting will diffuse the tensions between Trump and the Justice Department. It's unclear what documents the department agreed to turn over to Congress.
Rosenstein, a lifelong Republican whom Trump nominated to the No. 2 position in the Justice Department, has come under fire from the president's defenders upset over the appointment of a special counsel. Trump defenders on Capitol Hill have recently been requesting more information about the ongoing investigation into Russian interference in the 2016 election.
Rosenstein, speaking earlier this month in response to a question about calls for his impeachment, said the Justice Department "will not be extorted" by threats. But when the president tweeted on Sunday that he wanted an investigation into allegations that the FBI had "infiltrated or surveilled" his campaign, Rosenstein said the department would ask its own watchdog to look into it.
"If anyone did infiltrate or surveil participants in a presidential campaign for inappropriate purposes, we need to know about it and take appropriate action," Rosenstein said in the statement.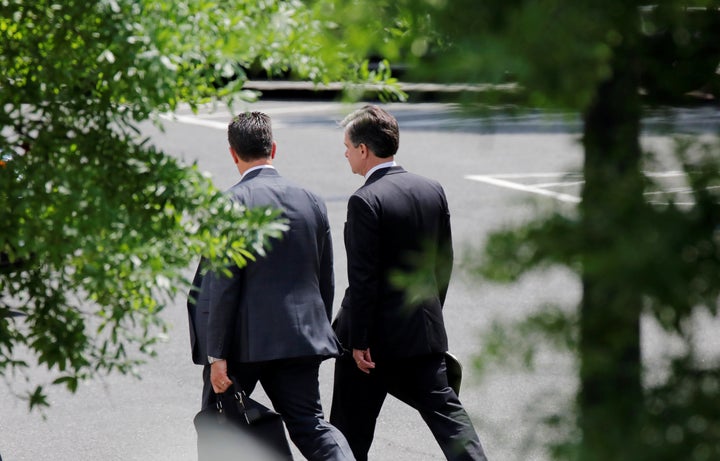 Giuliani acknowledged on Monday that he wanted to keep the names of confidential informants a secret when he was a federal prosecutor. "I always wanted to withhold their names," he said.
But in this case, he said, he cannot understand the Justice Department's opposition to releasing the name. "First of all, the name is out there. So I don't know what they're fighting about," he said.
Giuliani agreed that critics who worried about GOP Rep. Devin Nunes' ability to act as an honest broker had a valid point. Nunes, chairman of the House intelligence committee, has recently been fundraising off his defense of Trump.
"Sure he's a partisan. He's probably outraged that the president was put in this position," Giuliani said, but he added that Nunes' loyalty to Trump does not give the Justice Department the right to withhold information from him.
"You don't get to choose who the members of Congress are. The people do. So you've got to take that risk," Giuliani said. "Congress is certainly entitled to see this."
Ryan Reilly is HuffPost's senior justice reporter, covering the Justice Department, federal law enforcement, criminal justice and legal affairs. Have a tip? Reach him at ryan.reilly@huffpost.com or on Signal at 202-527-9261.
Popular in the Community