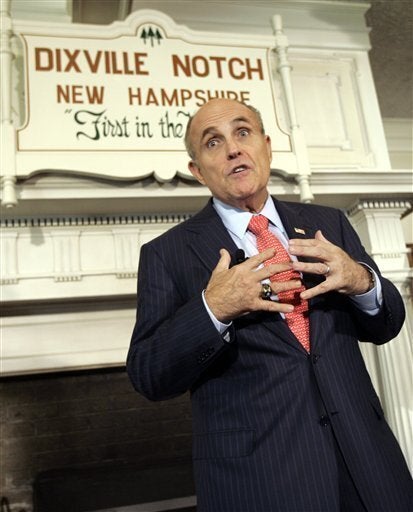 Strategists for Rudy Giuliani are quietly preparing a significantly race-based campaign strategy to strengthen support among socially conservative white voters, in the South as well as in the North.
The former Mayor carries the burden of three marriages and a Brooklyn accent, but he has more race cards to play than any of his opponents, and his success in the fight for the nomination - according to close observers of the campaign -- may depend on how aggressively he plays his hand.
The themes the campaign are lining up for renewed emphasis are those reflecting Giuliani's confrontational stance towards black New Yorkers and their white liberal allies, as well as his record of siding decisively with the police against minorities who launched protests alleging police brutality during the years he was mayor from 1994-2001.
Giuliani's eight years as New York's chief executive exemplified a Northern adaptation of the GOP's politically successful "Southern strategy" - the strategy playing on white resistance to and resentment of federal legislation passed in the 1960s mandating desegregation - resistance that produced a realignment in the South and fractured the Democratic loyalties of white working class voters in the urban North from 1968 to 2004.
"Race is at the heart of Rudy's story," according to Wayne Barrett, one of Giuliani's preeminent biographers. Giuliani ended race and gender preferences in New York's city contracting. He eliminated open admissions at City University and re-instituted testing requirements for the school -- requirements which disadvantaged black and Latino applicants seeking to complete the four-year curriculum. Also angering black leaders, Giuliani instituted tough law and order policies that were consistently cited by his administration as the driving force pushing crime rates down over 60 percent during his tenure as Mayor.
Equally important in courting a racially conservative Republican primary electorate in the current presidential election, Giuliani brought to a halt the black and minority domination of New York city politics.
In 1993, Giuliani defeated New York's first black mayor, David Dinkins, by 53,367 votes, 49.3 to 46.4, after calling Dinkins a "Jesse Jackson Democrat." In 1997, Giuliani used the mayoral bid of Al Sharpton as a wedge issue against the other Democratic primary candidates, describing their refusal to renounce the controversial black leader as an insult to New Yorkers. In effect, Rudy stood up to and beat three icons of the black community - Dinkins, Sharpton and Jackson - all figures recognizable to white Republican primary voters.
In addition, Giuliani has begun an attempt to appeal to voters who disagree with him on such issues as gay marriage and abortion by citing his record as an authoritarian defender of the traditional social order against the assault of cultural liberalism - a record dovetailing with his stands on racial issues.
He closed the Brooklyn Museum after it put on display a painting of the Virgin Mary covered with Elephant dung. He presided over the clean-up and revitalization of a sex-dominated Times Square, the most notorious red-light district of a city considered a den of sin by the Religious Right.
"Giuliani made it a priority to clean up the smut from Times Square in New York. Pre-Giuliani and post Giuliani are worlds apart when it comes to pornography in that area," Christian Broadcasting Network correspondent David Brody recently wrote on his blog. "Giuliani gets bashed as the pro-choice, pro-gay rights social liberal. But on this issue of pornography will social conservatives admit that Giuliani was solid?"
Uncommitted conservative Republicans contend that Giuliani should move quickly to capitalize on his mayoral successes, independent of his widely heralded performance in the immediate aftermath of the 9/11 terrorist attacks.
"He should be showcasing those things where he took on the politically correct forces, the Manhattan liberal establishment," said conservative operative Craig Shirley.
Giuliani leads in virtually every national poll by an average of 12 points. But former Massachusetts Governor Mitt Romney currently holds a very strong 13.5 point lead in Iowa, a solid 8 point lead in New Hampshire, and a slight lead in Michigan.
As a result, Romney is currently favored to win two, and possibly three, of "first in the nation" contests. Doing so would push Romney to a dominant position in the GOP primary.
The fourth key Republican test is the South Carolina primary with a GOP electorate that is overwhelmingly white and disproportionately conservative on social and racial issues.
For the first seven months of this year, Giuliani led in 15 out of 16 polls of South Carolina voters. In August and September, however, Former Tennessee Senator Fred Thomson moved slightly ahead of Giuliani. In the most recent surveys, Romney has taken a razor-thin lead.
If Giuliani were to lose the first three contests to Romney, his chances of winning the nomination would sharply diminish and perhaps disappear. For that reason, South Carolina is becoming crucial to Giuliani's survival, and hizzoner needs to regain his early advantage there, wresting sympathetic voters away from encroaching competitors.
"We will make sure voters understand what he did as mayor of New York, over and above 9/11," concurred a key source in the Giuliani campaign. "I sure would if I were him," said Republican pollster Glen Bolger who notes the appeal of Giuliani's record to conservative voters.
Popular in the Community