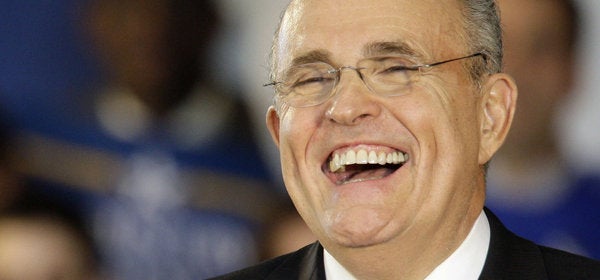 The McCain campaign and the RNC are launching a new robocall effort attacking Barack Obama for being soft on crime and suggesting that he would not keep the streets or families safe.
Readers in Colorado and Wisconsin write that mid-day Wednesday he received a recorded message from Rudy Giuliani that says Obama does not support mandatory prison sentences for certain kinds of crimes like drug offenses and murder. The call, the reader notes, was paid for by the RNC and McCain/Palin '08.
At the same time, a reader in Minnesota writes that she too was the recipient of a call alleging that Obama was soft on street crime and criminals. That call was not automated as it is against state law.
Hi, this is Rudy Giuliani and I'm calling for John McCain and the Republican National Committee, because you need to know that Barack Obama opposes mandatory prison sentences for sex offenders, drug dealers, and murderers. It's true, I read Obama's words myself. And recently, Congressional liberals introduced a bill to eliminate mandatory prison sentences for violent criminals -- trying to give liberal judges the power to decide whether criminals are sent to jail or set free. With priorities like these, we just can't trust the inexperience and judgment of Barack Obama and his liberal allies. This call was paid for by the Republican National Committee and McCain-Palin 2008.
Greg Sargent at TPM has posted audio.
The call is the second in as many weeks to paint Obama as possible dangerous to national interests. The first such effort told recipients that the Illinois Democrat was friendly with former domestic terrorist Bill Ayers.
The current call comes, it seems, from a Washington Times article which reported that in October 2003 NAACP debate, Obama said he would "vote to abolish" mandatory minimum sentences. "The mandatory minimums take too much discretion away from judges," he said.
It should be noted, however, that Obama has clarified that position while on the trai. The Senator said he would "immediately review sentences to see where we can be smarter on crime and reduce the ineffective warehousing of nonviolent drug offenders." His stance is bolstered by several studies of criminal behavior which show that "mandatory minimum sentences are less effective than discretionary sentencing and drug treatment in reducing drug-related crime."

Popular in the Community