Stare into a Giuseppe Arcimboldo painting, and you'll find yourself gazing into a wormhole of bibelots and gimcrackery. Bits of household items mesh with teases of flora and fauna in strange yet eerily familiar configurations. Strange because of the pure randomness of the collaged pieces, familiar because the objects end up forming human faces. Where the optical illusion ends and the portrait begins is warped at every turn.
And keep in mind, his bizarre paintings were created in the 1500s, when Arcimboldo was a court portraitist who subverted the typical "royal likenesses" for portraits made from fruits, vegetables, rodents and sticks.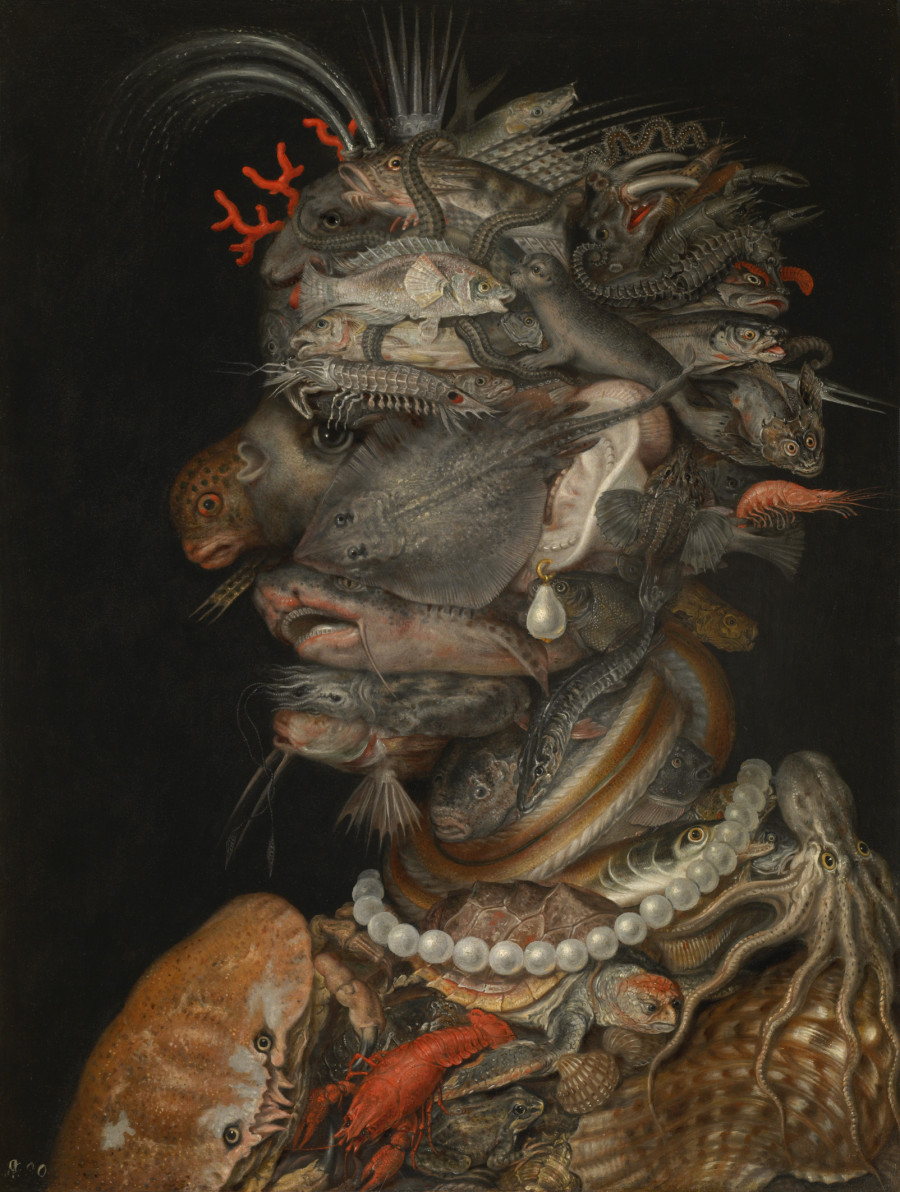 Giuseppe Arcimboldo, "Water," 1566, Oil on panel, 66,5 cm x 50,5 cm © KHM
One particular royal who tolerated, and probably learned to enjoy Arcimboldo's humorous technique was Holy Roman Emperor Rudolf II. In fact, the artist remained under the patronage of the Hapsburg family for 25 years, honing his "composite heads" along the way. While his work remained largely unseen for centuries after his death in 1593, Arcimboldo's oeuvre is seeing something of a comeback in recent years.
This is the first time in history that both paintings, seen below, are on view for the public, first in Madrid and then in Vienna, where they were reunited for the first time in four centuries with the collection of Emperor Rudolf II. Dating back to 1589, the pieces show one nearly forgotten artist's proclivity for earthly pleasures, an obsession that took a rather unlikely form for his time period. See snippets from the Kunsthistorisches Museum's collection below and check out the slideshow beneath it for more pieces from Arcimboldo's past.
PHOTO GALLERY
Giuseppe Arcimboldo
Calling all HuffPost superfans!
Sign up for membership to become a founding member and help shape HuffPost's next chapter