A few years ago a doctor in Portland, Oregon, began going about the city quietly giving a $100 bill to one person each day. Jill Ginsberg didn't know any of the people to whom she handed this money. It simply seemed to her that they needed it -- and that she needed to give it away.
Dr. Ginsberg suffered from a chronic fear that she would someday run out of money. She wanted to try something radical to cure it.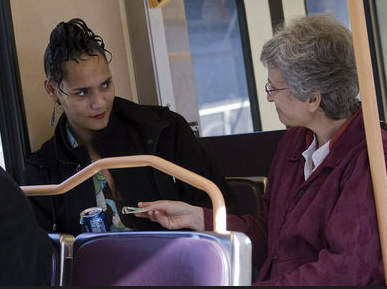 Jill Ginsberg hands an unknown woman a $100 bill. Photo by Bruce Ely, The Oregonian
To all appearances she had no reason for worry. She was a practicing physician and co-founder of a free health clinic in one of Portland's most impoverished neighborhoods. She was accomplished, respected, and on solid financial footing. But she had inherited her mother's deep fear of falling into poverty.
Gina Ginsberg was born to a wealthy German family that lost its fortune when Hitler rose to power. For years after, Gina's life was difficult. Eventually she managed to settle in the U.S., marry a man with a stable income, and become a teacher. But she worried constantly that the family would tumble into poverty.
She would tell her three children, "We have only one dollar for meat today. It has to feed all of us." Until Dr. Ginsberg was nearly 17, she believed the family was "dirt poor."
As she entered adulthood, Dr. Ginsberg found herself suffering from the same scarcity mentality as her mother. She became a notorious cheapskate. One day her eldest son saw her soaking a toothbrush in bleach because it had fallen into the toilet. He offered to buy her a new one.
When Gina died in 2010, she left her retirement funds to Dr. Ginsberg. The unexpected bequest gave Dr. Ginsberg a chance to try a unique form of therapy--giving away money with no say as to how it would be used. She hoped this would loosen the iron grip she tended to keep on her cash.
"I once gave a guy a $20 tip for pumping my gas," she said. "He was like, 'wow, how great!' What if I could do that over and over?" So she decided to give away $100 a day for a month, to whomever fate happened to put in her path. She would blog about each experience on her website.
She set some rules for herself. She had to encounter each person as part of her normal activities. She wouldn't give to panhandlers, and she had to push herself to examine her ideas about what "neediness" looked like.
On her first day, she saw a man on a bike that was too small for him. By the purposeful way he was pedaling, she knew it was his only form of transportation. She jumped out of her car and thrust the hundred into his hand, saying only, "This is for you."
She drove off as he yelled "Thank you!" with a dazed smile.
The second day she gave the money to a pleasant woman who was minding children in the day care area of a grocery store. This time Dr. Ginsberg was more poised. She approached the woman and told her she was doing something to honor her mother. When the woman realized that Dr. Ginsberg had pressed a C-note into her hand, she burst into tears. She was completely out of money. She didn't even have the cash for gas to drive home.
That first month was marked by many similar encounters. Slowly Dr. Ginsberg realized that the people to whom she was giving the money wouldn't have benefited from traditional charities. "They were struggling, but not down and out. They weren't asking for help."
"I wanted to test the idea that you can look at someone and tell if they're in need--and I found out that it's bullshit. You can't tell at all. I never knew which ones would break into tears" because they needed the money so badly.
The process of giving felt remarkably freeing. When the month was over, Dr. Ginsberg realized it hadn't been enough. In 2011 she gave away a hundred hundreds, scattered throughout the year.
She ended up breaking her prohibitions against giving the money to smokers or people who were buying junk food. "Those judgments were so loud in my head," she said. "But over time it just became less important to me to make sure the money was spent in a good way, because I realize I don't know as much as I think I do. "What would I do if I were homeless on a hot day and someone gave me money? I'd probably like a beer or two -- or three."
She still worries intermittently that she will fall on hard times, especially in retirement. But that is not an uncommon fear in America. On a daily basis her attitude toward spending money is much more light-hearted. When she makes plans to travel, she now feels grateful she can afford it, rather than anxious about the cost. "I even buy myself a new toothbrush on a regular basis," she quipped.
All told, Dr. Ginsberg has distributed about $15,000 in her random encounters. Occasionally she still gives a $100 bill to someone she doesn't know. Her blog includes an invitation to each of us: Give it a try.
"The people I know who have tried it are amazed by what happens," she said.
REAL LIFE. REAL NEWS. REAL VOICES.
Help us tell more of the stories that matter from voices that too often remain unheard.