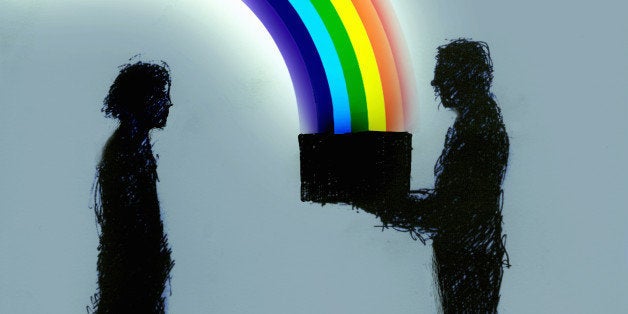 How would you like to help give away $100,000? It's not often that an opportunity like this comes your way. But thanks to the extraordinary generosity of the Learning By Giving Foundation, any student taking Giving 2.0: The MOOC, a free six-week MOOC (massive open online course), that I'm launching on October 6 can participate in allocating up to $100,000 in grants to nonprofit organizations.
Sounds easy, doesn't it? But the truth is, effective giving is complex. Few people give it enough time and thought. In fact, a study by Hope Consulting found that only 35 percent of individual giving decisions were based on research and, even more surprisingly, only 3 percent compare the performance of multiple nonprofits.
It's not that Americans aren't generous. Most of the more than $335 billion given away in 2013 came from individual givers and bequests. The problem is that the full philanthropic potential of our gifts is not being realized because our decisions are responses to emotion or solicitations--rather than based on our personal passions and the knowledge that this is the best possible social investment.
This needs to change. And can only happen if every giver has access to free, high-quality philanthropy education.
Until recently, this was largely unavailable. When I started giving 20 years ago, there was nowhere to turn to learn how to identify the most effective nonprofits, understand issue areas, or find out which social interventions were most likely to work. I didn't know how to evaluate impact or even interpret nonprofit financial statements. I made it my purpose to find out. But I learned through experience, mentorship, and mistakes--a lot of them that I do not want you to make!
When I began teaching strategic philanthropy at Stanford Graduate School of Business in 2000, few institutions taught classes on philanthropy (the few courses that did exist focused primarily on its history and were not field-based), and non-academic programs were (and still are) expensive and inaccessible.
Technology has changed all this. MOOCs allow anyone with an Internet connection or smartphone to tap into the insights and best practices of educators and experts worldwide. Now, with this technology, we have the opportunity to usher in a new generation of philanthropists who are more diverse and better equipped than ever to effect change. We have the chance to help thousands of people globally actualize their philanthropic potential.
Using a competitive grantmaking process, students will learn how to give strategically by granting up to $100,000 to charitable organizations after researching, selecting, evaluating, and comparing nonprofits. It will enable students to embark on a new philanthropic journey, or improve their existing practices, helping them make a bigger impact on the communities and causes they care most deeply about.
Changing individual philanthropic learning on this scale has never previously been possible. This MOOC will create a new community of givers. Be part of this community. Don't miss this chance to transform your giving--and change our world.
Laura Arrillaga-Andreessen is a lecturer at the Stanford Graduate School of Business and is the author of New York Times bestseller Giving 2.0: Transform Your Giving and Our World (Wiley's Jossey-Bass, November 2011). She also founded the Laura Arrillaga-Andreessen Foundation in order to educate, empower and engage people to give in a way that matters more. For a host of philanthropic resources, please visit www.laaf.org.
REAL LIFE. REAL NEWS. REAL VOICES.
Help us tell more of the stories that matter from voices that too often remain unheard.