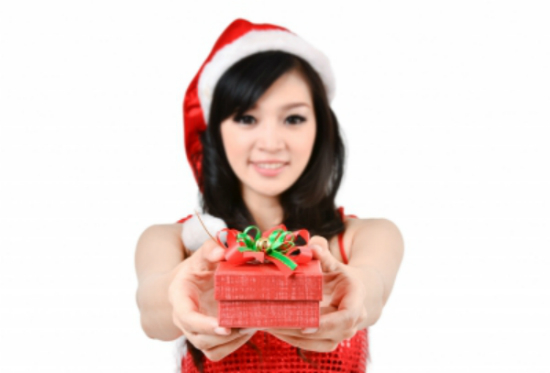 Giving is essential to our human spirits. Whether giving money or time, supporting people in their journeys cements our faith in humanity. We all deserve the gift of a helping hand. Because no matter how tough we think our lives may be, there is always someone who is facing tougher challenges.
Sure, giving back should be a selfless act, but it's good for both the giver and the recipient. Studies even prove the amazing benefits of giving, whether you are volunteering at a soup kitchen, donating money, or simply performing random acts of kindness.
Personally, giving back is important to me. I remember donating clothes at The Salvation Army with my mom. I also secretly took canned goods from the family pantry for school food drives. Now as an adult, I make sure that I give regularly and encourage my friends to do the same.
Several Secret Santas have already popped up this holiday season. In Texas, a Grinch stole a family's Christmas decorations, but after a few days, new decorations appeared on the family's doorsteps. An anonymous donor in Idaho paid off the layaway debts of some Walmart shoppers.

More people are donating money to their favorite organizations. According to a report issued by Blackbaud, a nonprofit software and services provider, charitable giving revenue grew 4.9% in 2013. Moreover, online giving revenue showed a 13.5% growth overall.
Millennials are somewhat responsible for the reshaping of charity and online giving. In the 2014 Millennial Impact Report, it highlights how young people focus on helping people, not institutions. They also consider their time, money, and assets as having equal value. Nonprofits will need to learn how to navigate this new disruptive environment.
This year, be thankful. Shop to you drop. Then, participate in #GivingTuesday 2014. It's a national movement to encourage charitable giving during the holidays. In the past, companies like Mashable, Microsoft, and Sony collaborated with organizations to produce greater impact.
The White House even supports this "potent new model of online and offline engagement that was pioneered in our country but has taken root around the world."
GiveForward, an online fundraising and donation website, helps individuals raise money for loved ones in an easy-to-use way. It also provides fundraising coaches to offer you guidance on how to raise funds online.
Over the past six years, the organization raised a total of $100 million for more than 100,000 medical fundraisers. From cancer treatments to transplants to funeral costs, GiveForward provides a platform for people to support others in need of assistance.
$10 buys Chris a good lunch at his expensive hospital cafeteria.
$25 provides a day of Jim & Brandi's living expenses after their tragic motorcycle accident.
$90 gives Darla a day off work while she fights breast cancer.
$150 will cover one night at Patsy's hotel during her clinical trial.
So, after you complete your shopping list, think about giving to others. You will restore the true meaning of the holiday season.
Image courtesy of anankkml at FreeDigitalPhotos.net