Our New York neighborhoods are full of hardworking people from the transit workers, firefighters, and police department employees to home health aides, teachers and other public services workers. These same New Yorkers who take pride in their role in keeping the city moving, who open the city's doors in the morning and turn off the lights each night, are also finding it increasingly difficult to make ends meet.
Many hardworking New Yorkers are struggling to find affordable rents. So the idea of affordable homeownership in New York City might seem on the surface like an oxymoron, or something that is too outrageous to even dream. Unlike the rest of the country where the homeownership rate hovers above 60 percent, most New Yorkers, of all income levels, do not own their homes in this city. This reality can easily lead someone to beg the question, "Why does homeownership in New York even matter?" In my experience, what it boils down to is the notion of choice.
Families in the low- to moderate-income bracket in New York City do not have the luxury of making the same choices that many of us take for granted. They are in fact, marginalized into living conditions that most New Yorkers would find deplorable. Worse, they often pay more than 60% of their wages in order to cover the rising costs of rent and are forced to make desperate trade-offs with other necessary living expenses, such as their next meal, medical expenses, or a child's education. Parents, in search of lower rents, will move further out from the city's center where most jobs are located, will end up commuting longer hours and spending even more time away from the home, leaving children vulnerable and to their own devices.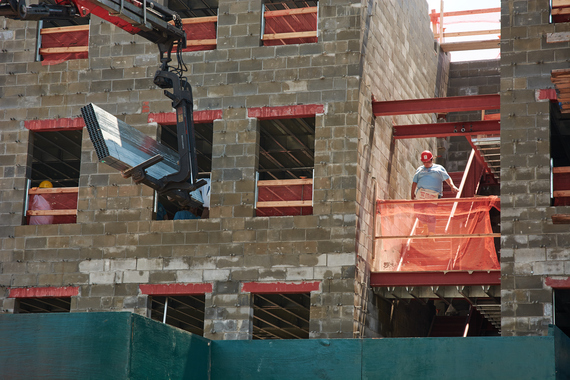 A home is the foundation for healthy living, effective education, and it provides a place and a stake within a community. This is what drives the work I do to make homeownership more affordable. It shouldn't be merely a dream: people who work in New York City should be able to live within the five boroughs; people who live here should also have the choice to own here and establish roots within their communities. This is where our city and state can make smart investments.
One of the primary hurdles to purchasing a home can be affording the down payment. One of the most important measures that government can take to resolve this is making it easier for working families to afford a home through down payment programs.
While admirable down payment programs exist in New York State through the State of New York Mortgage Agency (SONYMA), the support they provide is not congruent to property values, which are higher in New York City than most other parts of the State.
The City's Department of Housing Preservation and Development (HPD) currently offers a down payment assistance program, HomeFirst, which gives prospective buyers the lesser of a $15,000 grant or six percent of the home's purchase price. Yet the program is only eligible to families making less than 80 percent of the area median income (AMI) - or about $62,000 for a family of three. Housing counselors observe that clients earning between 80 and 120 percent of AMI are often outbid by those with enough cash on hand to pay 20 percent, 30 percent or more of the purchase price upfront.
While it has become cliché to point to San Francisco's exorbitant housing costs, there is a silver lining in that San Francisco also has one of the nation's most generous and well-crafted down payment assistance programs. Through the Downpayment Assistance Loan Program, homebuyers with incomes up to 120 percent of AMI are eligible for zero-percent, deferred-interest down payment assistance loans of up to $200,000. In fact, the average down payment assistance amount in San Francisco is $53,173, the highest in the nation. This level of support enables hardworking San Franciscans to continue to live and work in the city.
Like Habitat's own model, my proposal for a better down payment assistance program for New Yorkers represents not a hand out, but rather a hand up. Expanding down payment assistance would go a long way towards addressing the displacement of our city's working class and reversing decades of exclusion of longtime residents from sharing in the economic growth of their communities.
A move away from a challenged environment to a stable home, at an affordable price can set just the right stage for success. "Meeting Habitat changed the course of my life," is something I have heard time and again during my tenure with Habitat for Humanity.
"My child was headed down the wrong path, he was missing school, he was running with a dangerous crowd ... but we moved into a Habitat home, in a better neighborhood ... he got involved in school......,"-- these are the stories of lives and outcomes that were dramatically improved through affordable homeownership. They are stories with a happy ending, a fresh start, or a hand up for a family along the way.
At Habitat NYC, we are committed to giving hardworking partner families an opportunity to own their own homes. This sets us apart from our outstanding peer organizations and leaders that are simultaneously focused on other low-income housing solutions.
I have found that in order to boost homeownership, we really need a collective effort from the private sector and public sector, where government programs and funding can make a major difference. If we collaborate to provide the best tools, we can make New York City a better partner to families and a model for other cities across the nation.
A first step in achieving these goals is to provide more New Yorkers a choice with down payment assistance on their first homes.
Related
Popular in the Community