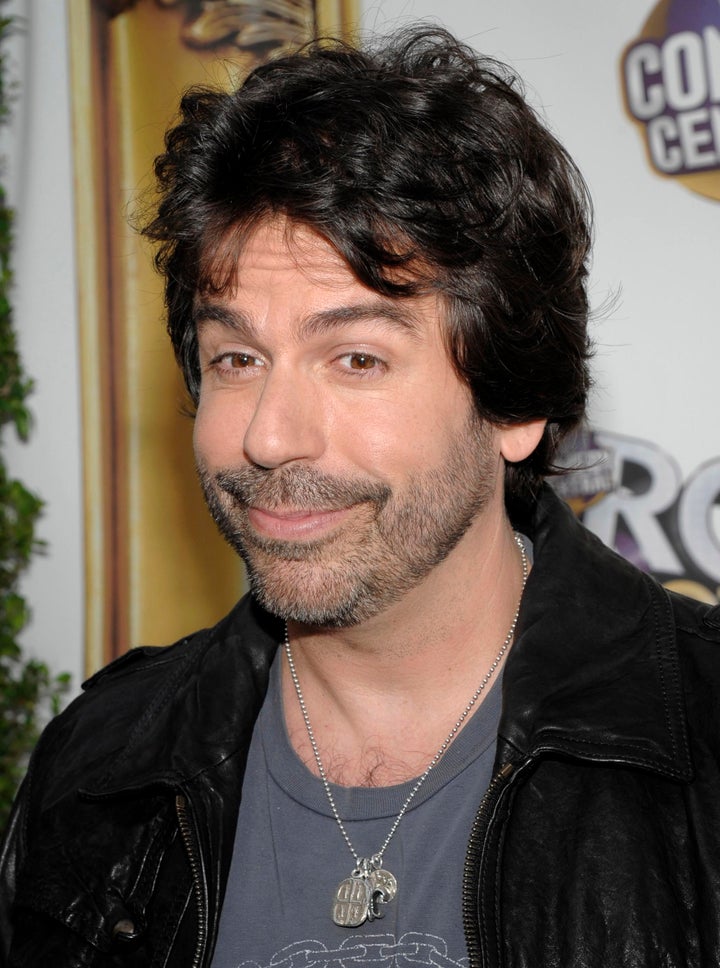 In September of 2010, the comedy world lost one of its best, Greg Giraldo. You didn't have to be a die-hard comedy fan to recognize him: you might remember him from his multiple appearances on the "Late Show With David Letterman", "Late Night with Conan O'Brien," or from his scathing monologues on Comedy Central's Roasts. Or maybe you remember him as one of the quick-witted yet high-minded panelists on "Tough Crowd with Colin Quinn."
Greg was loved and admired by fans and his peers alike, and his loss has been felt by both in equal measure. Which is why Comedy Central has created a special tribute to him "Give It Up For Greg Giraldo" airing tonight at 11:30/10:30 Central.
We wanted to celebrate Greg by showing you some of our favorite clips, and also to get more insight into what made him the performer he was by speaking to someone who knew him well, his co-writer for the Roasts and fellow comedian, Jesse Joyce.
HuffPostComedy: How did you first meet Greg, and how did you begin working with him?

Jesse Joyce: Well, technically around 2004 Greg and I got drunk together several times, though neither of us had much recollection of that… Then in 2005, coincidentally, we both got sober around the same time. We had the same manager then, and he suggested that we start working the road together in the hopes that we'd be a good influence on each other, since we were trying to navigate the road newly sober. We just kind of became friends immediately and we spent the next 4 or 5 years touring around together. Sobriety was tenuous at times; I stayed sober, he (obviously) struggled with it, but we stayed friends regardless.

HPC: What was he like as a collaborator?

JJ: He was really great to me. He was super generous, and he really gave me the confidence to play at that level. He asked me to help him with the Flavor Flav roast, so I wrote him a bunch of stuff that ended up being big hits on the show… (in fact one of them ended up being #7 on Comedy Central's "Best Roast Jokes of All Time") after that we just decided that from then on we were gonna work together on all the roasts.

I say he was really generous because he was very vocal about giving me credit. That was exceptionally cool of him. A lot of the comics use writers on the roast, but he would put me out front and would always introduce me to people as his writing partner. That was something he didn't have to do, but he really introduced me to a lot of the industry folks and helped get my profile on the map.

As far as collaboration went, it just really worked somehow. We really just had the same sensibility of what was dark and funny in comedy in general, but specifically with roast jokes, so we'd just end up spending weeks on the road giggling like douchebags about mean spirited things to say about Joan Rivers' balls or whatever. HPC: In terms of the roasts, how did you decide how far was too far, and did you ever disagree? JJ: Greg was always a better barometer about what was too far than I was… he was always the one who would reign it back in. He really knew that imperceptible professional line, whereas I would get on a roll and end up saying something horribly mean spirited about someone's miscarriage or something...at which point he'd always laugh and remark, wow…what the fuck did Gary Busey ever do to you?

As we ended up working together over the years though, I was afforded more veto power. The last few roasts, I successfully argued a couple jokes in that he wasn't crazy about. I'm proud to say that on the Hasselhoff roast, one of them killed and one of them tanked. The one that worked was: "Hasselhoff you're such a drunk, when Alcohol does its taxes it lists you as a dependent." And the one that didn't was: "You're THE best selling author and biggest entertainer in Germany…. I guess that's what happens when a nation burns all it's books...and Jews." So, a 50% success rate I guess.

HPC: What made Greg a great comedian? JJ: I feel like he was a lethal combination of being wickedly smart, incredibly articulate, supremely confident on stage and not having a filter about what he was willing to reveal about himself to a group of strangers. He was the smartest dude I ever knew, and he had this brobdingnagian vocabulary (I feel like that's a Greg word) at his disposal at all times. He could just eviscerate any subject with the perfect concise phrasing. HPC: You often hear people praise Greg's "brutal honesty." Can you talk a little about how he turned personal struggles into jokes that connected with an audience? JJ: I think that's what made him so likable, because by any other measure, his level of intelligence would be intimidating to the average comedy club goer. But he was so brutal about his own issues, that it made him really vulnerable. He could get away with a screed about the idiocy of banning gay marriage or illegal immigration sanctions because 5 minutes later he would have jokes reminding everyone that he's not coping well with middle age and that his weakness for tequila made for some horrendous life choices. HPC: What should people remember the most about Greg? JJ: People should remember that he was one of the best ones to ever do it. He wasn't just great at jokes, but his jokes made points. Even if you didn't agree with them, you have to admit that you got where he was coming from. He had a unique point of view and was unafraid of speaking his mind. He was clearly the best guy to ever murder a roast and he was one of the most well respected comics in the business. He could quote obscure supreme court decisions from 1905 from memory to punctuate a joke, decode brilliant insight into relationships and society, and could just as easily deliver a masterpiece cock joke.
As part of the Comedy Central special, "Give It Up For Greg Giraldo," you can hear even more comedians talk about what made Greg the iconic comedian he was, including Sarah Silverman, Conan O'Brien, Jeffrey Ross, Dave Attell, Nick Swardson and Denis Leary to a name a few:
Finally, this clip from 2009 pretty much sums up why Greg Giraldo will be forever in our hearts: