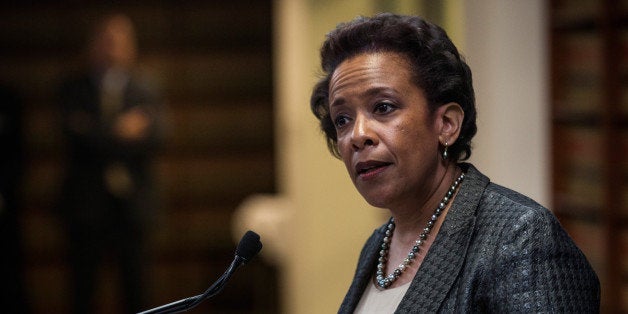 Congress has committed a shameful injustice against U.S. Department of Justice nominee Loretta Lynch, one of the most flawless Attorney General candidates in our nation's history.

The legislators' treatment of this outstanding candidate, who would become the first African American woman Attorney General, is irresponsible and petty.
Whether holding up a Senate vote is intended to demean outgoing Attorney General DOJ head Eric Holder, who announced his departure more than half a year ago, or to thumb their partisan noses at President Obama, this shameless delay insults the candidate and harms national interests. If we citizens do not actively challenge such behavior, we become part of the problem.
President Obama nominated North Carolina native Lynch, who has an impeccable background, four months ago. Her confirmation hearing was like a love fest with lawmakers competing to express their admiration and finding no fault in her record as a New York prosecutor. Holder, who has butted heads with Congress, generously pledged to remain in office until she is confirmed. He seemed to be the only target of any negative comments as she answered nearly 900 questions.
We need this position of chief law enforcement officer for the nation filled so she can get busy addressing serious issues such as policing in minority communities, states' erosion of precious voting rights, repeated deaths of black men at police hands and a muddled policy on illegal immigration. To leave nominee Lynch dangly is unjustifiable.
Republican Mitch McConnell, the Senate Majority Leader, controls this process. He could call a Senate vote and have her sworn in on short notice. But he stalls, on the flimsy excuse of giving priority to an anti-human trafficking bill. Human trafficking is an important issue that I support -- at the able hands of a top law enforcer such as Loretta Lynch!
As President Obama said about the Republicans who signed a letter to the Iranian government, going around his authority as Chief Executive, "I'm embarrassed for them." But that is not enough. We must demonstrate our objections to this Tea Party type partisan obstruction of justice.
I won't even suggest that her race or gender might be part of the reason for such demeaning treatment of Ms. Lynch. Given our history, the Senate should be eager to avoid even the hint of any bias against a woman or an African American.
We can write letters to McConnell, voice our outrage to newspapers and online. We can organize and run competitive races in their home states against the re-election of lawmakers who have behaved in a shoddy, un-American manner, whether Republican or Democratic. Americans deserve better than what we have seen by our Congressional leadership. Every nominee Republican or Democrat deserves an up or down vote from the United States Senate.
We can do better than this! I am calling on Mitch McConnell to do the right thing and give Ms. Lynch as they would any other nominee, a fair and "just" VOTE.
REAL LIFE. REAL NEWS. REAL VOICES.
Help us tell more of the stories that matter from voices that too often remain unheard.