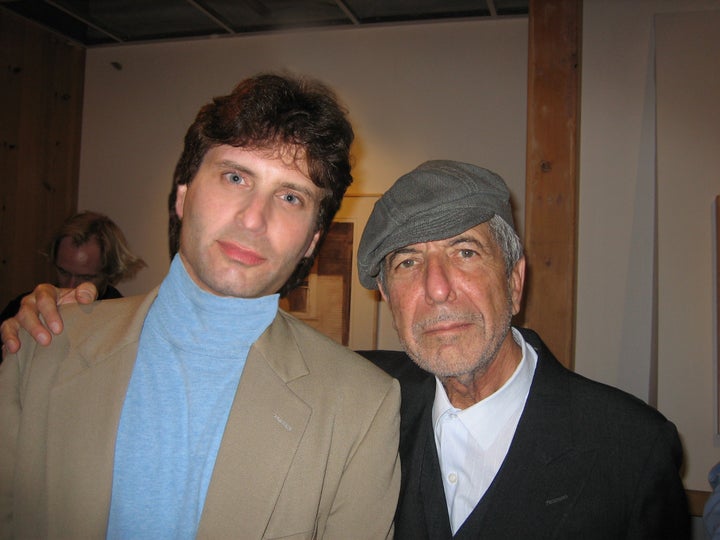 On December 10th, 2016 I was privileged to be able to attend Leonard Cohen's official Los Angeles Memorial Service and afterwards share my favorite Leonard stories with some of his family and friends.
With the weight of his passing still on my mind, I'd like to share 10 important life lessons that I learned from observing Leonard and his career...
1. IT'S NEVER TOO LATE TO START
Leonard Cohen got a relatively late start as a musician. Already a published novelist and poet, he entered a musical world dominated by twenty-something wunderkinds like Bob Dylan and the Beatles in late 1967 with the release of Songs of Leonard Cohen when he was approaching 34 years old. Cohen, born in 1934, was older than Elvis Presley and nearly 10 YEARS the senior of many leading, established rock stars of the era by the time he was just rolling up his sleeves to start.
2. YOU DON'T HAVE TO BE AN ARROGANT A**H*** TO BE A BRILLIANT ROCK STAR AND ARTIST
Unlike many of his contemporaries, who hid behind shades and 'cooler than thou' affected attitudes, Leonard was always Leonard. He never changed his name. He never changed personas. He never sneered out from behind Ray-Bans at the establishment, the press or the average man on the street. He was always the one rock star who never acted like he was cooler than everyone else in the room. By example, he taught the world that it was okay for an iconic musician and intellectual to be a humble, decent guy to virtually everyone and never, ever get caught up in your own hype or mythology.
3. NOT ALL GREAT SONGS COME IN AN INSTANT BURST OF DIVINE INSPIRATION
Rock and roll is full of mythological stories of classic songs being written in mere minutes, as if the artist had been chosen by the gods and struck by a divine bolt of creative lightning.
Leonard freely admitted to the enormous toiling and struggle that went into many of his greatest works. It took him 5 years to write "Hallelujah" (arguably the world's most covered song) and trim its 80 verses to 4. It took him 10 years to write "Anthem", a song whose insights on spirituality have been quoted by virtually every faith on the planet.
4. YOUR MOST MEMORABLE ACHIEVEMENT MAY NOT OCCUR UNTIL EVERYONE ELSE HAS ALREADY WRITTEN YOU OFF AS "OVER"
Most rock stars record their greatest works near the beginning of their career in the prime of their youth. Leonard did not release the classic song "Hallelujah" until he was 50 years old (an age when most rock stars are long considered "washed up" with their best work far behind them.) Both the song and "Various Positions" (the album it was featured on) were deemed a "disaster" by Cohen's record company, who refused to release it. Eventually, it was released on an indie label, but had little initial success and it seemed the music-buying public had turned its back on Leonard. Improbably, after being featured in the movie "Shrek" Hallelujah was well on its way to (arguably) becoming the most covered song in the entire world. Like a musical Swiss army knife with metaphysical transformative power, it applies equally well to virtually all of life's momentous occasions. It has, is, and will be featured, now and forever, in an endless parade of weddings, births, funerals, religious services, TV shows, movies and even sporting events (not to mention the countless drunken renditions you're likely to encounter in karaoke bars.) The version that started it all is Jeff Buckley's classic cover, which created the groundswell that caused the Hallelujah phenomenon.
5. HUMILITY IN SERVICE TO OTHERS IS THE TRUE MARK OF GREATNESS
In his quest for truth and peace, Leonard joined a Zen Monastery in Los Angeles to enhance his inward focus. Even though he was already a legendary rock star and song-writer, he regularly cooked and cleaned for others in the monastery as part of his spiritual practice. What other rock stars would do that? (Unless it was a stunt for their own reality show.)
6. OUR FLAWS & IMPERFECTIONS ARE NOT DEFECTS, THEY ARE A TOOL GIVEN TO US BY THE CREATOR
The song "Anthem" has a line that has resonated with millions across the globe and has become part of our spiritual lexicon. It's so often quoted, that many people probably don't even realize it's from a song:
"Forget your perfect offering, there is a crack in everything. That's how the light gets in".
In two sentences, Leonard Cohen has defined the essence of man's struggle to have a relationship with God and make sense of the human condition.
7. CHRONOLOGICAL AGE ISN'T REAL: DEFY YOUR AGE LIKE YOU WOULD DEFY A DICTATOR
I saw Leonard perform a four-hour marathon concert at age 75. He sang, chanted and sashayed around the stage, executing balletic-poses on bended knee and doffing his fedora like a transcendental Gene Kelly. He came up with a line during the show that really put things in perspective:
"I'm 75 years old now and I haven't toured in 15 years. Back then, I was just a 60 YEAR OLD KID with a CRAZY dream…." That line, repeated on the Live in London album, re-framed the entire reality of aging for me and has never left my thoughts.
8. LOSING YOUR VOICE AS A ROCK STAR ISN'T THE END, IT'S SIMPLY A NEW BEGINNING
Leonard didn't actually "lose" his voice, however as he aged his voice became raspy and much, much lower. Unable or perhaps just unwilling to sing his songs in their original register, he changed his style from conventional singing to a "poetic chanting". Not only did this change not hurt him with audiences, he went on to enjoy the highest grossing tours of his entire career.
9. IT'S POSSIBLE TO MAKE INFINITE TRANSITIONS IN YOUR LIFE
Leonard started out as a Jewish novelist/poet, became a rock star and had tremendous financial and critical successes. He was later ripped off by managers and endured career ending failures. He turned his back on the business to work on himself and became a Zen Buddhist monk. When he returned to music and Judaism in his mid-70s, after "losing his voice" and losing his money, he experienced the greatest artistic and commercial successes of his lifetime.
10. LIFE ISN'T ABOUT MAKING IT: IT'S A JOURNEY ABOUT LOSING IT AND FINDING IT OVER AND OVER AGAIN THROUGHOUT THE ENTIRE VOYAGE.
No other modern musician has so poetically wandered the landscape of failure, loss, struggle and spirituality and narrated it with such beauty and poignancy. Leonard taught us that it wasn't about what happened to you in your life, but who you became along the journey.
Calling all HuffPost superfans!
Sign up for membership to become a founding member and help shape HuffPost's next chapter
BEFORE YOU GO