One of the first priorities of early humankind was finding a safe place to live. Before basic tools and the invention of blueprints eventually became sophisticated enough to construct a stand-alone home, a defensible 'pre-fab' cave with a burning campfire would do for protection. A building boom of sorts spread through primitive societies, propelled by pioneering "architects" who incorporated creature comforts with structural soundness. Whether a mud hut, a scaffold-like teepee or cliff-side condo, one innovation after another--especially indoor plumbing--contributed to an expanding and flowing fabricated environment that continued to evolve, and there is evidence that many early dwellings also incorporated art works, such as murals of bison, Pompeiian mosaic floors, or tall stone carvings of abstracted humanoid forms. As the grand cities of America began to shoot upwards into the sky as useable urban land became increasingly scarce, the idea of a singular, condensed, recognizable identity for a strategic and iconic façade became de rigueur. This notion presented an exciting challenge to push forward with groundbreaking concepts inside and out, and these practical, distinctive designs generated memorable urban identities in cities such as Manhattan, Chicago and San Francisco. Miami certainly has joined this exclusive fraternity with an outstanding collaboration of designers, architects and artists, directed by visionary developers who joined forces with a great creative team to produce a growing and in this case, glowing, unique skyline.
Today, modern multi-use buildings that incorporate truly distinguished and innovative designs obviously have a sharp-edge advantage against their competitors, with a flourishing international arena that has developed exponentially and has become much more sophisticated by market-driven interest in living with extraordinary design. These initiatives continue to evolve to create buildings as bona-fide works of art, from top to bottom and inside out, which is the case with the groundbreaking and ingenious concept that created the spectacular, just-opened 55-story SLS Brickell Hotel & Residences. In a partnership with the LA-based, award-winning hospitality company sbe and The Related Group founder and Chairman Jorge Pérez, a compelling, art-filled building has come to life downtown. For good measure, adding the legendary talents of co-founding principal of Arquitectonica, Bernardo Fort-Brescia, with his wife and founding partner Laurinda Spear, as well as legendary designer Philippe Starck, this utilitarian sculptural complex now is poised to become a Miami landmark asset in the heart of the city's rapidly changing Brickell neighborhood. At whatever angle, from the ground up or looking down, this structure is a masterstroke of a planned marriage with an impressive art dowry filled to the brim with form, function and fun.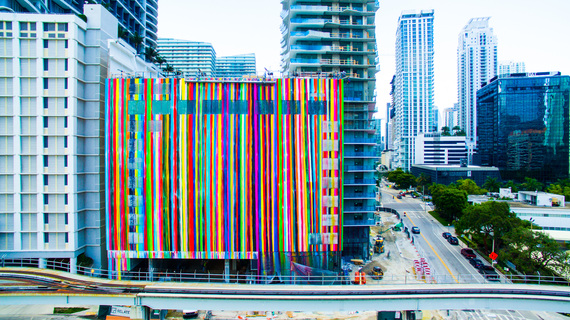 Massive drip mural by Markus Linnenbrink enveloping the tower's exterior façade. Photo Credit: Tamz.
An alien approaching South Miami Avenue from the air at sunset might mistake the painterly work of Brooklyn-based German artist Markus Linnenbrink's dizzying 40,000 square foot, vertically striped and dripped mural for a giant slice of colorful layer cake, theoretically baked by Claes Oldenburg, and a handsomely decorated homage to color field pioneers Gene Davis or Morris Louis. The icing on the cake is a dazzling line-up of permanent soft blue pin lights that appear as candles at night, offering an illuminated façade that could be used to amplify the hit song by DNCE "Cake on the Ocean." The building now anchors the southern tip of South Miami Avenue with its distinguishing prismatic glass wedge, which resolves the geometry of the city's grids that meet at the corner of two of Miami's most important streets. This triangular configuration becomes the dominant vocabulary, while linear, intermittent balconies project into space, streamlining the profile. The uncommon shape and exterior decoration sets the stage for a pedestrian friendly environment, similar to Manhattan's Park Avenue, adding to the energetic richness of the entire block, which is peppered with a delightful installation of site-specific commissioned works.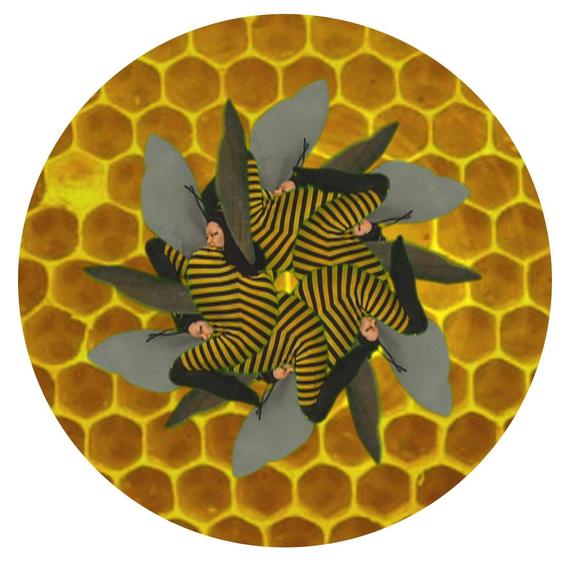 Katja Loher, When Will the Sea Swallow the Land?, 2016, Site-specific video installation, entranceway, SLS Brickell, Miami, 6 LED-discs placed on ceiling, 8 ft. each. Commissioned by The Related Group.
The Related Group appointed Swiss artist Katja Loher to shoot a site-specific video installation for the spacious entrance driveway, which consists of six circular Video-Islands that are strategically placed almost as stepping stones, positioned upside down on the ceiling and serving as portals in the artist's universe. At the opening, VIP guests had the feeling of being "beamed up" to these animated kaleidoscope window-like circles after attending an Academy Awards-like red carpet ride surrounded by a mob of camera crews and art and costumed performances, some in honeybee outfits that reminded me of a classic "Saturday Night Live" skit by Dan Aykroyd. Everybody was smiling, including a proud Jorge Pérez, arguably Florida's best residential and mixed-use developer, as he stood in front of the photographers' step and repeat background with its can't-miss logos.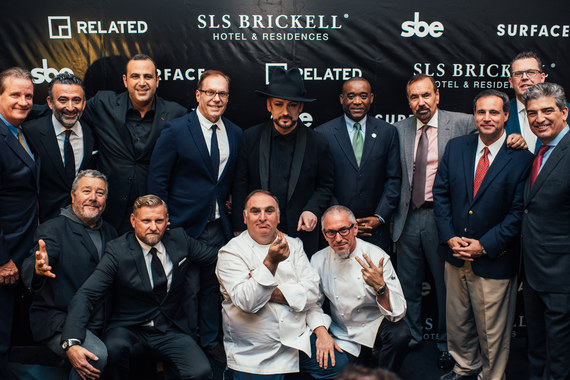 Opening night group photo of the A-team. Top row, left to right: Matt Allen, Arash Azarbarzin, Sam Nazarian, Bernardo Fort-Brescia, Boy George, Jean Monestime, Jorge Pérez, Frank Carollo, Carlos Rosso, Michele Caniato (peeping through behind Carlos). Bottom row, left to right: Philippe Starck, Thomas Meding, José Andrés, Michael Schwartz. Photo Credit: House Photographers.
Just after entering the foyer, visitors will come across Bernardí Roig's The Man of Light, delightfully placed by Patricia Hannah, Pérez's art director, which is a perfect hybrid of Dan Flavin and George Segal, perhaps en route to Art Basel as they look for an electrical outlet.
Another striking work that perfectly blends magical realism and modernism is Ray Smith's contextual The Wave, which is an oil painting on wood of colossal mirror-like waves curling towards each other, celebrating the power of nature and perhaps the alleged parting of the Red Sea. If you see anything like this coming your way on South Beach, you need to drop your suntan oil and surfboard and run like hell. Another wonderful example of art fusion and narrative realism is an ironic painting by Smith, titled Tex-Rex, which portrays a midnight performing cowboy Marlboro man as he twirls a huge swinging lasso that would make Roy Rogers jealous.
When you add up the extraordinary inventiveness of the entire SLS Brickell project, with its signature design and iconic façades and the first-class team of planners and creative partners, and throw in Philippe Starck, Sam Nazarian, Chef José Andrés and Michael Schwartz, James Beard Award-winning Chef and owner of The Genuine Hospitality Group, for good measure and taste, it shouldn't be surprising that this fantastic property has transformed Brickell forever. "Give Me Shelter" in Miami now has a whole new meaning that others should hold as the gold standard downtown.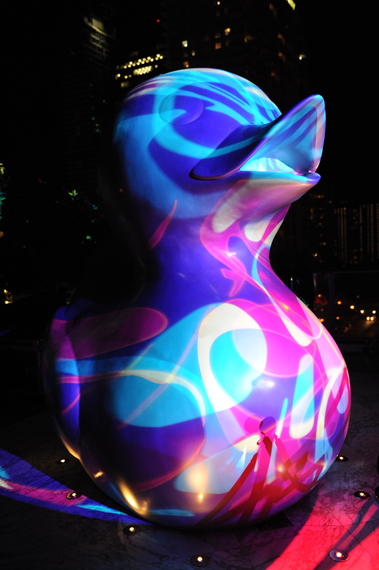 SLS' signature duck sculpture, designed in collaboration with Philippe Starck, sits atop SLS Brickell's pool deck. Photo Credit: World Red Eye.
Calling all HuffPost superfans!
Sign up for membership to become a founding member and help shape HuffPost's next chapter