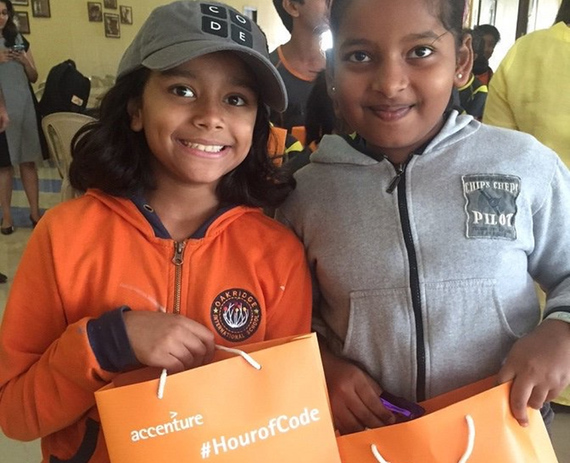 Last year, I had the pleasure of becoming friends with the two young ladies in the photo above. We met when my colleagues and I volunteered to teach an "Hour of Code" at their school in collaboration with Code.org. Zipping through coding games - like Minecraft, Frozen and Angry Birds - it became very clear who was teaching whom. It was amazing to watch these girls' natural aptitude and excitement for technology blossom before my eyes.
Technology drives innovation in the global economy. Yet, the juxtaposition of the opportunity vs. the reality for building technology skills in young people today exposes a major gap. According to Code.org, the 43,000 computer science graduates who entered the workforce in the U.S. last year made only a small dent in the 500,000+ computing jobs that are unfilled. And, 90% of parents want students to study computer science; yet, only 40% of schools teach programming in the U.S., and just six states have created K-12 computer science standards.
It begs the question: Why aren't kids who are growing up surrounded by technology learning about algorithms, the cloud and making apps - just like they learn about grammar, multiplication and the law of gravity?
Industry is seizing the opportunity to fill this gap - sparking an interest in technology and introducing basic STEM skills. In the last few years, the number of STEM toys in the market has increased significantly. Search "STEM toys" on Amazon and you get over 2,000 hits. Fisher-Price introduced "Think & Learn Code-a-Pillar," where kids connect different segments to make the toy light up, move in different paths and make noises. The more kids rearrange Code-a-Pillar pieces, the more they develop critical thinking skills by "programming" different combinations to send it in different directions. It mimics the same planning and sequencing skills as coding, while encouraging curiosity, problem solving and experimentation.
My friend's 4-year-old daughter, pictured below, gives Code-a-Pillar a big thumbs- up. Interestingly, she had it scooting across the floor while mom and dad were still reading the directions! I see coding in her future ...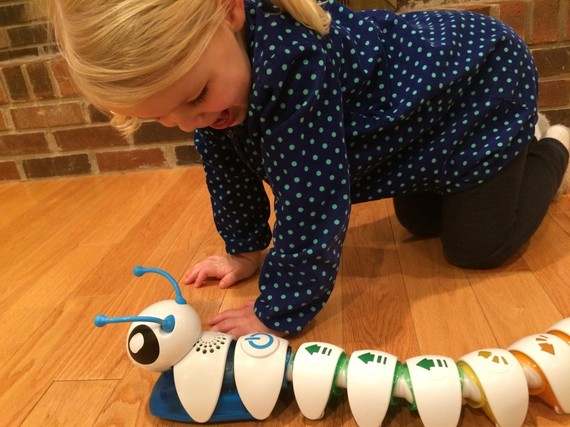 Programmable robots like Ozobots and Dash & Dot, Kano - where you build your own computer - and puzzles and block games like Cubetto and Puzzlet have all hit the shelves. Even Barbie is getting into the game: STEM Barbie was unveiled recently, and kids can construct models (for accessories in Barbie's Dreamhouse - who doesn't need a revolving shoe carousel?) and do science experiments.
Another way to help close the STEM gap is to teach kids to code. Accenture is partnering with Code.org again this year to promote Hour of Code on December 5-11. There are many ways to get involved ... work 1:1 with a child (your own, nieces and nephews or neighbors), volunteer in a school, or host an event. I promise you will have as much fun as the kids. It's easy - no prior coding experience is needed. Last year, Accenture spent over 12,000 hours helping kids learn to code in 196 cities and 56 countries around the world. We aim to surpass those numbers this year because we believe that, in one hour, you really can change the world. Join me and my colleagues and give the gift of code this holiday season.
Popular in the Community