The possibilities for gifts for little ones this holiday season are endless. While some gifts will undoubtedly be long sought-after and pure fun, the holiday season is great time to get your children interested in activities that promote learning, particularly in the ever-growing fields of science, technology, engineering, and mathematics (STEM).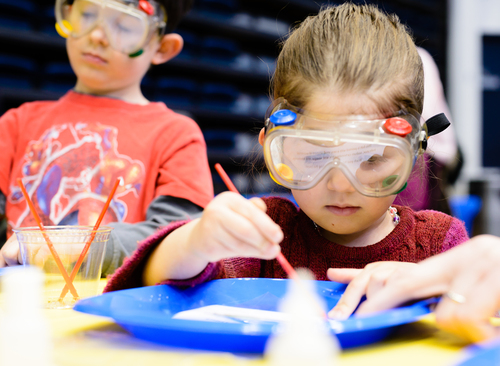 Lillian Kellogg, vice president of client services for Education Networks of America, a past chairperson for the Partnership for 21st Century Skills, and a member of Goddard School Educational Advisory Board believes that it is important to build upon children's inborn curiosity to help them succeed in STEM.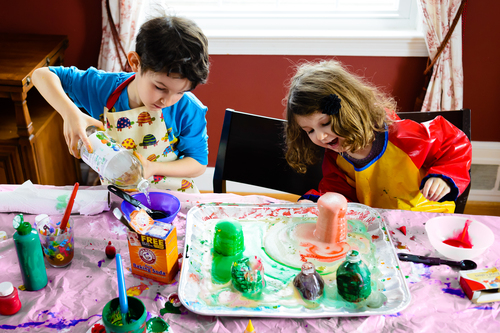 Ms. Kellogg underscores that:
In general, there is definitely an increased focus on STEM as many see a direct correlation between our nation's ability to compete in a new global economy with a workforce population rich in STEM skills. Jobs relating to STEM are the fastest growing segment of the U.S. economy and this trend is expected to increase over time.

All children are naturally inquisitive and fostering this sense of inquisitiveness is a fundamental for future interest in STEM. Twenty first century skills is about integrating the 4Cs (communication, collaboration, critical thinking/problem solving and creativity/innovation into the curriculum (including STEM). At the very foundation of STEM learning are two important elements of the 4Cs -- critical thinking/problem solving and creativity/innovation. Understanding how to analyze and reason by applying higher order thinking skills are instrumental to success in STEM. Equally important is the ability to be creative and innovative by applying new ways of thinking to find new solutions or new products.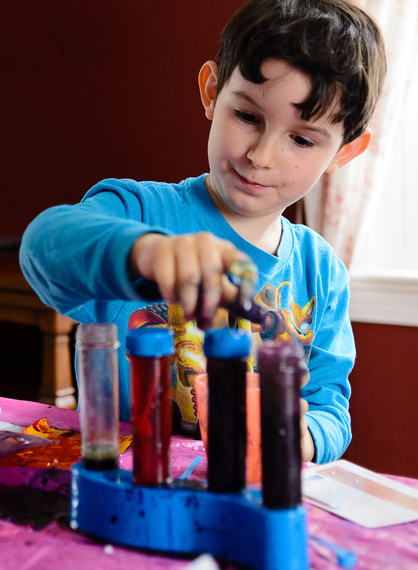 She also offers tips to make STEM learning fun:
a) Offer a STEM-friendly home. STEM skills are everywhere at home from gardening to cooking to auto mechanics. Even eating a pizza can provide an opportunity to learn about fractions. Think about ways to relate everyday activities such as measuring, observing and analyzing to STEM.

b) Encourage questions. As mentioned above, preschool children are naturally inquisitive. Parents can encourage this natural tendency towards curiosity and exploration.

c) Help [children] access STEM opportunities. Due to the growing need for STEM-based skills, there is a national focus on STEM offering many opportunities for parents to engage their [children] in STEM. Museums, zoos, and other public organizations offer programs and hands-on science experiences that promote inquiry and interest in STEM.
A way to promote an interest in STEM this holiday season is to seek out toys that are so much fun your kids may not even realize that they are building a solid foundation in STEM through play. There are some great options this year that appeal to any interest.
Exploring the Link Between Technology and Toys: Using an app to allow children to control toys is a great way to teach children that technology can be used for more than just video games. Some fun options include the flying Phantom Saucer and Angry Birds Transformers Optimus Prime Bird Raceway. It's pretty amazing to see your child's interest in programing sparked when they see their very own Angry Birds figures teleported into an app. The prefect companion to these games that allow parents to allow kids to play without fear is the Fire HD Kids Edition that is customized for kids and comes standard with a durable case meant to handle standard kid usage, built-in parental controls, and a two year warranty.
Science at Your Door: If you're not sure where to start with STEM-based projects there are a couple of great options to help you and your kids get started and interested in STEM that arrive monthly to your door. The very popular KiwiCrate packs a lot of punch into the STEM-focused TinkerCrates for about ages 9 and up. Crates come complete with a TinkerZine and a hands-on project with everything your child needs to make something go in a box. Crates include additional STEM lessons geared towards kids and ideas for additional activities. STEMpowerkids has STEM-themed activities for younger kids with science-related activities with themes such as Up, Up, and Away! and Mighty Magnets Each kit contains multiple activities that can be completed with the included pieces.
Learn All Night Long: Bedtime Math books strive to make math a part of the daily routine. Just as you read to your kids each day, Bedtime Math offers short, fun math problems for "wee ones," "little ones," and "big kids" that can be incorporated into the nighttime routine or any time during the day. Bedtime Math Books are filled with fun illustrations that help hold kids' attention -- and just in case you are stumped the answers to all math problems are in the books.
Geek Out: One way to make science cool? Get a kit where kids can make something amazing or watch something grow. Geek & Co. has an amazing selection of kits to allow kids to do just that. A couple of fun one's that appeal to different interests are the Garden Pirate kit that allows kids to make seed bombs, drop them in unused outdoor spaces, and then watch something grow. Another fun kit is Slime Time which contains everything the curious kid needs to build their own slime-powered clock.
I Scream, You Scream: If your child doesn't seem excited about learning science, show him how something he loves wouldn't be possible without it. Scientific Explorer's Ice Cream Science kit not only allows kids to make their own frozen treat by using rock salt and ice crystals but shows them the science behind mixing flavors and making ice cream different colors.
Science Station Fascination: For any child interested in figuring out the world around her discovering how magnets work and predicting if an object will sink or float can all spark wonder and hours of play and learning. Each Lakeshore set comes with guides and everything needed for tons of experiments and hands-on, kid-friendly play.
Power it Up: Building just about anything is great for building STEM skills, but it's even better when kids can take their building to the next level and build something that goes. A great way to get kids excited about building with motors is the Thames & Kosmos Remote Control Machines DLX engineering kit which contains three motors, a remote control, and enough pieces to build everything from a drilling robot to an airplane to a sports car.
Ms. Kellogg also emphasizes that while there is no difference in STEM abilities between girls and boys "gender differences consistently appear is in boys' and girls' interest and confidence in STEM subjects, starting at a very young age." Fortunately, there are some STEM toys designed specifically to engage girls. Some great toys disrupting the pink isles of the toy store would make great gifts for your daughter this year.
If you build it she will come: Roominate was founded by two female Stanford engineering grads. Roominate has several kits available that all work together. The kits allow girls to be both architect and engineer. Girls build anything from a studio to a helicopter to whatever their imagination desires. Then, to top it all off circuits make their creations come to life with a motor and switches to make lights light up and helicopter blades spin. Figures and stickers help girls let their imaginations run wild.
Let Her Direct With Tech: GoldieBlox is back with a Movie Machine giving girls the opportunity to not just build their own movie machine but to take it step further and make their own movies with Goldie's interactive app. This set teaches girls the problem solving and engineering skills while allowing them to watch their own stories come to life. The Fire HD Kids Edition is the perfect kid-friendly tablet to allow your girls the maximum amount of independence.
Build It: Building just about anything teaches valuable engineering and mathematical skills. Nanoblocks are micro building blocks that come in a number of kits, including very girl-friendly Hello Kitty sets that can be used to build the beloved character or combined in any way your daughter wishes!
Relax: Even little divas can engage in a hefty dose of STEM learning while engaging in some pampering. Scientific Explorer's Spa Science kit allows girls to create their own fragrances, bath gels, lotions, balms, and shampoos and understand the science behind what she's doing and how others do it as well.
With so many STEM activities geared towards so many different interests it shouldn't be hard to find a hook to get your child interested and motivated to learn more. The holidays are the perfect time to share your own STEM-related interests and knowledge with your children as well as to seek out new opportunities for learning around your home and community and to give your children the gift of knowledge -- disguised as fun.