As we wrap up National Volunteer Week, it's compelling to consider why it is that the word "just" is so often attached to the word "volunteers."

Volunteers take on some of the most important roles in our society. Today, most school board and city council members are volunteers, as are many state legislators and the governing bodies of just about every college and university in the country. The Founding Fathers were volunteers -- all of them had day jobs. Without volunteers we wouldn't have the American Red Cross, Habitat for Humanity or even Wikipedia.

Thousands of "just volunteers" are making a meaningful difference in their communities by investing as little as an hour a week in our elementary schools. A recent double-blind study by the respected nonpartisan research group, MDRC, found that volunteer reading tutors in the Reading Partners program provided significant benefit for students in grades 2-5. In fact, the students with volunteer tutors actually did better in reading than their demographically similar peers who received support from other typical reading interventions.

When the Washington Post covered this exciting, stereotype-busting research in a recent feature, we saw in response an unfortunately pervasive view: well, but these are "just volunteers."

Prof. Richard Allington from the University of Tennessee (whose mascot, ironically, is the Volunteers) went so far as to suggest that he would sue a school who used a volunteer tutor to help his child during class time. Another blogger chimed in with a claim that volunteer tutors couldn't make a meaningful difference for kids -- even while acknowledging that rigorous, peer-reviewed research showed exactly the opposite. Interestingly, that same blog featured the head of a paid tutoring organization with no third-party impact study as a guest author the very next day.

The people who show up to tutor students, shelter disaster victims, or to lead their communities are not "just volunteers." They are valuable assets -- dedicated citizens who are advancing social justice and democracy by committing themselves to vital causes without drawing a paycheck. They sacrifice time away from their families and friends and frequently from their paying jobs. More often than not, they contribute dollars as well as hours.

Let's retire the worn-out cliche of volunteers as well-intentioned but ultimately useless labor. Instead let's look at the research that tells us volunteer hours have tremendous value. Independent Sector recently estimated the value of volunteer time to be $23.07 an hour, with the value of volunteer labor nationwide $173 billion in 2013.
The MDRC study of volunteer tutors found that schools with Reading Partners were able to double the literacy resources invested for their students.
Sadly, at a time when we have the research to prove their impact, studies show that volunteerism is on the decline. In 2013, 25 percent of Americans engaged in volunteer service, down from 29 percent in 2003. To reverse that trend, we must change the narrative around volunteerism. Let's stop referring to them as "just volunteers," and start recognizing that volunteers are invaluable resources in addressing some of our most pressing social problems.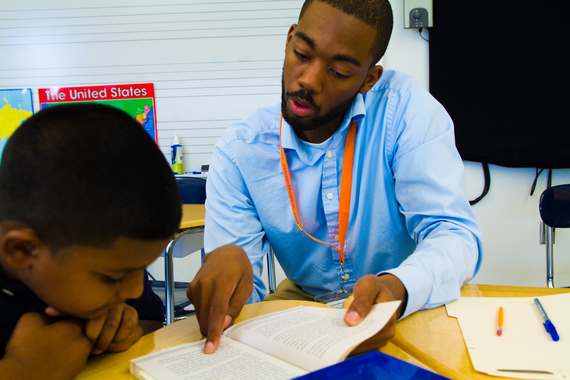 REAL LIFE. REAL NEWS. REAL VOICES.
Help us tell more of the stories that matter from voices that too often remain unheard.