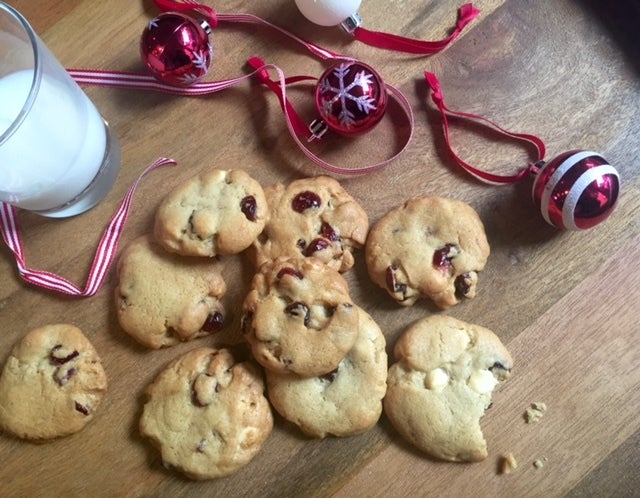 This time of year, inevitably, I get at least one invite a week for a cookie swap. I've attended cookie swaps that consisted of a few girlfriends, and a dozen stuffed holiday tins. I've also attended cookie swaps that filled entire rooms in houses, with twelve-foot long tables, and platters of cookies piled up to the ceiling. Cookie swaps can get as serious as a visit to Santa and his reindeer! So, I was a bit nervous when I recently called my friend Jerry, and suggested we add an interesting twist to his annual cookie swap soiree. "How about some cookies that have been given a Sweet & Skinny makeover?" There was a pause at the other end of the phone. Had I just crossed over the line of holiday cookie etiquette? "Sounds great. Let's do it!" I breathed a sigh of relief. Maybe I wasn't getting crossed off of next year's guest list?
Of course, the key to making this cookie swap a Sweet & Skinny success, was creating the prefect recipe. I decided to give my classic chocolate chip cookies a festive twist, because as far as I'm concerned, nothing says Christmas like white chocolate, cranberries and toasted walnuts! The cranberries and white chocolate also added the perfect amount of sweetness, allowing me to cut my refined sugar down by a third. The toasted walnuts added some holiday flavor, not to mention a dose of vitamin E and Omega-3's. But I was still stuck with a half-pound Grinch, bogging down my Sweet & Skinny recipe: the butter. I decided to try something unconventional. I swapped all the butter for a half-cup of algae oil. I've baked with algae oil in the past, so I knew that its neutral flavor would be a perfect substitute. But I'd never made cookies with oil before. I worried – would it affect the texture? But, all the algae oil's good for you, monounsaturated fats, replacing butter's not so healthy saturated fats, made me decide to give it a try. Much to my delight, and as you can see from the picture, the cookies turned out fantastic! No one could believe they were Sweet & Skinny. In fact, I may be getting a few additional cookie swap invitations next year, as long as I promise to bring these cookies to the party.
Sweet & Skinny White Chocolate-Cranberry Holiday Cookies
1 ¼ cup all-purpose flour
1/3 cup dark brown sugar, packed
1 teaspoon vanilla extract
1/3 cup white chocolate chips
1/3 cup dried cranberries
1/3 cup walnuts, toasted and chopped
Preheat the oven to 350F. Place the walnuts in the oven and toast for about 8 minutes, until golden and fragrant. Remove the walnuts from the oven and allow to cool. Once cool, roughly chop the walnuts.
In a small mixing bowl, combine the flour, baking soda and salt. Set aside. In a mixing bowl, combine the oil and sugars, using an electric mixer, blend together on medium speed for several minutes. Add the egg and vanilla and mix, on medium speed, for about two minutes. Add the flour mixture, and mix on low, just until combined. Stir in the white chocolate, cranberries and toasted walnuts.
Chill the cookie dough for at least thirty minutes before baking. The cookie dough can be stored in the refrigerator, tightly wrapped, for up to a week. Using a soup spoon, divide the dough into small balls. Transfer the balls to a greased baking sheet, or a sheet pan lined with a sil pat. Press the balls of cookie dough flat with the palm of your hand. Bake the cookies in a 350F oven for 8 to 10 minutes, until the cookies are golden brown.
Calling all HuffPost superfans!
Sign up for membership to become a founding member and help shape HuffPost's next chapter
This post was published on the now-closed HuffPost Contributor platform. Contributors control their own work and posted freely to our site. If you need to flag this entry as abusive,
send us an email
.