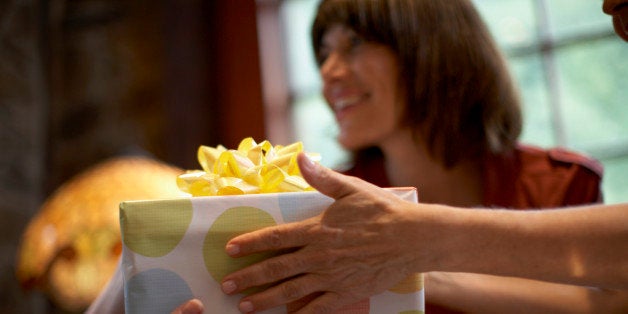 Oh, the love/hate relationship we have with the holidays! The twinkly white lights, get-togethers, and the smell of fresh pine in our homes -- all joyous. But you may also feel the pressure to be happy, to give the right gifts, and to uphold traditions -- even if you might not feel like it. Sometimes the joys and pressures are at such odds, you start to feel a little crazy. There's a difference between the white-bearded man who dresses up as Santa and the white-bearded man who thinks he really is Santa. One lives the fantasy based in reality, and one lives the reality based in fantasy. You might feel a bit like both of these Santas right now; living on the blurred cusp of holiday fantasy and your reality.
The holidays can feel especially challenging if you're contemplating big changes in your life. You know the clean sheets of the new year are just ahead, but you're stuck putting off difficult decisions a few more weeks. This time of year also has a way of placing your life and relationships under a microscope. And, although you might not like what you see, this doesn't feel like the ideal time to look closer.
But, here's the good news. Most things (not all, I understand) in your life that make you feel stuck or scared or unhappy are subject to change. You just need to do this one thing: Choose something else.
I'm not suggesting that choosing is easy. I'm not suggesting that taking one path over another is the answer to your dreams. What I am suggesting is that even when you believe, with every fiber of your being, that you have no choice, you're wrong. Your choices may be hard ones and there may be hardships in your choices, but they remain yours to make.
"I can't get a divorce. My kids will never recover."
"I can't leave this job. How will I pay my bills?"
"I can't call the cops when my husband gets violent. How will I face the neighbors?"
"I can't tell my in-laws we're not coming for Christmas. They'll lose it."
You can get divorced. And, although it's highly likely your kids will be upset or angry, it's also highly unlikely that they will never rebound.
You can leave that job. It may mean tightening your belt or going into debt for a while, but you will figure out a way to survive until you get your next job.
You can drop a dime on your violent spouse. And you should. Or you should get help from abuse experts and plan your escape. This is very scary. But this is your life. And, really, who cares what the neighbors think when your safety is on the line?
You can tell your in-laws that you can't make it to Christmas this year. Or every year if things are bad enough at their house. Okay, so they're angry. But don't you and your family deserve a peaceful holiday?
We can always make excuses. We can always hide behind our fears. We can always blame another person for our own lack of gumption. And we can do all of these things for decades until we realize we've bought into our own fiction that we have no choices.
When we're stuck, we tell ourselves we're choosing what's best. We choose by not choosing and we have a hundred explanations why. But the real and only reason is this: fear. Fear of change, fear of the unknown, fear of fear. But with every soul-sucking scenario you endure -- with every better choice you don't make -- the unhealthy reverberations abound.
You don't want to hurt your kids by divorcing. But what are your kids learning about marriage from two parents who aren't doing it right? You can't leave your nightmare job, but what's the impact on your family when you're always in a foul mood? You don't want to embarrass your spouse by calling the police, but at what cost? You don't want to endure the wrath of your in-laws, but should your holidays be celebrated on their terms?
Many of us do a little holiday shopping for ourselves in the midst of our gift-buying frenzy. But in addition to those new skis or leather boots, give yourself something better: Make the hard decisions. Figure out a better way. Respect yourself enough to make changes. Choice: It's the best present under the tree and it has your name on it. And it will keep on giving in ways you've only dreamed.
Calling all HuffPost superfans!
Sign up for membership to become a founding member and help shape HuffPost's next chapter