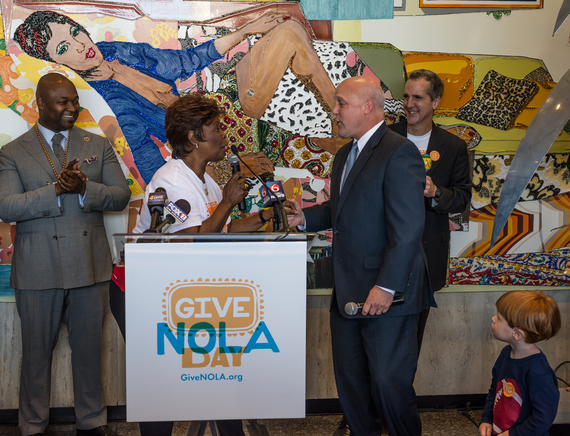 New Orleans Mayor Mitch Landrieu appeared at a press conference hosted by the Greater New Orleans Foundation to officially proclaim May 5, 2015 GiveNOLA day. Then New Orleans own "Queen of Soul" Irma Thomas burst into song, and danced with the mayor, sponsors, donors and children alike.
New Orleans has embraced GiveNOLA, making it part of its local fiber. GiveNOLA Mardi Gras beads, King Cake and excited nonprofits abounded. Afterwards, dozens of nonprofits attended a training to prepare and sharpen their 2015 campaigns. The Greater New Orleans Foundation committed to and finalized all-day GiveNOLA festivities in Lafayette Square. The giving jamboree is set.
Giving Days Unite Communities

It was exciting to witness the event, a thrill, really. It made me feel that GiveNOLA has achieved the giving day dream. When giving days were first conceived, they were meant to bond communities together. They were to be a moment in time where a community and its nonprofits came together to strengthen their commitment to each other through giving and support.
The GiveNOLA event raised $2.2 million during its inaugural run last year. The nonprofits community has responded to that moment in time, exceeding last year's registration of 309 organizations with 330 and counting.
Many of these small nonprofits dream of a made-to-order campaign like the #IceBucketChallenge that will put some new donors and a burst of social media wind in their sails. GiveNOLA offers them a localized version of that opportunity with a friendly competition that captivates donors across the city. Nonprofits who embrace the giving day and rally their constituents often experience a unifying spirit within their own organizations as well as the larger community.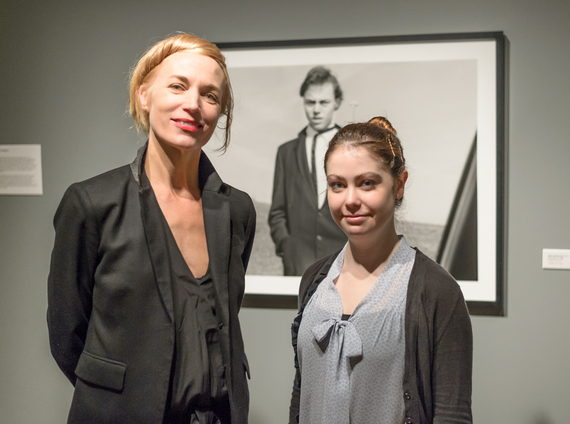 The Ogden Museum's Amelia Whittington and Chantel Foretich said the GiveNOLA event rallied their board, strengthened loyalty among its core membership of 2000, and increased visibility. Attendance also increased by 9% in May. The Ogden Museum was last year's GiveNOLA winner for most dollars raised ($111,285 after prizes). Whittington and Foretich likened the event to a Kickstarter for giving, and are already preparing their 2015 effort.
For a small nonprofit, a successful giving day can be a game changer. The Roots of Music has an administrative staff of one, but raised almost $20,000 during the last GiveNOLA. "We initially hoped to raise around $5,000, but since we blew past that before noon, I amended our goal to an ambitious $20K," said Kristin Schillinger, Executive Director of the Roots of Music. "After the $1000 Rock Around the Clock prize and our share of the Lagniappe Fund, we earned just under that. We were thrilled, of course!" Schillinger has already noted several areas to improve from last year's effort.
The evolution of a nonprofit highlights the real benefit of a giving day. "The value for us was not the money we won," said Gerald Duhon, Development Director for Team Gleason, winner of the 2014 GiveNOLA's most gifts category. "It was the 631 new names of people that care about our cause for our database." ALS-charity Team Gleason is now building a communications program to engage and interact with its newly cultivated donors.
Events like GiveNOLA and Give Local America help nonprofits build greater capacity in social media, online fundraising and overall communications. Nonprofits come to better understand their stakeholders and better serve their communities. And each community rallies around its nonprofit sector.
GiveNOLA expects to raise more than $3 million this May 5. As part of Give Local America, it will contribute to a larger donation pool of more than $70 million invested in local causes and their communities across the country. New Orleans nonprofits will need an extra-large King Cake to celebrate.
Support HuffPost
The Stakes Have Never Been Higher
Related
Popular in the Community