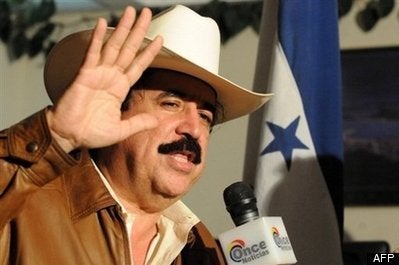 Congressman Aaron Schock is a highly reasonable, intelligent, balanced Republican member of Congress -- and though I have only met him twice, I was impressed with how he conducted his conversations and views in D.C. cocktail policy chatter -- particularly at an MSNBC party where Rachel Maddow was tending the bar.
Yesterday, Schock was on my mind as I listened intently to Senators Lindsey Graham and John McCain lay out the parameters of what reasonable governance would look like from a responsible, conservative perch -- and was impressed with Sen. McCain's repeated statements that he wanted to help President Obama succeed -- and would differ from him in some areas -- but would be solidly with him on others.
Lindsey Graham said that "Barack Obama was born in Hawaii, is not a Muslim, and is a good man -- and those that are saying otherwise are just 'crazy'." Graham went on to say that he also meant no insult to Muslims in any way and that if Obama was a Muslim, he would still support him; he just wanted to make it clear that there is nothing sane about arguing that President Obama is not in line with his self-proclaimed faith of Christianity.
These two senators were speaking at the powerhouse conference titled "First Draft of History" sponsored by the Atlantic Monthly, Newseum, and Aspen Institute -- and hearing them made me think of Aaron Schock, who may be the Republican Party's best chance for reviving a kind of reasonable, pragmatic leadership among its youngest and most effective members. Schock is now the youngest member of the U.S. House of Representatives.
But I was disheartened to learn that he has agreed to go today with Senator Jim DeMint down to investigate the Honduras situation.
Schock may be doing real investigating -- while Sen. DeMint is siding with others in a foreign government -- a coup-installed government -- against the government of the United States. He is working hard there as an elected U.S. government official to actively undermine American policy.
I suspect that Rep. Schock is going down to check out what is real and what is not in the mess of the Honduras coup and its aftermath -- but Jim DeMint is going down to "meddle" in the situation and to encourage the coup leaders to stand strong against the White House and the U.S. Department of State.
Sen. DeMint has behaved from the beginning as if he has a dog in the race down in Honduras, and it is not the one that the U.S. government feels comfortable supporting at the moment. None of Honduras' neighbors do either.
It is extremely rare that a chairman of a committee on which a U.S. Senator works would move to block a resource allocation that would allow that member to fly somewhere within the jurisdiction of that committee -- but Sen. John Kerry blocked DeMint's plans to go and commiserate with wealthy businessmen who had recently had visas revoked by the U.S. government and to encourage them to stand strong against the U.S. government.
Senate Republican Leader Mitch McConnell intervened and arranged a Department of Defense-secured plane to take the DeMint and several House members to Honduras -- thus reversing John Kerry's action.
I am currently looking into how exactly Sen. McConnell secured agreement from the Department of Defense, part of the Obama-controlled executive branch, to provide the plane.
Sen. John Kerry's rationale for rejecting Jim DeMint's request for resources for the Honduras trip was that DeMint has blocked consideration of two key Obama Latin America foreign policy appointments.
One of these, the current Assistant Secretary of State for Western Hemisphere Affairs Thomas Shannon, is the president's pick to serve as U.S. Ambassador to Brazil -- and the other is Georgetown Professor Arturo Valenzuela, who is slated to succeed Shannon as assistant secretary for the same region.
DeMint has argued quite transparently on his Senate website and from the floor of the Senate Chamber that he believes that the real democrats in Honduras or the ones that through out the ousted President Manuel Zelaya, who has snuck back into Honduras and is sleeping on a couch inside the Brazilian Embassy.
Many think that Zelaya over-reached in his role as president and tried to force the extension of his term and powers in extra-constitutional ways. The Honduran Supreme Court ruled against Zelaya's course -- but a military coup that expelled the president is also extra-legal, and received condemnation from the entire raft of Latin American neighbors and the United States.
One informed Latin America policy expert confided that despite all of this, the Obama team handled badly the Honduras coup, and should have had this issue resolved in a week. But this person confidentially stated that there is a lack of depth on the president's team -- crippled by the complicating factor that Assistant Secretary Shannon is keeping quiet during his confirmation purgatory -- and there is no successor in his role because of DeMint's block.
But the story is bigger than Obama appointees.
DeMint seems to be focused on undermining U.S. government policy by commiserating with foreign nationals abroad.
I respect Sen. DeMint's right to speak his mind and conscience from the floor of the Senate, on his blog, on Twitter, wherever he likes -- but there is something extremely wrong about a U.S. senator conspiring with government officials of another nation as well as wealthy supporters of a coup against the applied policies of the United States.
Jim DeMint made the decision to go to Honduras just as de facto Honduran President Roberto Micheletti began to issue signals that he was willing to work out an arrangement on the ousted president and to negotiate something with the United States and other regional stakeholders.
Aaron Schock should learn what he can but he needs to be careful of jumping on any bandwagons.
I'll never forget when former Sen. Fred Thompson was on a trip to Malaysia sponsored by a Senate-cleared non-profit foundation. Once there Thompson felt extremely uncomfortable with the tone of the meetings and the way the political views of the delegation were being co-opted by the hosts and by the Malaysian government and business officials Thompson and others were meeting.
Thompson bluntly said, "This doesn't feel right." And then he got up, picked up his materials, and flew immediately back to the United States.
Rep. Schock is someone independents, Republicans and open-minded Dems should want to get to know in future years -- so this post is meant to encourage him to keep his powder dry.
Agitating against U.S. government policy while abroad is not a career-booster in either political party.