Last night as I was walking out of the 1 train on Christopher Street headed home, I saw out of the corner of my eye an elderly woman with a walker who was asking where to find the PATH train to New Jersey. As I passed, I overheard someone tell her that she had to circle back to 14th Street to connect. Knowing that was wrong and headed to the PATH myself, I looped back and stepped in telling her it was in fact in the other direction, that I was headed that way, and would she like to go with me.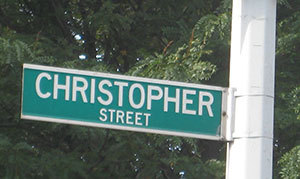 As we very slowly crossed Christopher Street dodging shoppers, drag queens, and people hustling to and fro various holiday celebrations, she told me that we were destined to meet and that I was her "angel sent from heaven." She went on to tell me a string of rambling tales including one about her evil landlord, who was trying to cheat her out of money. The conversation kept getting nuttier as she bounced from topic to topic. She told me that her now deceased husband had contracted polio in La Isla Mujeres "doing the Hemingway thing" and that Mrs. Roosevelt ("not FDR") had offered her a job in Washington, DC; but she did not want to live there. She said that she had been homeless (which I believed) and that her people were aristocracy from Latvia (it was plausible). At one point, she started yelling and screaming about the "Fascists" and I thought to myself, "What I have I gotten into and what am I going to do with her?"
I decided to forge ahead and get her home. Once we got to the Christopher Street PATH station, it was a steep long descent down roughly a 100 steps with the typical gale force winds and pushing that always occurs there. I slowly carried her and her walker step-by-step-by-step-by-step downward (thank goodness it wasn't upward.) We got onto the platform and had to wait for several trains to go by before it was safe and there was enough room us to board. Once we did she asked me my name and I told her, "Brother." She said she knew it, that I was her brother reincarnated. I thought to myself, "what would she have said if I told her my given name is Seale?"
We talked a bit and I realized that as my home station came and went, Olivera (as I eventually learned was her name) had not told me exactly where she lived. Did she know? Was I on some wild goose chase with a handicapped person who might not really know where she lived or really even have a home to go to?
We finally got to the end of the line at Journal Square. We finessed the station for a while and finally a kindly older gentleman showed us where the elevator was to the main terminal. Once inside, we passed a deli and she said "I have to get my yogurts. I left them here." We went in and sure enough the workers behind the counter "knew" her. An older gentleman spoke to a younger girl in a whisper, who quickly wrapped two small yogurt cartons up in a bag and handed them to her. I was relieved that there was some recognition of her, at least I wanted to believe it.
After another hour of meandering and slight panic as I tried to ascertain where Olivera lived, she spat an address at me and told me we had to get to "B4." Bewildered by this, but hopeful that meant we had a place to go, she abruptly insisted that she had to go to the restroom. If you've ever been to a public transit station restroom they are pretty disgusting at best. We found the facilities, I took her to the door and waited with her walker, which she insisted I keep for her while inside.
Time passed and I waited, and waited and waited and waited. Had she fallen without her walker? What if she passed out or fell and hit her head in a stall and no one knew it? The crowd of homeless people gathered there with me looked at me like what the heck was I doing outside the ladies restroom trying to look in? I realized that I had no idea where I was, where I was going, and where 'Olivera' had gone. I tried to relax when I realized that not one, but both of my cell phones were now dead. Olivera eventually surfaced without her yogurts and when I asked about them she couldn't tell me what happened to them.
I managed to gather her up again and eventually we found another elevator and shuffled off to find platform B4, seriously wondering if she knew where we were and where she needed to go. We found the platform, boarded the bus and I asked her again for her home address. She told me to shut up and that I was making her nervous like "the Jewish comedian guy who married his wife's daughter." I laughed and when I asked again where she lived, she said "it's Gaultier...French, like the designer."
After getting her into a seat and trying to fold up the huge walker that was blocking people from getting on the bus, I went back to pay the driver with the few singles that I had on me. I asked him if he knew where "Gaultier...it's French like the designer" was. He looked at me like I had two heads and shook his head saying he had never heard of it. The bus took off into the night and I thought to myself, "where are we going?"
We rode the bus for a while and Olivera insisted that she knew what she was doing, where we were going, and that she would recognize her stop. After about 45 minutes, she admitted that she could not see anything because it was dark out. I got up and asked individually each person on the bus if anyone had ever heard of Gaultier. No one had any idea. Finally after another round of prayer, in which I just smiled and nodded my head as Olivera told stories of "having been a princess" in her country, my own angel got on the bus and told me she was headed toward Gaultier.
Once we got to the closest station, the kind woman helped me get her off the bus and said she knew where to take her and that she would get her home. I thanked her and they headed off in the night as Olivera yelled back to me "I'll see you next week."
I realized then that I still had no idea where I was, so I went into a bodega, bought a ginger ale from a young man who did not speak English, and then went outside and sat on the corner of the dark street. The cold felt good on my face as the night's events had rattled me. I wondered about Olivera. What was her real story? Would she be okay? Had I done the right thing? And how was I going to get home? I started walking down the street and saw a bus going in the opposite direction with a sign that said "Newport Mall" in the front window. I knew that would get me close to home, so I turned and ran through traffic, chasing it back in the direction from which I had come and finally caught up to it after a couple of blocks. I jumped on board and feed the meter the only money I had (a five dollar bill) and hunkered down to the million questions flying through my mind.
Finally I saw the familiar lights of the Shop Rite grocery store just down the street from where I live. I got off the bus in a daze, wandered home, and wondered "did I dream this?" I went to sleep that and dreamt most of the night about the kooky handicapped woman who took up most of my night. Angels unawares? Perhaps. Had I helped her or had she helped me? Definitely the later.
Merry Christmas, Olivera!
Popular in the Community