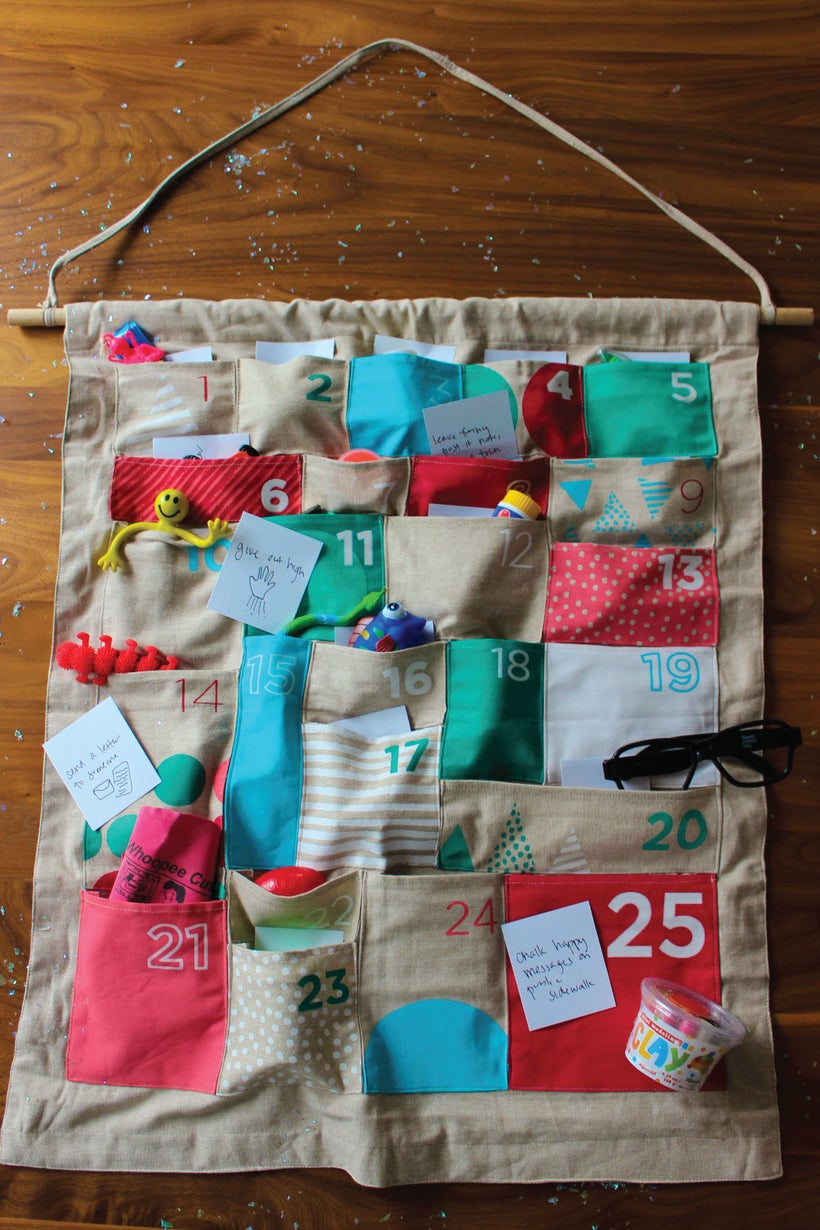 I love, love the holiday season. But every year I feel like I spend inordinate amounts of time making sure our family focuses on the real meaning of the holidays and not just the piles of presents rolling in. We celebrate both Hanukkah and Christmas in our home, so it's no small feat. The kids are always asking me for an Advent Calendar, but I haven't done one because it seems like just another influx of gifts. This year, I decided to try one BUT to make it about giving back as well. With all that's been going on in the world it now seems even more important—I feel like lots of people could use a little love, encouragement, and hope this holiday season!
I started out with an Advent calendar and filled it with little trinkets—I do want the kids to get excited about getting a little something each day on the countdown to Christmas. But then I also came up with twenty five little ways our kids can help give back to their family, community, and friends. You can come up with anything that works for your family, but I wrote each of these ideas down on a 1/2 index card and slipped one in each daily pocket of the Advent calendar:
5. Talk to someone new at school
7. Give a teacher a compliment
8. Donate books you no longer need
9. Thank a police officer
10. Leave a letter in a library book
11. Hold the door for someone
12. Invite someone new to play
13. Send a letter to someone
15. Thank home service providers
16. Handout happy stickers
17. Make a Little Loving Hands craft
18. Smile at everyone you see today
19. Do an extra chore without being asked
20. Donate a toy you no longer need
21. Write a thank you note to someone who has helped you
22. Send art to Color a Smile
23. Leave funny post-its around town
25. Chalk happy messages on public sidewalk
These are all things our kids can do by themselves or with a little help from me. I hope that it will help them comfort and convey a sense of belonging to others that I think is important any time of the year, but certainly at the holidays. Happy giving back!!
Calling all HuffPost superfans!
Sign up for membership to become a founding member and help shape HuffPost's next chapter
This post was published on the now-closed HuffPost Contributor platform. Contributors control their own work and posted freely to our site. If you need to flag this entry as abusive,
send us an email
.