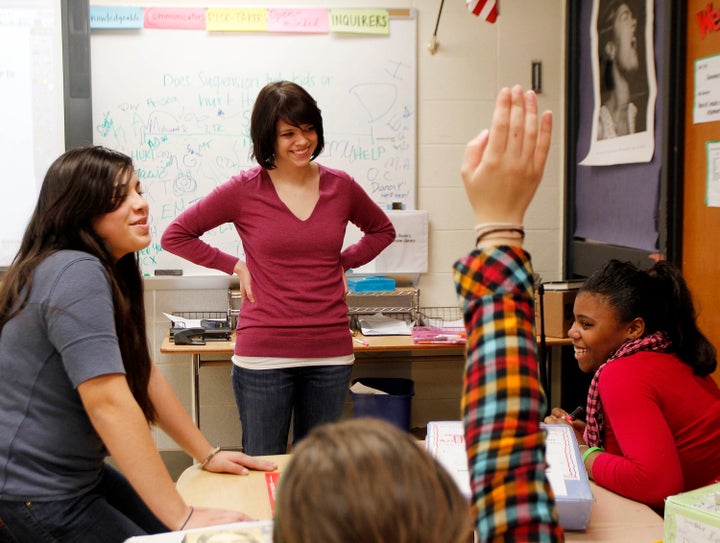 Today, as HuffPost and AOL unite to launch the Huffington Post Media Group, we're celebrating by making a statement about the importance of giving back and helping others.
Led by HuffPost Impact –- The Huffington Post's section devoted to service, causes, and volunteering -- every HuffPost section is featuring a group or individual who is taking action and inspiring others during these challenging times. Like the rest of the world, our hearts and minds are also focused on Japan, and we've created a resource page for everyone wishing to support the emergency relief efforts.
And we're thrilled to announce that Biz Stone, co-founder of Twitter, is joining the Huffington Post Media Group as Strategic Adviser For Social Impact. Stone will help the company to create innovative social impact and cause-based initiatives.
AOL/Huffington Post Media Group has also issued a 30-day Service Challenge to every one of its employees worldwide, encouraging them to give their time to non-profits in their local communities and organizing volunteer events in 16 cities.
We hope you'll join us in utilizing the power of online journalism to help people get involved, work together, and bring about real change.
Nearly a decade ago social studies teacher, Charles Best, had a vision. As he spoke with fellow teachers in the Wings Academy lunch room, a public high school in the Bronx, he had the idea for an organization that would empower teachers to receive badly needed resources from individuals who wanted to do something for the struggling education system.
Now, 11 years later, the organization, DonorsChoose, that grew from that idea has raised $77,178,659, impacted 4,638,625 students, and has funded 187,787 projects in 44,402 schools.
Because many of these schools and projects serve impoverished students and families, DonorsChoose is an organization making a big difference during trying times. As State and Federal funding cuts to education continue, DonorsChoose is "empowering every teacher to be a change maker and every citizen to be a philanthropist."
The organization makes a daily impact in the lives of teachers and the students who otherwise might not have access to essential classroom supplies, fieldtrips that inspire intellectual development, and the multitude of possibilities donations have provided.
Howard A. Stern, a teacher featured as a Huffington Post "Classroom Hero" last year, is one of many who has used DonorsChoose to fund projects for his class.
"Stern recognized the limitations of funding in city schools and found his own way to fill some of those needs for his students' benefit," his Assistant Principal Richard Fleiss explained. "His efforts have enabled him to present material differently than any other teacher in DeWitt Clinton High School, inside and outside the classroom."
Stern has used DonorsChoose to fund over 37 projects, including AP Calculus Camp: "a two-day spring retreat he coordinates for about 50 students to prepare for AP Calculus exams and to teach skills to ready them for college. Stern takes care of all of the logistics, raising funds, planning travel, ordering camp T-shirts and making sure there are enough s'more fixings to go around," Huffpost reported.
DonorsChoose also features the option to create donation pages that center on a person or cause. When Eloise Gale, a dedicated Washington D.C. teacher, died suddenly last year, her family created a donation page on her behalf.
It has raised close to $16,000 and has reached over 15,000 students. "It gives (us) a sense of her continued existence" says Gail Edwin, Gale's godmother who set up the page, "And it dignifies Eloise's commitment as a teacher, which, I can tell you, was extraordinary."
During her first year as a teacher Eloise used DonorsChoose to fund seven projects for her own class and shared the site with other teachers at her school who were also struggling to find resources.
"She would wake up in the morning to see who had contributed," recalls her mother, Flavia Gale. "She didn't like hitting up her friends for money, but she did it. She felt good that she could call on people and it wasn't for her -- it was for her students."
It works by creating a donation "marketplace" where teachers post proposed projects. Interested donors can search for projects that inspire them. They can give as little as $1 and when a project has been fully funded, DonorsChoose delivers the materials directly to the school to ensure the integrity of each project donation. Every donor receives access to a cost analysis detailing how the money was allocated, as well as receive photos and thank-you letters from students impacted by their donations.
The organization lists project requests in order of "urgency" so that those who need help most are more likely to receive it first. "Urgency" is evaluated by four factors: the school has been identified as a high poverty school, the project will help teachers who have never been funded, other donors have already partially funded the project, and the project will soon run out of time to be funded.
Beyond supplying much-needed support for teachers and greater learning opportunities for students, DonorsChoose is also creating interest in education advocacy. Its website states that 60 percent of donors report a greater interest in education reform as a result of their participation.
It has reached students across the country, and continues to fund projects that 94 percent of teachers said "increased their effectiveness" as educators.
DonorsChoose is one of the many organizations creating options for families in need, and is paving the way toward a brighter future, one classroom project at a time.
Calling all HuffPost superfans!
Sign up for membership to become a founding member and help shape HuffPost's next chapter