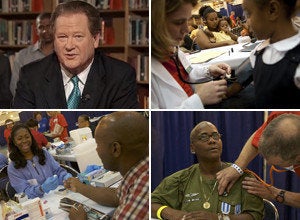 Today, as HuffPost and AOL unite to launch the Huffington Post Media Group, we're celebrating by making a statement about the importance of giving back and helping others.
Led by HuffPost Impact -- The Huffington Post's section devoted to service, causes, and volunteering -- every HuffPost section is featuring a group or individual who is taking action and inspiring others during these challenging times. Like the rest of the world, our hearts and minds are also focused on Japan, and we've created a resource page for everyone wishing to support the emergency relief efforts.
And we're thrilled to announce that Biz Stone, co-founder of Twitter, is joining the Huffington Post Media Group as Strategic Adviser For Social Impact. Stone will help the company to create innovative social impact and cause-based initiatives.
AOL/Huffington Post Media Group has also issued a 30-day Service Challenge to every one of its employees worldwide, encouraging them to give their time to non-profits in their local communities and organizing volunteer events in 16 cities.
We hope you'll join us in utilizing the power of online journalism to help people get involved, work together, and bring about real change.
The National Association of Free Clinics is a Washington, DC-based non-profit organization that supports the more than 1,200 free health care clinics in the US. Those clinics rely on volunteers and donations to provide medical care to poor, largely uninsured Americans. It's a cause close to the heart of MSNBC host Ed Schultz, who has broadcast his show on-site from free clinics and urged senators during the health care debate to visit a free health clinic and "see the America they represent...and deny."
"These people are doing the Lord's work," Schultz said of the volunteer doctors, nurses and non-medical personnel working to provide free health care to struggling American families. "The amount of volunteers, the number of doctors and nurses that volunteered their spare time...when you go to these clinics you see we can't do enough [to help]."
Schultz told the Huffington Post that when he visited the health clinics supported by the NAFC, he was struck by what he saw: people who hadn't been to the doctor in five years because of cost; a ten-year-old girl who had never been to the dentist; a woman who learned she had Stage IV breast cancer who had never been diagnosed; many people diagnosed with severe diabetes and hypertension.
"It's the most undercovered story in America," he said. "Most of these people are poor people. They're low income, working Americans and a lot of them are people who lost their jobs."
"This is not a solution for our long term health care problems," Schultz said. "This is humanitarian work on American soil and it has do be done."
REAL LIFE. REAL NEWS. REAL VOICES.
Help us tell more of the stories that matter from voices that too often remain unheard.