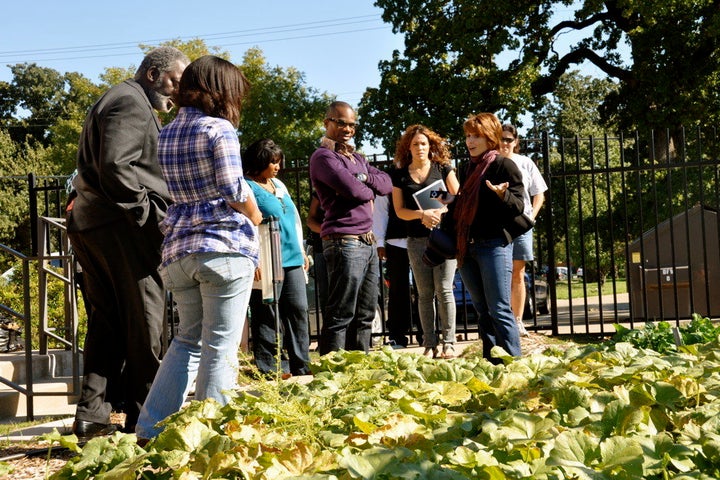 Today, as HuffPost and AOL unite to launch the Huffington Post Media Group, we're celebrating by making a statement about the importance of giving back and helping others.
Led by HuffPost Impact -- The Huffington Post's section devoted to service, causes, and volunteering -- every HuffPost section is featuring a group or individual who is taking action and inspiring others during these pressing times. Like the rest of the world, our hearts and minds are also focused on Japan, and we've created a resource page for everyone wishing to support the emergency relief efforts.
Additionally, we're thrilled to announce that Biz Stone, co-founder of Twitter, is joining the Huffington Post Media Group as Strategic Adviser For Social Impact. Stone will help the company to create innovative social impact and cause-based initiatives.
AOL/Huffington Post Media Group has also issued a 30-day Service Challenge to every one of its employees worldwide, encouraging them to give their time to charities in their local communities and organizing volunteer events in 16 cities.
We hope you'll join us in utilizing the power of online journalism to help people get involved, work together, and bring about real change.
HuffPost Religion is proud to feature the work of CitySquare (Formerly Central Dallas Ministries) as part of the launch of Huffington Post Media Group. Driven by its commitment to the Christian Gospel of good news for the poor, CitySquare serves struggling families. CitySquare exists to fight the root causes of poverty by partnering with those in need. Working together as a community, they feed the hungry, heal the sick, house the homeless and renew hope in the heart of Dallas. CitySquare is a community of neighbors, investing in each other and developing meaningful relationships that value each individual. CitySquare's work flows out of their faith, and that faith is inclusive and ecumenical. CitySquare stands for justice and demand equity for all its neighbors. CitySquare's resources belong to the community and as stewards of those resources they act with integrity, demonstrate accountability and operate efficiently and effectively.

In its effort to help struggling families, last year CitySquare administered $1,000,000 of American Recovery funds to help keep families housed. The efforts of CitySquare reached over 70,000 people through 16 social service programs including providing food to more than 35,000 families; providing medical care to more than 2,000 uninsured neighbors and providing permanent homes to more than 350 neighbors each year.

City Square's Mission

With a mission to build genuine community in the neighborhoods where we live and work, CitySquare, formerly Central Dallas Ministries, aims to alleviate the root causes of poverty in our community by working hand in hand with our neighbors (we do not have clients) to develop sustainable partnerships that provide support and encouragement to all so that everyone has the opportunity to achieve their full potential. CitySquare was originally founded in 1988 as a small food pantry for the working poor of our community. Since that time, we have grown into a broad community development organization offering a wide range of social services. Together, our 16 social service programs provide over 70,000 human touches per year to Dallas residents in need and focus on the following four key areas:
Hunger -- our food pantry distributed nearly 2 million pounds of food to 12,576 households in 2010, to a Community Summer Food Service program that delivered more than 700,000 snacks/meals during the summer and an Afterschool Snack program which provides approximately 2,500 snacks a day to at-risk youth. We have also recently expanded our children nutrition programs to Austin, Texas.
Health -- medical clinic services, wellness and diabetes education programs that hosted more than 10,000 patient visits to low income, uninsured individuals, filled 4,000 medical prescriptions and provided 352 neighbors with education to successfully manage their diabetes.
Housing -- providing 250 units of affordable housing and 105 units of permanent supportive housing for the formerly homeless. An additional 28 units of permanent supportive housing began in December 2010, with full occupancy anticipated by the end of March 2011.
Hope -- providing a workforce development program focused on pre-employment training and education, short term rental and utility assistance, case management and referral services, a public interest law firm, youth education services, athletic programs, technology training and support services for youth transitioning our of the foster care system.
In 1988, Dallas businessman Jim Sowell was moved by his concern for the problems associated with homelessness and poverty. He took action in response to the human suffering he observed in the community by working with friends to launch the Central Dallas Food Pantry in a strip shopping center at Henderson and Central Expressway. In 1990, the organization received status as a 501 (c) 3 non-profit corporation and, due to its growth, relocated to larger quarters at 801 N. Peak in East Dallas. In August 1994, the current President and CEO, Larry James, joined the organization and shortly thereafter, Central Dallas Food Pantry began doing business as Central Dallas Ministries and the organization acquired an additional building at 409 N. Haskell, the current location of our food pantry.

2010 was a hallmark year for the organization. In October 2010, Central Dallas Ministries changed its name to CitySquare in order to better reflect our commitment to equality, inclusiveness and our recognition that fighting poverty involves bringing our entire community together in the heart of the city. The neighborhood leadership that has developed under CitySquare's paradigm has guided the rapid growth of the organization from a small food pantry into a comprehensive community development organization dedicated to lifting its neighbors out of poverty and into self-sufficiency.

Additionally, CitySquare (then Central Dallas Ministries) completed CityWalk@Akard, a first of its kind development in Dallas and relocated its administrative headquarters there. The 15 story mixed-use property is located in the heart of downtown Dallas and provides retail space, commercial space and 200 units of affordable housing, with 50 units reserved for formerly homeless individuals.

At present, our organization is staffed by 141 employees who serve more than 30,000 low-income and impoverished families in Dallas. While services are available to anyone in need, the majority of the neighbors we serve live in the neighborhoods surrounding our program sites (East and South Dallas).
HuffPost Religion hopes to feature more groups like City Square in the future that are committed to both charity and justice; caring for those in need in the short term and seeking to find sustainable solutions to poverty and suffering. If you would like your group featured, please contact us at religion@huffingtonpost.com.
Popular in the Community