Whenever I visit rural villages in Senegal that are participating in our human rights education program, one of my favorite things to do is to sit under a baobab tree and observe. I watch women, men, and children go about their daily tasks. I am trying to understand the story of that community and answer the essential question: what is most important to them? It is a question we are constantly asking ourselves in our work at Tostan - what are the priorities of the communities we serve and, importantly, how can we can help them share what is most important to them?
I am lucky that I have had the chance to so fully immerse myself in the lives and stories of these communities. They share with me the challenges they face, solutions they know, and the aspects of their lives that matter most to them. Their stories are ones of hope, resilience, courage, and change. But too often their stories end there, at the borders of their village.
Now let's imagine a different kind of storytelling. One where the community's voice extends beyond village boundaries and remains powerful and personal, as if they are inviting you to share their experiences; a form of storytelling where community members are the creators, the authors , and the filmmakers.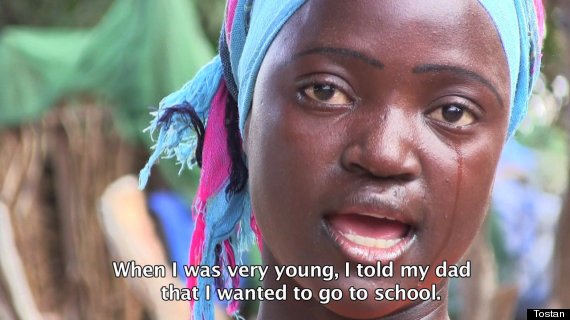 Earlier this year, a group of Gambian and Senegalese Tostan staff and local filmmakers participated in a two-week filmmaking training specifically designed to give the power of the story back to communities. This participant-led training was led by the NGO Venice Arts and supported through the Sundance Institute, the Skoll Foundation, and the Swedish International Development Cooperation Agency (Sida). The participants, trainers, and local community members captured the stories that were most meaningful and poignant to them in three short films, which where released yesterday in honor of International Human Rights Day. One of these films, called Waylowaylo , which means "change" in the Pulaar language, has had a profound effect on me.
In the film, Maoundé Baldé, a young girl from the Pulaar village of Tankanto Maounde, Senegal near the border with Guinea-Bissau, is asked, "Please tell me a story in your life that really touches you." Unscripted and courageously, she tells us that her father, the village chief, had refused to let her pursue her education. It was not the tradition of their community and girls were to remain at home until they were married.
We then hear from her father, the village chief, who admits that before learning about human rights and the right to education, this was indeed true. However, he shows us that even he, the village chief, can change his mind.
These films are the start of what we hope will be a series of stories from communities. We also plan to continue to use these techniques to better report and show the results of the Tostan program.
Community voices really are the key to empowering development. Through participant-produced filmmaking, their priorities and solutions can be brought directly to the forefront.
We must continue to find channels through which communities can tell us what is most important to them. At all levels - from rural villages, to partners like Johnson & Johnson, to governments - their stories can help redefine the development agenda and and allow them to share the change they are leading in a real and human way with the world.
Waylowaylo, as well as the two other participant-produced films that premiered on International Human Rights Day, can be viewed and shared here.