How would your life change if you gave something away every day? In 2012, I made a commitment to give away $1000 grants, every single day, to individual social change makers working to make their community and world a better place. Thirty others have since joined me, each giving $1 a day or more to support extraordinary people and fledgling grassroots social change projects worldwide. We welcome you to join us either as part of our daily giving community, or in your own way! These are some of the projects that we supported in the last week.
Growing from Grief in South Carolina. Mary Ann Plummer's tragic experience losing her son moved her to create a place of healing for others in her local community. "The Consoling Place" offers workshops, retreats and other support for those who are grieving the loss of a loved one, while raising awareness about death and grief. The Consoling Place was developed by Mary Ann and two professionals who are experienced in helping individuals navigate the grief process: Ross Collins and Linda Hopson. "Grief is such a unique and personal experience that there really is no roadmap. But, it can be better," Mary Ann said. "With appropriate help and support, it is possible to make it out of that dark place. In fact, dealing with a significant loss can be an opportunity for emotional, relational and spiritual growth. People deserve to have a choice on when and how they will heal, and they deserve to have a safe, nurturing place to support them."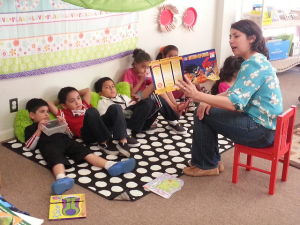 Reading in Texas. Trish Schappell noticed some kids in her Texas community didn't have access to books in their own homes. The longtime educator decided to create a special place just for them, The Kids' Reading Room. Now children living in two apartment complexes in Houston have their own reading rooms, complete with donated books, snacks, volunteer storytellers and plenty of cozy spots to get lost in a story. With help from her husband, Vincent, and many wonderful volunteers, Trish is looking to start a third room to reach more kids. "The Kids' Reading Room makes an impact socially through promoting literacy in children," she said. "It all begins at an early age. I have the opportunity to help them set goals at an early age and to understand that they too can make a difference in the world."
Animal Rights in the US. National Animal Rights Day (NARD), brings attention to the rights of all animals. Thanks to our partnership with The Thinking Vegan, we made a grant to NARD organizer, Aylam Orian. "The issues that NARD addresses are many, and one: all the forms of abuse we subject animals to, whether in the food industry, the clothing industry, vivisection labs, medical and cosmetic research, forced labor, religious institutions, animal shelters, and the sports and entertainment industries," Aylam said. "This systematic well-oiled abuse, that also has severe impact on human health and the environment, goes on every day of the year, while its subjects - animals - have no institutionalized and legal enforceable rights to protect them."

Dreams in Africa.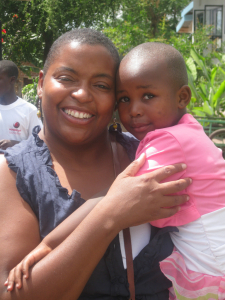 During a solo trip to Eastern and Southern Africa,Kisha Montgomery created the Girl Child Nation Foundation. "When I met infants who had been raped and little girls who were HIV positive, a deep inquiry began: how could this happen?" she said. "I realized the message to girl children was universal: You and your dreams do not count and matter. I realized that creating a platform for a girl to express herself when the social narrative was that a girl was to be quiet, never look an adult in the eye, never speak above a whisper and never ever question a man, was nothing short of powerful." Girl Child Nation Foundation empowers girls through the arts and will host a five-day camp focused on creative expression, leadership training and ending the isolation experienced by many of these girls. Some of the participants will then go on to further their leadership development and teach lessons on health, poverty and self-expression to other girls at rural schools. Kisha then plans to start technology classes for girls, with the ultimate goal to found a technology and healing center for abused girls.

Protecting Pollinators in Colorado. Growing up on a farm in Central Oregon, Gretchen Heine was close to nature, to her food and to the bees who visited her family's farm. Now, with her Colorado-based organization Pollination Planet, she wants to spread that feeling of connection and her passion for pollinators to children who may not have grown up with that unique experience. "I am passionate about educating people about the importance of pollinators and their connection to our food supply while also providing them with tools to protect this valuable species," Gretchen said. "I truly believe that creating that hands-on connection for kids will have a lasting impact on our entire ecosystem." Gretchen plans to educate 300 Louisville, Colo. second graders in the classroom and bring them on a farm tour, where they can learn about bees in hands-on lessons.
Pathways to Change in Cameroon. Jude Thaddeus Njikem founded the Organization of African Youth - Cameroon to promote human rights education. "The project is a human rights training, aimed at strengthening the understanding of rights by adolescent girls and boys, teachers and school personnel, as well as parents and community leaders," he said. "This is an urgent response to the high incidences of sexual violence and human rights abuses of vulnerable people at schools, at homes and in the communities of the South West Region of Cameroon." The program holds interactive workshops at schools across the region and hopes to spread its message to the country's government, which would implement it in other areas of the country.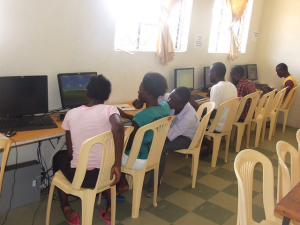 Digital Skills for Girls in Kenya. After graduating from college in medical biochemistry and public health, David Omondi decided to use his education and passion back home. He returned to Kisumu, Kenya's Obunga slum and founded Akili Library. The newest program is the Girls for Girls Digital Skills Project. "I believe that young people can change their communities and solve the many social problems including unemployment in our country which is now at 40 percent," he said. "I am driven by an innate desire to create sustainable change in my community and see girls and women empowered." The new program will digitally connect the girls of Obunga with students at the Columbus School for Girls in Ohio, providing interactive lessons on health, sanitation, math and art. Columbus students make the lessons with youth-friendly programming software, which the students at Akili Library can then explore and use to make their own simulations and games.
Congratulations to our grantees this week for their outstanding work to bring justice, peace, health and compassion to their communities. These are just a few examples of what a little seed money can do when put in the hands of someone with a vision and a plan to change the world.
Calling all HuffPost superfans!
Sign up for membership to become a founding member and help shape HuffPost's next chapter