"At five o'clock in the morning there was a chemical attack on our neighbourhood. Everyone in our family was dead, it was just me and my mother left. I fled to Lebanon with my mother. I think it is too bad that our camp does not have a school and the school in the next camp is full. Because I was really good at math." (Seif, 10 years old, left Syria in 2013)
Unfortunately Seif's heart breaking experience is not a story of its own. Hundreds of thousands of his peers already have fled their home country Syria and are looking for school opportunities in the neighbouring countries like Lebanon and Jordan. Because that's what they miss most: going to school, learn things and play with friends. Like any other child of his age.
More than 1.2 million Syrian refugees are now registered in Lebanon, a quarter of the total Lebanese population. About 50% of them are children. The Lebanese public school system is overwhelmed and cannot take in all Syrian refugee children. The same applies for Jordan, which currently hosts more than 130,000 Syrian refugee children between the ages of 5-11. Of these, 56% are not going to school. In addition to the lack of space, Syrian children also face other barriers, including differences in curriculum, costs, lack of transportation, and the need to contribute to the household income through work. This leaves hundreds of thousands of Syrian refugee children unable to access school.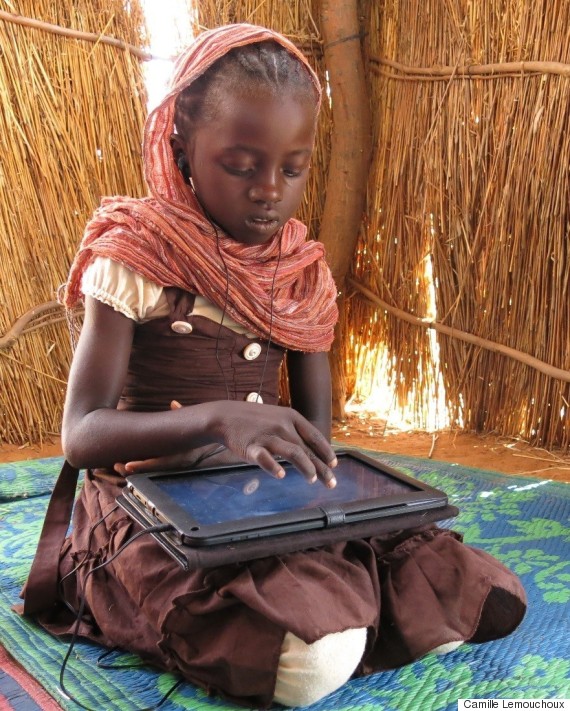 After a successful launch of eLearning in Sudan, War Child Holland is now exploring adapting and scaling the programme in region's affected by Syrian crisis, including Jordan and Lebanon. Recent figures in Sudan showed that children who have previously been excluded from education can learn mathematics faster and achieve better results using this tablet-based technology than through the traditional non-formal education model. Because this approach has a lasting impact, War Child is excited to bring its expertise to the Syrian region. Due to the on-going war and the enormous amount of refugee children War Child doesn't want to waste any time.
Because the cost of lost education is immense. Nowhere is the need more pressing than in the Middle East, where particularly the Syrian crisis, now in its fifth year, has pushed the capacity of basic social services such as education to a critical point. With currently over 700,000 Syrian refugee children out of school in Lebanon, Jordan, Iraq, and Turkey, the huge cost in human capital of the lost years of schooling is frightening. We need new solutions now to fill the gap where traditional education does not yet reach.
War Child Holland, an NGO supporting children in armed conflict by providing psychosocial support and education, together with its partners TNO, Flavour and Ahfad University for Women, has taken up the challenge to make a difference. With its innovative programme Can't Wait to Learn! -- a fun and interactive game played on a tablet - children can access education even when there are no teachers or schools. At the same time, the game provides children with relevant, local curriculum education, approved by Ministries of Education. This is vital. Both children and their parents want nothing more than learning opportunities which will lead to a recognized certificate. Not only this, Can't Wait to Learn! uses fun and engaging methodologies which children love. These will not only increase learning, but also increase the psychosocial health of children affected by the conflict.
The results show that the model has strong potential to be empowering, flexible, innovative and cost-effective at scale. In short: the model has proven to successfully provide education to children in remote areas and from marginalised communities: even in places where there are no school buildings or teachers. So with the pressing needs in the Middle East, War Child is now exploring the possibilities to use her programmes in Jordan and Lebanon.
Kate Radford, Programme Manager at War Child Holland, is fully aware of the impact that comes with virtual learning: "We have now developed a comprehensive set of mathematics games that build on each other to take each child through three years of education. The game was designed together with children to reflect the context in which they live. Through the games, each child helps a virtual friend to become a goat herder or doctor, for example.'"
Calling all HuffPost superfans!
Sign up for membership to become a founding member and help shape HuffPost's next chapter